Single page view
By Scoop Jackson
Page 2
"I can see the Sox in the World Series, but I can't FEEL them in it."
-- White Sox fan Mario Smith
CHICAGO -- The feeling is invisible, but omnipresent. The feeling is baseless, but full of substance. The feeling is fleeting, but growing larger with every victory.
The feeling is empty.
The feeling might never disappear.
* * * * *
"And you say Chi-City … you don't stop, you don't quit."
The South Side of Chi. Residing between The Ickes on 22nd and The Gardens in the 100s is a feeling. Between Midway Airport and Rainbow Beach, there lies a feeling. Between the lyrics of the hook on Common's anthem, "Chi-City," and the gospel-epicness of Father Charles Hayes and the Cosmopolitan Choir's "Jesus Can Work It Out Remix" heard six times every hour on six different radio stations, there is a feeling.
A feeling of transparency, transparent hope. A feeling of … hesitation.
On the mound, Jose Contreras is trying to convince us.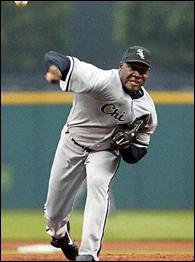 Jose Contreras has just one of the arms that have ChiSox fans hopeful.
Trying to convince a city -- more specifically, a side of a town inside of a city -- that this is for real.
This time.
Holding on to a 1-0 lead in the sixth inning in the first game of the series that many feel is the "litmus test" of the season, the White Sox's No. 3 starter is hurling more than just 85-mph fastballs or 69-mph breaking balls at Cleveland batters.
He's throwing hope at Travis Hafner, hoping we "feel" that it's his right arm (as much as the arms of Jon Garland, Freddy Garcia and Mark Buehrle) that will be the one to carry this team into territory it hasn't seen since Vincent Price and Michael Jackson took over the world: the ALCS.
For most teams, the best record in baseball at the All-Star break would be a reason to start poppin' Cris, collars and conceit. But not here. On the South Side, we don't ride like that.
Can't.
Not that we've been here before with this squad, but … we've been here before with this squad. Last year, the White Sox weren't "the best team in baseball" at the break, but they were eight games over .500 -- only to go four games under .500 (37-41) after the Midsummer Classic and lose the division to the Twins. In 2003, they were one of three teams in the AL Central to finish above .500.
But not ahead of Minnesota.
In 2001, same thing.
In 2000, they won the division.
Last World Series appearance? 1959.
So the reasons for apprehension, anxiety and angst are justified. And the ghost they've been chasing in Kirby Puckett-land … they have 13 more games against them Twins between now and Sept. 26.
"Having the bottom fall out is not a pretty feeling," says South Sider Vernon Morris from his porch, as the Sox take a 6-0 lead against Cleveland Saturday afternoon. It's the game before they finish up their first four-game sweep in Cleveland in 42 years. "Gotta be prepared in this city … anything can go wrong."
Or, as baseball expert Bob Foltman said on the Chicago Tribune Sports Show about being a Sox fan, "[We're] always waiting for disaster to happen."
But with a 61-29 record, 32 games above sea level and an 11-game lead in the Central, it would be safe to say -- as manager Ozzie Guillen says -- "If you are in first place, all you have to do is win. You don't have to worry about who's behind you."