By Scoop Jackson
Page 2
"I can see the Sox in the World Series, but I can't FEEL them in it."
-- White Sox fan Mario Smith
CHICAGO -- The feeling is invisible, but omnipresent. The feeling is baseless, but full of substance. The feeling is fleeting, but growing larger with every victory.
The feeling is empty.
The feeling might never disappear.
* * * * *
"And you say Chi-City … you don't stop, you don't quit."
The South Side of Chi. Residing between The Ickes on 22nd and The Gardens in the 100s is a feeling. Between Midway Airport and Rainbow Beach, there lies a feeling. Between the lyrics of the hook on Common's anthem, "Chi-City," and the gospel-epicness of Father Charles Hayes and the Cosmopolitan Choir's "Jesus Can Work It Out Remix" heard six times every hour on six different radio stations, there is a feeling.
A feeling of transparency, transparent hope. A feeling of … hesitation.
On the mound, Jose Contreras is trying to convince us.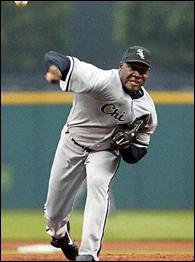 Jose Contreras has just one of the arms that have ChiSox fans hopeful.
Trying to convince a city -- more specifically, a side of a town inside of a city -- that this is for real.
This time.
Holding on to a 1-0 lead in the sixth inning in the first game of the series that many feel is the "litmus test" of the season, the White Sox's No. 3 starter is hurling more than just 85-mph fastballs or 69-mph breaking balls at Cleveland batters.
He's throwing hope at Travis Hafner, hoping we "feel" that it's his right arm (as much as the arms of Jon Garland, Freddy Garcia and Mark Buehrle) that will be the one to carry this team into territory it hasn't seen since Vincent Price and Michael Jackson took over the world: the ALCS.
For most teams, the best record in baseball at the All-Star break would be a reason to start poppin' Cris, collars and conceit. But not here. On the South Side, we don't ride like that.
Can't.
Not that we've been here before with this squad, but … we've been here before with this squad. Last year, the White Sox weren't "the best team in baseball" at the break, but they were eight games over .500 -- only to go four games under .500 (37-41) after the Midsummer Classic and lose the division to the Twins. In 2003, they were one of three teams in the AL Central to finish above .500.
But not ahead of Minnesota.
In 2001, same thing.
In 2000, they won the division.
Last World Series appearance? 1959.
So the reasons for apprehension, anxiety and angst are justified. And the ghost they've been chasing in Kirby Puckett-land … they have 13 more games against them Twins between now and Sept. 26.
"Having the bottom fall out is not a pretty feeling," says South Sider Vernon Morris from his porch, as the Sox take a 6-0 lead against Cleveland Saturday afternoon. It's the game before they finish up their first four-game sweep in Cleveland in 42 years. "Gotta be prepared in this city … anything can go wrong."
Or, as baseball expert Bob Foltman said on the Chicago Tribune Sports Show about being a Sox fan, "[We're] always waiting for disaster to happen."
But with a 61-29 record, 32 games above sea level and an 11-game lead in the Central, it would be safe to say -- as manager Ozzie Guillen says -- "If you are in first place, all you have to do is win. You don't have to worry about who's behind you."
Unless you look back and your entire fan base only has one foot on the bandwagon.
* * * * *
Roll through the streets on this side of town.
Roll through Bridgeport, Hyde Park, Chatham, Pilsen or Beverly.
Hit Rodney's on 71st, Puffer's or Schaller's on Halsted, Smokey Bones on Ridgeland, the Sweet Water Lounge on 142nd. Talk to Mike Kelley, director of operations of the Jackie Robinson West Little League, or to former Sox prospect Raul Sims, a catcher out of Chicago Vocational High School in the '80s. Talk to Mario Smith, radio host on the legendary WHPK.
Find the Sox's last Joe Torre, Jerry Manuel. Ask him.
The feeling will be the same.
They all know how this side of town works. They know that while fantasy springs eternal up north in Wrigleyville, fatalism runs thangs on the other side of Roosevelt Road.
Ride the Redline to 35th.
"Who's the best team in baseball? The Cardinals or the White Sox?" you'll hear.
Those who answer "Pale Hose" still don't sound like they believe it.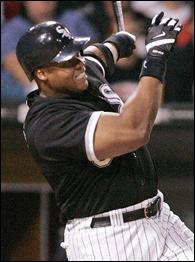 AP Photo
Frank Thomas has 448 career home runs and a career on-base percentage of .427.
It's called the art of un-panicking. It's a body language and mind-set embraced by a couple of million people who want to pull out those black 1993 White Sox caps, but are afraid to because they don't want to be getting dressed for their own funeral.
The Score (WSCR) radio host and lifelong Sox fan, Jonathan Hood, validates it best.
"On the South Side, we are afraid of the hurt," he says while discussing his 93rd Street life, growing up 20 minutes away from the old Comiskey Park, married to a team that Second City considers secondary.
"When you have disappointment, it's harder to deal with as a Sox fan. It hurts you harder. On the North Side with the Cubs, their fans don't care. Win or lose, the beers are always cold and the women are always there. Here, on the South Side, this is reality-land, not fantasy-land. We don't accept disappointment the same. We need to win."
But evidently, winning is not enough.
As one former Sox player said, the Sox "have no staying power in the playoffs."
1983, 1993, 2000.
Again, 1959.
So when we read underneath second baseman Willie Harris' cap the words: "It's my turn now!!" we want to apply it to everything the South Side has invested in this team in the last four decades.
"It's my turn now" means Jermaine Dye is about to play like he did when he was with Oakland. It means the three pitchers we have in the bullpen (including the once-invincible Orlando Hernandez) must keep their ERAs under 2.00. It means the once-incredible Frank Thomas keeps hitting 11 home runs for every 76 at-bats. It means Scott Podsednik cannot fall off his first-half MVP-caliber performance. It means Tadahito Iguchi makes SI's Tom Verducci look like a genius for calling him the AL Rookie of the Year at the midpoint.
It means that Buehrle and Garland can no longer be the poor man's Wood and Prior in this city.
It means that of the 75 games left in the season, 50 are against teams with records of .500 or better. That doesn't include 11 games against the Tigers, who are at .488 (42-44). And the White Sox have not yet played either the Yankees or the Red Sox this season.
This is why breath gets held, why sellouts aren't guaranteed, why an entire third of the third-largest city in America can't commit to a team of destiny.
This is why we are not ready to … believe.
* * * * *
There's a spot called The Cove. South Side, you know. It sits off an alley on 55th and Everett in Hyde Park. Toothless men and rehab prospects play darts there. Ultra-rich University of Chicago students and retired professors sit at the bar and drink Old Style on tap. There's a screen that comes down from the ceiling and plays all 162 White Sox games.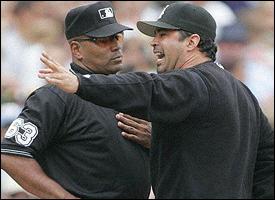 Anybody who doubts the ChiSox gets an earful from Ozzie Guillen.
Of all the spots in the city, this might represent how the typical Sox diehard lives -- with each game the reasonable doubt growing and the variation on the 50 Cent motto becoming: Win … or die trying.
Many of the people here look as if they've followed that fate for way too many years.
We cheer, but are still not convinced. We wanna have faith, but hope and charity have sick senses of humor.
We tend to talk about the 2001 Seattle Mariners a lot.
We are living in this state of quote: "If they get past the first round, then I'll stick both of my feet in the water."
Baptism by pessimism.
Every day, The Cove gets full, just like the ballpark. South Siders come through here -- and hundreds of other spots like it -- when Sox games are on. We come to represent.
We're all here for the same reason. All waiting for the same thing.
We're still waiting for the bottom to disappear.
Scoop Jackson is an award-winning journalist who has covered sports and culture for more than 15 years. He is a former editor of Slam, XXL, Hoop and Inside Stuff magazines and the author of "Battlegrounds: America's Street Poets Called Ballers" and "LeBron James: the Chambers of Fear." He resides in Chicago with his wife and two kids. You can e-mail Scoop here.