Unless you look back and your entire fan base only has one foot on the bandwagon.
* * * * *
Roll through the streets on this side of town.
Roll through Bridgeport, Hyde Park, Chatham, Pilsen or Beverly.
Hit Rodney's on 71st, Puffer's or Schaller's on Halsted, Smokey Bones on Ridgeland, the Sweet Water Lounge on 142nd. Talk to Mike Kelley, director of operations of the Jackie Robinson West Little League, or to former Sox prospect Raul Sims, a catcher out of Chicago Vocational High School in the '80s. Talk to Mario Smith, radio host on the legendary WHPK.
Find the Sox's last Joe Torre, Jerry Manuel. Ask him.
The feeling will be the same.
They all know how this side of town works. They know that while fantasy springs eternal up north in Wrigleyville, fatalism runs thangs on the other side of Roosevelt Road.
Ride the Redline to 35th.
"Who's the best team in baseball? The Cardinals or the White Sox?" you'll hear.
Those who answer "Pale Hose" still don't sound like they believe it.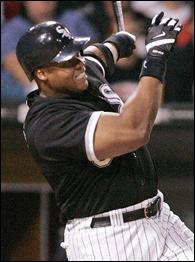 AP Photo
Frank Thomas has 448 career home runs and a career on-base percentage of .427.
It's called the art of un-panicking. It's a body language and mind-set embraced by a couple of million people who want to pull out those black 1993 White Sox caps, but are afraid to because they don't want to be getting dressed for their own funeral.
The Score (WSCR) radio host and lifelong Sox fan, Jonathan Hood, validates it best.
"On the South Side, we are afraid of the hurt," he says while discussing his 93rd Street life, growing up 20 minutes away from the old Comiskey Park, married to a team that Second City considers secondary.
"When you have disappointment, it's harder to deal with as a Sox fan. It hurts you harder. On the North Side with the Cubs, their fans don't care. Win or lose, the beers are always cold and the women are always there. Here, on the South Side, this is reality-land, not fantasy-land. We don't accept disappointment the same. We need to win."
But evidently, winning is not enough.
As one former Sox player said, the Sox "have no staying power in the playoffs."
1983, 1993, 2000.
Again, 1959.
So when we read underneath second baseman Willie Harris' cap the words: "It's my turn now!!" we want to apply it to everything the South Side has invested in this team in the last four decades.
"It's my turn now" means Jermaine Dye is about to play like he did when he was with Oakland. It means the three pitchers we have in the bullpen (including the once-invincible Orlando Hernandez) must keep their ERAs under 2.00. It means the once-incredible Frank Thomas keeps hitting 11 home runs for every 76 at-bats. It means Scott Podsednik cannot fall off his first-half MVP-caliber performance. It means Tadahito Iguchi makes SI's Tom Verducci look like a genius for calling him the AL Rookie of the Year at the midpoint.
It means that Buehrle and Garland can no longer be the poor man's Wood and Prior in this city.
It means that of the 75 games left in the season, 50 are against teams with records of .500 or better. That doesn't include 11 games against the Tigers, who are at .488 (42-44). And the White Sox have not yet played either the Yankees or the Red Sox this season.