Single page view
By Scoop Jackson
Page 2
Close your eyes.
I wanna tell you a story.
I want you all to listen to me. Listen to yourselves.
Eyes closed? Sure?
Thank you. Here we go.
I want you to picture Los Angeles. Professional basketball. Purple and gold.
I want you to picture multiple championships. Rings. Trophies. 2001. 2002.
A team defending its dynasty.
I want you to picture an accusation. An accusation about a player.
An accusation that could change the life of the accused forever, that could change the course of an organization forever, that could end the dynasty.
I want you to think of a crime.
A crime that involved sexual activity and an assault. Against a young lady. Nonconsensual.
I want you to imagine a player, a person, guilty of something, but innocent of the accusation. I want you to imagine yourself as an employer, the employer of the player accused. Think of the negative press, think of the destruction and distraction something like this could bring to your team. Think of the effects it will have.
I want you to search your moral center.
Now I need you to imagine your name is Jerry Buss.
Can you see this? Can you see yourself? Can you see this situation? Is it clear to you?
Can you see the weight this is causing your team to carry? Can you see your real superstar -- not the accused; the other one, the one who is the most dominant force in the game -- not being able to play the same way? Not being able to dominate?
Can you see your team's chemistry disappear? Can you see championships disappear with it? Can you see your team losing in the Finals to a team from Detroit?
How hard is it to watch your dream team fall from grace?
I want you to picture all of this. I want you to soak all of it in.
Now, imagine that this player, the one being accused ... is a woman.
---
She chills inside a townhouse in downtown L.A. Brown leather La-Z-Boy. Reclined. Loungin'.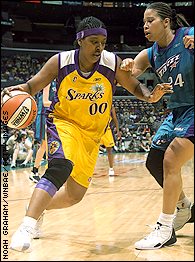 You can feel it when Latasha Byears, the Dennis Rodman of the WNBA, drives
Jeans and Jordans. X's, to be exact. Her hair, as it always is, rowed. "Patterned," is how she likes to call it. "A.I.-style."
It's Saturday night, and USC is on the flat screen playing with the University of Hawaii instead of against it. She has the remote in her hand. She flips ever so often to check on the rescue of the people Katrina caught. Come to find out, she's a CNN fiend.
It is one night after the end of the L.A. Sparks' season. Less than 24 hours ago, they were eliminated for the second year in a row in the first round of the WNBA playoffs by the Sacramento Monarchs.
Third year since she was asked to leave.
And while she sits there, Latasha Byears' emotions are inside-out. 59-fifty.
"Some good friends of mine are still on the Sparks," she says, to set the record straight. She's speaking carefully, watching her word choices. I can tell she wants to move into full Latasha mode, but she hasn't been cleared by her lawyer to tell her story to me. "I didn't want them to lose. But at the same time, as far as the organization goes, God don't like ugly."
It's been three years since the second-best basketball team in L.A. won a chip. It's been three years since "Tot-o," as her cru calls her, has played basketball in the WNBA. She last played for ... the Sparks.