By Scoop Jackson
Page 2
Close your eyes.
I wanna tell you a story.
I want you all to listen to me. Listen to yourselves.
Eyes closed? Sure?
Thank you. Here we go.
I want you to picture Los Angeles. Professional basketball. Purple and gold.
I want you to picture multiple championships. Rings. Trophies. 2001. 2002.
A team defending its dynasty.
I want you to picture an accusation. An accusation about a player.
An accusation that could change the life of the accused forever, that could change the course of an organization forever, that could end the dynasty.
I want you to think of a crime.
A crime that involved sexual activity and an assault. Against a young lady. Nonconsensual.
I want you to imagine a player, a person, guilty of something, but innocent of the accusation. I want you to imagine yourself as an employer, the employer of the player accused. Think of the negative press, think of the destruction and distraction something like this could bring to your team. Think of the effects it will have.
I want you to search your moral center.
Now I need you to imagine your name is Jerry Buss.
Can you see this? Can you see yourself? Can you see this situation? Is it clear to you?
Can you see the weight this is causing your team to carry? Can you see your real superstar -- not the accused; the other one, the one who is the most dominant force in the game -- not being able to play the same way? Not being able to dominate?
Can you see your team's chemistry disappear? Can you see championships disappear with it? Can you see your team losing in the Finals to a team from Detroit?
How hard is it to watch your dream team fall from grace?
I want you to picture all of this. I want you to soak all of it in.
Now, imagine that this player, the one being accused ... is a woman.
---
She chills inside a townhouse in downtown L.A. Brown leather La-Z-Boy. Reclined. Loungin'.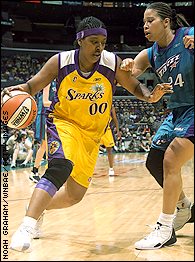 You can feel it when Latasha Byears, the Dennis Rodman of the WNBA, drives
Jeans and Jordans. X's, to be exact. Her hair, as it always is, rowed. "Patterned," is how she likes to call it. "A.I.-style."
It's Saturday night, and USC is on the flat screen playing with the University of Hawaii instead of against it. She has the remote in her hand. She flips ever so often to check on the rescue of the people Katrina caught. Come to find out, she's a CNN fiend.
It is one night after the end of the L.A. Sparks' season. Less than 24 hours ago, they were eliminated for the second year in a row in the first round of the WNBA playoffs by the Sacramento Monarchs.
Third year since she was asked to leave.
And while she sits there, Latasha Byears' emotions are inside-out. 59-fifty.
"Some good friends of mine are still on the Sparks," she says, to set the record straight. She's speaking carefully, watching her word choices. I can tell she wants to move into full Latasha mode, but she hasn't been cleared by her lawyer to tell her story to me. "I didn't want them to lose. But at the same time, as far as the organization goes, God don't like ugly."
It's been three years since the second-best basketball team in L.A. won a chip. It's been three years since "Tot-o," as her cru calls her, has played basketball in the WNBA. She last played for ... the Sparks.
Coincidence?
It's beyond that.
The championship rings are still on her fingers -- the rings she won as the WNBA's version of Dennis Rodman.
On her left wrist, LIVESTRONG. On her wall, Tupac.
Her head shakes from time to time when she reflects. How the last three years of her life have been. How one person's word got believed, instead of hers. How it all got lost.
Or taken away.
She looks at the screen again. Larry King is on talking to a "refugee" in New Orleans. A people forgotten. Left for dead.
She knows the feeling.
To save herself, she went over to Turkey. Ball or fall, you know.
There, she won the TBL (Turkish Basketball League) MVP. Spent seven months there. Created a fan base that showed love. Appreciation.
A female A.I.
But she wants back in. Back here.
Instead, she has been blackballed by the WNBA. Faced with almost the exact same charges that were placed on Kobe Bryant, Byears has not been able (or allowed) to play professional basketball in America during the pretrial investigation of the accusation against her.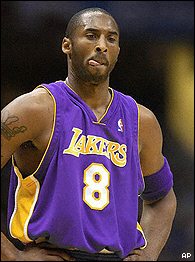 Same accusation, same sport, same time, same organization. Different treatment?
The case was officially dropped in July. "Insufficient evidence," L.A. district attorney Gina Satriano claimed after more than two years of LAPD investigation. No charges were ever filed against Latasha. She was never arrested.
Still ... she got the Craig Hodges treatment. The Mahmoud Abdul-Rauf.
She feels, believes might be a better word, she was ostracized by the WNBA because she's gay. And open about it.
Specifically, her beef is with the Sparks. It's the correlation between her situation and Kobe's that keeps her heated.
Same accusation, same drama, same sport, same time, same organization, same owner.
Totally different treatment.
While Kobe was able to "do his thing" during the investigation of his alleged sexual assault, Latasha wasn't able to do jack.
According to the Sparks, they released Latasha because of "dissension among her teammates."
Nothing else.
Her lawsuit against the LAL Women's Basketball LLC for wrongful termination is set for trial in February.
Two days after the NBA All-Star Game.
Unless it gets settled.
There never has been a player in the WNBA like her.
Not one close.
She gained fame by snagging 11 rebounds in the only two games of the 2001 Finals. Playing Dennis Rodman to Lisa Leslie's Michael Jordan.
She got famous by a story in GQ.
In 1997, Rodman graced the cover of The Advocate. The national gay and lesbian news magazine. He stood there with a white faux mink draped over his naked shoulders, leather Katharine Hamnett pants unbuttoned, hands covering his Howard Stern: private parts.
A gold dobbs lay titled on top of his red and gold hair. Makeup precise, foundation blushed, eyebrows arched, mascara and eyeliner golden, all courtesy of the Elite Modeling Agency. The title of the piece: "Dennis Rodman: The Gay Interview."
In the interview, Rodman was asked if he fantasized about sleeping with men. His answer: "Oh of course. I've done it. It's easy to do. I kiss guys. I mean, it doesn't frighten me at all."
Then, when asked whether he thought he'd eventually have sex with a man one day, he said: "I think the more I keep exploring myself in that area, maybe one day it will happen."
"If I decide to sleep with a man," he said, "I'll let the world know that I am bisexual or gay. I'll have no choice."
Dennis was smart. Because he followed that sentence with the one Latasha Byears should have taped on her bathroom mirror so that she could see it every morning: "In this country, gays can do a lot of things; but if you're a sports figure, it's not accepted."
See, Rodman stopped just short of saying he was gay or bi. He knew the game.
Latasha knew the game, too, but she played it by her rules. The way she always has. In the GQ story, not only did she spit one of the illest lines in the history of Art Cooper's issues ("I wanted to be a pimp growing up ... "), she admitted that she was the "L" word.
That's really where we're at here. WNBA, not NBA. Run by Val Ackerman (now Donna Orender), not David Stern.
Panic set in. The marketing machine that allowed Rodman to run wild had no idea how to deal with Byears. To the guardians of league marketing, Dennis was a joke. Latasha? She was real. Too real.
There was nothing soft about her, nothing Lauren Jackson.
At 5-foot-11 and cut at 203, with tats and a gold tooth with an 'L' on it (a family tradition), gully and outspoken, Byears should have been the player who built a cult following the likes of which no WNBA player has ever seen or experienced.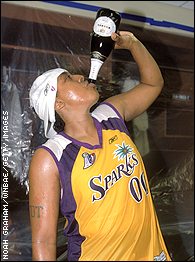 Nobody ever accused Tot-o of being afraid to celebrate.
She turned a fundamentally structured game into a game of paint work. She was a specialist. Gus Johnson's game with Charles Barkley's personality.
But when she admitted that she is no different in sexual orientation or desire from Martina Navratilova, Melissa Etheridge, Babe Didrikson or a number of other women in the WNBA (the perception might be as high as 70 percent), the end of the Latasha Byears Era came before it was ever really able to begin.
Now she has dreams of bangin' in the WNBA under the boards. Grabbing rebounds, throwing 'bows, collecting techs.
Dreams of getting her life back to what it once was. A dream she might never get to experience.
---
It's Monday. Labor Day. Latasha's trainer, Millie, is back for one of the two-a-days they do damn near every day.
People who know Byears say she is close to returning to the person she was before ... "the incident."
The stand-up comedian she used to be now shows up in spurts.
"She went through a period where she looked right through you," says her roommate, Mike Marangu. "Her life was gone."
Of all the things that affected Byears during her two years in exile, the worst was not the fact that she couldn't play in the WNBA. Instead, it was that she had to learn how to trust people again. And for someone who loves people the way she does (did), that was (is) not simple.
"If anything," Marangu says, "she regrets being so open with people and having that come back on her like that. Unfortunately, she had people around her who didn't have her best interest at heart."
Her people see her as Shaq. Not as Rodman, not as Kobe.
Friends and former teammates call her "Big Sis," the way Lebron calls Shaq "Big Brah."
She sees herself as ... she.
"Latasha Byears is who I am," she says, bra swelling. "I ain't trying to be no one else."
She wants to be the "enforcer." At the same time, she wants to be everybody's friend. She has the rare trait of being sensitive yet not giving a damn what anyone says or how they feel about her. She wants her presence felt.
But the past still haunts us. Not her. A past that includes drinking, partying and straight kicking it on a level only male professional athletes know about.
And become famously infamous for.
It's a part of their manhood -- and legend. Babe Ruth, Joe Namath, Rodman, the 1988 Dallas Cowboys.
But no non-male professional athlete has been tagged with the right-to-passage label of burning the candle at all three ends. It isn't ladylike. And as much as women in our games like to be looked at as athletes, they still want to be viewed as women, too.
Byears wasn't necessarily the exception, but the rules didn't apply to her, either.
Which makes the constant Rodman comparisons so apropos. They are so one and the same, she and he. And even though Kobe's situation is the mirror image of Latasha's, Rodman is the one whose state of being and career is the eternal reflection of everything she is about as a ballplayer, a ballplayer who specializes in rebounding, defense and getting under her opponent's skin.
But in the same way it's interesting that the Sparks handled her situation differently from how the Lakers handled Kobe's, it's interesting how the league's acceptance of her (and her lifestyle) is different from its acceptance of Rodman when he was wil'n' out and doing things even the NBA had to distance itself from -- without, somehow, distancing itself from him.
The double standards are getting thick and starting to smell like the name above the No. 91 on the front of Rodman's old jersey.
And if the WNBA isn't careful, the court system, not Latasha, is going to be the one cutting through the B.S.
Yet she's trying to stay focused on her plan: to get back into the WNBA, to get ring No. 3, and to ride off into the sunset with a fly cutie on her arm. Have her a "kiss-my-a**" moment.
So she takes her 32-year-old body through a strength, conditioning and diet regimen that has her with a Karl-Malone-when-he-came-to-the-Lakers-type of physique.
She wants to get herself prepared for the grind in case one of the teams left in the WNBA playoffs gives her a call next year. Hoping she can do for them what she once did for the Sparks: be the missing piece of a dynasty.
You know, beyond coincidence.
But before that happens, Tot-o is getting ready to go back to Turkey to defend her MVP. Or maybe Israel. In her mind, gay or not, two international MVPs has to be hard for any WNBA general manager to ignore. Or any owner who otherwise wants nothing to do with her type.
She knows this. She knows that this will be -- if it happens -- her last chance to complete her life's goal.
Thug life or not.
So there's no time for mood-faking. No time to dwell on her own past.
She knows it's a time to kill.
---
I want you to picture a little girl.
A little girl from Millington, Tenn.
All she wants to do in her life is play ball. Play basketball at the highest level.
She learns early in life that she likes girls.
She's gay, she's wild, she's outspoken, she's honest.
She's human.
Now I want you to picture a young adult who had everything taken away from her. The game she loved. The personality that came to define her. The lifestyle she began to define. I want you to picture her depressed, losing weight, becoming a shell of what she once was in appearance and spirit, saying "they left me for dead" about the ones who took her career away.
I want you to know that she dreams this in her sleep.
Can you see her?
I want you to picture a life lost. Her life lost. Not taken just by someone who accused her of a vile crime but also by the bureaucracy of a corporation unable to deal with who she really is.
I want you to picture one of the best women's basketball players on the planet not being allowed to play basketball.
Now, imagine that she's your daughter.
Scoop Jackson is an award-winning journalist who has covered sports and culture for more than 15 years. He is a former editor of Slam, XXL, Hoop and Inside Stuff magazines and the author of "Battlegrounds: America's Street Poets Called Ballers" and "LeBron James: the Chambers of Fear." He resides in Chicago with his wife and two kids. You can e-mail Scoop here.