Single page view
By Scoop Jackson
Page 2
CHICAGO -- He was asked the question before it all began. And in his classic Terry Francona style, he gave the perfect damn-that-was-a-stupid-question answer. And maybe it was.
The question: Can you talk about the importance of Game 1 and then Game 2, versus if you win or lose Game 1, you know, the perspective on Game 2 as well?
His answer: "If we lose tonight, I'll come in and try to tell you that we're going to try to win tomorrow. If we win tonight, I'm going to come in and tell you we'll try to win tomorrow."
Duh.
Then Francona sealed it: "Hopefully, we can win three before we lose three. That would be my perspective."
After losing Game 1 by a 14-2 score, Francona humbly said, "Hopefully, they had their day; and hopefully [tomorrow] will be ours."
Tomorrow, unfortunately for his Sox, just became one day away.
---
When you haven't been somewhere since 1917, how do you act once you get there?
On the South Side of Chicago, inside U.S. Cellular Field, where the White Sox took a 2-0 lead in their AL Divisional Series Wednesday night, the answer is: You act like a damn fool.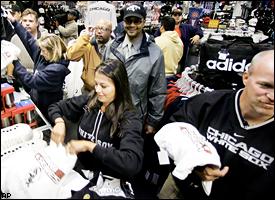 AP
White Sox Fever is catching on at the Grandstand souvenir store near U.S. Cellular Field.
But at the same time, you act like the fat lady is still in her bed fast asleep and the concert doesn't start until Sunday night.
As bananas as 40,000 people can get at once, these White Sox fans still know that this means nothing. So what that they were at one time the most invincible team in baseball? Even the die-hard, bleed-black White Sox fans knew that fate would be as big an opponent as anyone they'd face all year.
Now, fate has put their team in a position to play the second cruelest trick in baseball history on them. Because two years ago, they watched fate play the most fatal of tricks on the team with which they share the city. From that, they know, deep down in their souls, that two games mean nothing.
But still, they exhale.
"The best thing that ever happened to them is that they played bad baseball in September," local radio voice Jonathan Hood said after Tadahito Iguchi golfed a two-out David Wells pitch over the left field fence to give the White Sox the 5-4 lead. "Either Ozzie [Guillen] is a genius, or Ozzie is a genius."
Throughout the year -- especially in the final month of the season -- the White Sox manager flipped the lineup like he was managing minimum-wage high-school kids flipping burgers at McDonald's, and he did it with a team an entire city believed has a chance to win a World Series.
"Every day, they'd come in and look to see if they were playing or not," Hood verifies. "No one understood what he was doing. I think now they do."
And in two games, he's proven that his team can play the game any way the opposing team wants to play. They can win big (14-2) or close (5-4); the players at the bottom of the lineup can kill you (A.J. Pierzynski, 3-for-3 with two home runs out of the 7 hole in Game 1) or team MVPs can murder you from the top (Iguchi's home run was the winning hit in Game 2); they can consistently put strong starting pitchers on the mound (Jose Contreras and Mark Buehrle in the first two games, and both know their best is yet to come); they can be two games up in a five-game series without the postseason numbers from Carl Everett and Jermaine Dye, their two most important offensive players, who everyone said they'd need to win.