So as the fireworks went off and a feeling of ignorant bliss filled the air, the backs of the minds of White Sox fans stayed focused.
"It's a beautiful feeling," one fan said inside the BullPen bar. "But it won't be so beautiful if we gotta come back here on Sunday. I don't want to be back here on Sunday."
---
Losing three games in a row is nothing new to the world champs.
They've survived it before; they might have a chance to survive two in a row this time.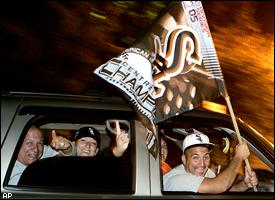 Sound the sirens again. The Sox are in the Series.
As Manny Ramirez and Jason Varitek left the clubhouse without saying a word Wednesday, they -- along with everyone else on the Red Sox roster -- knew that 0-3 miracle comebacks happen only once in four lifetimes. And in a five-game series … 0-3 means it's a wrap.
They also left the clubhouse knowing that the biggest difference between last year and now is who they put on the mound.
"I'm not even sure who our No. 1 starter is," Johnny Damon said the other day.
"It's not news that our pitching needs to hold the opposing team down," Papi Ortiz followed. "We don't get that, we're going to be in trouble."
And as the players filed onto the bus that would take them to O'Hare Airport for the flight back to Boston and the hope that another miracle will find them over the next two games, the one who should be with them, the one player who could save them from the situation in which they find themselves, isn't anywhere to be found.
A White Sox fan in a "Vote For Pedro" shirt walked by as the bus pulled out.
God sure has a twisted sense of humor.
For four innings on Wednesday, they looked like themselves, the "idiots" who had the baseball world in love with them.
It started with a third-pitch single down the third base line off Damon's bat. Even in the press box, you could hear the moan. Disgust was about to set in. Game 1 had been a fluke. The champs were back.
It was 6:10 p.m., Central.
The sky got dark quickly. More quickly than the night before. Two more cracks, two more sets of moans. Boston was up 2-0.
It was 6:15 p.m.
Their swag was back.
The most hated pitcher in the game not named Kenny Rogers was on the hill, tossing flames.
It started to feel like last year again.
One Tony Graffanino error later, one bad pitch later, it was over. Boston down 4-5.
It was 7:35 p.m.
"If you're going to point the finger at anyone," David Wells said after the loss, "point it at me."
Now it's all about the psyche. How will the team here to defend what it took 86 years to get handle the team that is on an 88-year World Series drought and had the best road record in the majors this year?
How does a manager look at the Angels' highlights and watch Orlando Cabrera play error-free and come up with big hits in their first two games, when he was doing those things for you this time last year? How does that same manager look at his lineup and act as if it doesn't bother him that Pedro Martinez isn't in his rotation?
How do you tell a mentally shocked team to take it one game at a time, when you're two games from being back in it?
How do you outlie someone?