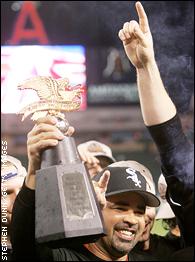 Hail the conquering local hero, skipper Ozzie Guillen.
Because as you read this, Ozzie Guillen is telling the White Sox that they are down 0-2. He's telling them that it's no longer a game-to-game situation; instead, it's inning-to-inning. He's telling them that they have nothing, that the Sox of Red are the champs. He's telling them that the next game Boston wins will be the last game they lose.
Ozzie is telling his Sox that he doesn't believe in destiny.
Last year, Francona was able to make his Sox believe that they were destined to win the whole damn thing; that it was their time.
Now, he has to find a way to make this year's team believe their time ain't up. Same speech … without the same players, without the same belief.
"The comfort I have is in our ability to play," Francona said with a straight face to the media Wednesday night.
"I know they're not panicking," were the words Ozzie used when the lights were on him.
Whoever is the best liar will win the series?
---
On the front of USA Today's Sports Weekly, Contreras' image looms large over the city of Chicago. He won Game 1, and Boston will see him again if it goes to Game 5.
The cover line under his face reads: "A Title On The Horizon?"
The deck below reads: "The Cubs couldn't do it. Now the White Sox fans hope their team can end Chicago's long World Series drought."
The Red Sox saw it before they left. That was them, last year.
If it goes five, the series will end on Oct. 8.
The paper goes off sale on Oct. 11.
Scoop Jackson is an award-winning journalist who has covered sports and culture for more than 15 years. He is a former editor of Slam, XXL, Hoop and Inside Stuff magazines and the author of "Battlegrounds: America's Street Poets Called Ballers" and "LeBron James: the Chambers of Fear." He resides in Chicago with his wife and two kids. You can e-mail Scoop here.