By Scoop Jackson
Page 2
CHICAGO -- It was as though they knew. Extrasensory.
Like they were a part of this.
Seconds before Chad Qualls threw his first pitch to Paul Konerko in the seventh inning of Game 2, ESPN columnist Gene Wojciechowski and Sports Illustrated's Rick Reilly left their assigned seats in the press box and ran out to the balcony above left field to watch.
"Paulie" chants played in the background.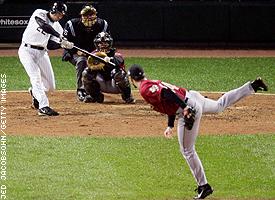 Is it over? Scott Podsednik's homer in Game 2 may have been the exclamation point.
The second they sat down in their chairs ... Slam. Grand.
They sat there for a minute, soaking up the moment. They didn't say anything to each other. Didn't need to. They know non-TiVo moments when they experience them.
As he walked back to his computer, Reilly looked at me and mouthed, "It's over."
He knew.
I recognized.
Twenty minutes after Konerko's shot, with the score tied at six in the bottom of the ninth, I reprocessed the moment for myself. As Brad Lidge scratched the dirt on the mound to throw his first pitch to Scott Podsednik, I left my assigned seat and ran out to the balcony.
Seconds after I sat down ... Game. Over.
I knew.
Extrasensory perception in baseball, apparently, is contagious.
Once you've been around the game as long as we have, Reilly told me, you'll get it, too.
Knowledge born.
---
They got a good look. What did they see?
The Astros came into a city to face a team that everyone says is unbeatable ... after they themselves beat the team no one said would lose.
A team that was 15 games up in its division, when they were 15 out in theirs. A team that, like them, was in the middle of its 15 minutes of fame.
"On paper" is one thing, but paper sometimes loses to scissors and rocks.
On paper, they saw a White Sox team on a roll, that had a pitching staff on fire, that had a manager flirting with genius.
On paper, they saw themselves.
But after they saw every lead evaporate, after they saw their heroes become unsung, after they saw luck for one team take on a whole new meaning, what did they see when they walked away?
When Lidge walked off the wet mound, unable to look at home plate and the black and white celebration he helped cause?
When Phil Garner walked out of the clubhouse in a stadium and a city where he had been hated ever since his nickname was "Scrap Iron" and the park was across the street?
When they picked off Tadahito Iguchi at first base to end the fifth inning and thought that would be the turning point for them?
What did they see then?
They must not have seen much, because apparently, minutes after the biggest loss in Astros' history, they were sitting around eating chicken. Unfazed. Un-shook. Even as Journey's "Don't Stop Believin'" blasted in the stadium for the 25,000 Sox fans who remained, believing that Game 2 was the last game they'll see in Chicago this season.
Which makes everything that happened in Game 2 that much more ... unbelievable.
How can a team that came from 15 games below .500, that came from the wild-card position, that recovered from an Albert Pujols home run that people still talk about, act as though what just happened, didn't?
How can they act like the 18th grand slam in the history of the World Series means nothing to them? How can they act like a phantom hit bat(ter) that changed the complexion of the Series doesn't faze them? How can they act like Joe Crede's impersonation of Craig Nettles at third isn't getting on their last nerve? How can they act like all three of their relief pitchers didn't get touched? How can they act like the 14th game-ending home run in World Series history -- this one by a leadoff hitter who had zero home runs during the regular season -- has no effect on them?
How can they act like this, while their manager throws out punch lines during an interview, saying, "I'll make sure the pilots lock the doors down on the plane so nobody will jump out."
Cool as a fan? Nah. This team is air-conditioned.
Down two games in a rush to four to a team so hot (14 of its last 15) that the retraction of a roof might be the only thing that can cool them off. And that's only if MLB lets it happen.
So what did the Astros see that made them return to Houston the next day as though nothing happened? As though that second loss less than 24 hours ago was not bigger than just one loss?
Maybe they saw in that two-day, two-game look at the White Sox that destiny is just part of the name of a group Beyoncé used to sing in, and not something attached to an American League ball club that has now won 108 games this season.
And even though, like the Red Sox and the Angels before them, they saw everything (read again: everything) going the Sox' way, maybe they saw how that's bound to change.
Maybe the Astros, for the first time, saw what baseball is all about in late October: swings.
Pitch-by-pitch, inning-by-inning, game-by-game ...
... prayer-by-prayer.
---
"You put yesterday behind you," he said, when he heard it coming. "Whatever you did today means nothing tomorrow."
That's OG's philosophy. That's how OG's philosiphi.
The night before, Ozzie Guillen was saying things like, "When stuff goes your way ... " followed by, "Always believe we can score ... "
And he used the word, "unity."
He's become a god in the city in which he played. The new Ditka.
And even though he's trying to ignore it, deep down, he feels how close he really is to immortality.
He's also aware of how fast it all can flip to the dark side.
The last three World Series champions have been wild-card teams. He was the third-base coach for one of them. So not only does he not have 88 years of history on his side, he doesn't even have recent history.
But the Wizard might have something.
He might have the Astros overthinking. Worrying about not losing instead of winning. Everything from Biggio's hitting slump to whether they made a mistake in Game 6 of the previous series by not pitching Lidge so that two of the last three batters he faced wouldn't have ended games on him.
Guillen, with the help of MLB, might have Houston thinking that an open roof actually takes away the Astros' home-field advantage against the team that not only outscored its opponents by a total of 72 runs on the road, but whose staff had the best road ERA in the bigs.
And as good as Oswalt, Backe and maybe Clemens can be, can they be good enough against a lineup in which the No. 8 hitter hit .368 in the ALCS and still wasn't named the series MVP?
How does Brad Jordan's (not Michael Jordan, don't get it twisted) town get past that? Win two out of the next two, four outta the next five?
Or does it just not happen?
In a series that was supposed to be about pitching, it has turned out to be about countering everything the other team does. It just so happens that over the last three days, Chicago's South Siders have countered last.
Which is more important than having four future Hall-of-Famers on your squad.
---
As I exited U.S. Cellular Field for maybe the last time this year, I stopped at a media truck to watch the replay of Konerko and Podsednik on the podium together explaining not just the last hour of their lives, but their philosophies going forward.
Scott talked about getting Jermaine Dye "off his back" and how he wondered what it felt like to be Paul hitting a grand slam in a World Series game.
Paulie talked about how he didn't "feel good at the plate" all night long, and how Lidge just happened to pitch the ball where he was looking.
He said it was the "second-best feeling I've had all week."
The birth of his son Nicholas was first.
Then the thinking-ahead question was asked. The ESP question. The "team of destiny" question.
One that Podsednik shot down quicker than that 2-1 pitch left his bat to win the game.
"We haven't accomplished anything yet," he said, making his point abundantly clear.
After a few more words, they disappeared. On their way to Houston.
As I walked through Parking Lot A, trying to disregard their humbleness, trying to live past the moment, trying not to stop thinking about tomorrow, I could still hear that voice.
"Don't stop believin' ... "
For some reason, Steve Perry just sounds so angelic these days.
Scoop Jackson is an award-winning journalist who has covered sports and culture for more than 15 years. He is a former editor of Slam, XXL, Hoop and Inside Stuff magazines and the author of "Battlegrounds: America's Street Poets Called Ballers" and "LeBron James: the Chambers of Fear." He resides in Chicago with his wife and two kids. You can e-mail Scoop here.