By Scoop Jackson
Page 2
It was as if the nightmare was about to continue.
How can the one man, who had the most profound effect on last year's NBA season, come back and have the same impact on this one?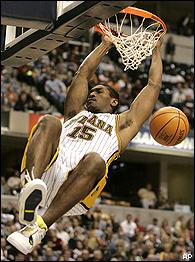 AP
Artest is back on the court, and back making a big impact.
Easy.
Second game of his new life, second game of the rest of his life, second game of the NBA's first season after the brawl: "Shaquille O'Neal sprains ankle, out for 2-4 weeks."
Who was at the epicenter of it?
God has a pretty twisted sense of humor.
*****
His birthday was five days ago. Twenty-seven. He grown now.
The difference a year makes in a young man's life is often multiplied by the actions he takes when put in similar situations in which he'd once acted childish.
In his own words, Ron Artest said his actions last year were that of a "knucklehead."
"It's about time I stopped acting like a knucklehead," were his exact words to L. Jon Wertheim in Sports Illustrated. "The way [the Pacers] treated me, I owe them a championship."
It's one year since that day, but not to the day.
Every ESPN and Fox property will remind us of the NBA's 9/11 moment. And for the next 48 hours or so, we will also be reminded that Ron Artest's name might as well have been Bin Laden.
But now he's back to being him. The Ron-Ron who is the best two-way ball player in the L. No extra drama, no sideshows, no visits from David Stern.
So far this season, his words above have been bond. On Nov. 9 vs. the Heat: 24 points, eight boards; Nov. 11 vs. the Nets: 30 points; Nov. 12 vs. the Bucks: 24 points; Nov. 16 vs. the Bobcats: 27 points, seven rebounds, six assists.
The last two losses -- one a meltdown in the fourth quarter against Milwaukee, the other an embarrassing 32-point loss in Charlotte -- have Artest's team soul-searching in ways they never had to last year.
But there's more to this than an underachieving 4-3 record in the best division in basketball, in a division the Pacers should be leading. This is more than a misunderstood ball player who changed his uniform number from 91 to 15, hoping it will have the same effect on his life as when Puffy flipped to P. Diddy.
More than just the anniversary of the worst day in Ron Artest's professional life.
These next eight months are about the transformation of the most important player of this 2005-06 season … and whether or not, inside of this change he must go through, he'll be able to remain the same.
*****
His transformation -- the one he refuses to admit happened -- has been and is being played out in four stories.
One in Sports Illustrated, one in Penthouse, one in Slam, one in Dime.
All four search not for where the soul of Ron Artest is from, but for where it's at.
But the story of "Has he changed in the last year?" can be found somewhere between two voices. One that saw him through this entire episode, and one that saw him once before -- then once after.
One understands Artest's profession, the other understands his prism.
They both, uncannily, know his mind. And as different as their answers are about an Artest transformation, they both feel that inside Ron-Ron's head, there is some form of brilliance going on.
"Has he changed since the brawl?" repeats Isaac Perry, a Dime editor-at-large who talked to Artest last week for a feature story in its next issue and profiled him for the magazine more than a year ago. "After just sitting down with him, I'd have to say 'No.'
"But that's not a bad thing. I just think that's Ron. He's going to be him. When I talked to Stephen Jackson, I could sense a change, I could tell that the incident affected him. In Ron -- naw."
On the opposite end of Ron's spectrum, David Benner speaks.
"I think it has had an effect on him," the Pacers' director of public information says when asked the same question. "How can something like that not?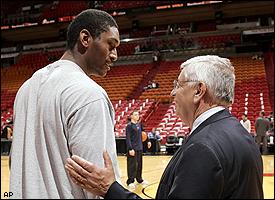 AP
Artest chummy with David Stern -- something many thought they'd never see after the events of a year ago.
"Being around him every day, maybe I see things that others don't, but I know having the game of basketball taken away from him affected him. He learned that he can't take it for granted. Deep down he knows this was a pretty big [mistake]."
They both make mention of how they believe Artest sometimes "goes out of his way" to "keep it true" (Perry), "preserve street cred" (Benner) -- at least in media settings -- in ways that can be counterproductive to the true essence of the man he is.
Yet both, in two totally separate conversations, mention how masterful Artest's mind is. "The guy is brilliant," Benner says. "He is so smart. He's able to lure everyone in. People used to say that Larry Bird wasn't smart and I used to laugh, 'OK, he's got you fooled.' That's the same thing I say about Ron. He has a lot of people fooled."
"Unique intelligence" is the term Perry used.
"He has a very unique intelligence in that he picks and chooses when he does what he does. It's borderline brilliance. And maybe I'm giving him too much credit, but I don't believe Ron Artest lost his mind or snapped the night of the brawl. If you look at the tape, when the bottle hit him -- there was a second. I think he thought about it for that split second, then reacted. I think he knew what he was doing."
It just backfired on him. Even geniuses screw up.
But when asked whether they think anything like this will ever have QB's Finest at the center of it again, it's Perry that concludes the sum of all parts Artest.
"I'll put it this way," Perry says. "When I asked him that, he said: 'I would never do that again.' Then he came right back and said, 'But on that day, I would have done the same thing.'"
Brilliant.
From reading stories and following his conduct through everything from NBA League Pass Pacers games to an HBO "Real Sports" feature last month, a conclusion can be drawn: The Ron Artest that "temporarily lost his mind" that night, the one that got into a fight with a teammate at halftime of a tournament game while he was at St. John's, is the same Ron Artest that Perry talked to, the same one Benner sees every day.
And … he is the same Ron Artest who only had one tech called on him in the 2003-04 season, when he was awarded the Defensive Player Of the Year and made the All-NBA third team, voted on by the same people who were building a campaign to exile him from the league in 2002-03: national writers and coaches inside the Association.
The Ron Artest who will lead the Pacers to the promised land this season is the same Ron Artest who asked for a month off four games into last season to promote his CD. The Ron Artest who will make the All-Star team this year is the same Ron Artest that changed shoes in the middle of his last All-Star Game appearance trying to land a shoe deal. The Ron Artest who is humble enough to honestly not believe he was posing with Larry Bird for the cover of SI is the same Ron Artest who made Larry Bird's life a living hell for the past 12 months.
Get it?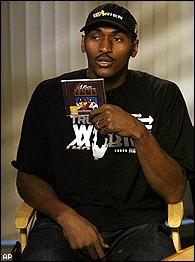 AP
That's our Ron-Ron, back when he was hawking the CD.
He's the same brotha from last year -- just different.
*****
Not to play the victim, but what everyone tends to forget -- or doesn't know because at the 45.9 second mark, up by 15, the game was a wrap -- is that Ron Artest was the one that took the hard foul first.
On the play before the play, Ben Wallace gave Ron an old-school Pistons foul. Ron got off the floor and said nothing. Real bad boys move in silence.
So when Ben tried to flush one on the other end -- revenge, I'm mad … the big payback.
You kill my dog, I'ma slay your cat. Flavorlogic.
So when he says, "The things we do are bigger than that one day," as he did in USA Today on Wednesday, you have to understand -- just like he did with the fan in the stands -- he's the reaction, not the action that started it.
Ronlogic.
At some point, the "Free Ron Artest" shirts will be replaced with "Ron-Ron Being Ron-Ron" joints on the blocks throughout Queens.
Maybe even in Indianapolis.
At this point, a comfort zone in America has been found with him. No more guessing games. No one is shocked at anything he does -- or is capable of doing.
Get 30 points and 20 boards one night, put in four hours at Circuit City the next. Whatever. Purchase the T-shirt, that's just Ron Artest being him.
The way it's forever 'bout to be.
So when asked how the last 365 has affected, again, the most important basketball player in the "bombs over Auburn Hills" and the aftermath of it, the most important professional basketball player alive today, you have to sing these rented words to yourself:
"Five-hundred, twenty-five thousand, six-hundred minutes. How do you measure a year? How do you measure the life of a man?"
Scoop Jackson is an award-winning journalist who has covered sports and culture for more than 15 years. He is a former editor of Slam, XXL, Hoop and Inside Stuff magazines and the author of "Battlegrounds: America's Street Poets Called Ballers" and "LeBron James: the Chambers of Fear." He resides in Chicago with his wife and two kids. You can e-mail Scoop here.