By Scoop Jackson
Page 2
Only in America …
When Michael Buffer said his name before the fight, the room I was in grew quiet. Then it immediately got loud. Most times national anthems don't generate this type of reaction -- the fights or sporting events that follow them do. But in the words of the lil' great Huey Freeman: "Never underestimate how much n----s love R. Kelly."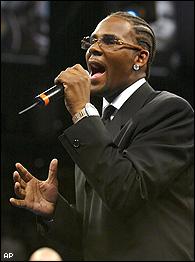 AP
R. Kelly certainly caused some controversy with his national anthem performance.
Then the beat came in. Then the the panic set in. Then the camera panned out. Then … the phones started ringing.
OK, so my man Kells took the opportunity before the second act of Hopkins/Taylor, the second-biggest fight of the year, to Marvin Gaye the national anthem.
Give it some flavor, show it some love. Cool.
Wrong.
When the cameras showed that he was not in the ring alone -- when it showed that he had "steppers" (classically trained urban dancers) in the ring with him, "steppin'" in the name of patriotism with all the finesse of Herb Kent at the 50 Yard Line steppin' lounge -- it was enough to make Jeff Kent turn black.
Or John Chaney turn white.
But that wasn't it. The Pied Piper didn't stop there.
As he JB Monorailed himself through the lyrics, he then paused. Rode the break in the track, and sang out to the stunned folks in the crowd: "Put your hands together …"
OK, this negro has turned the anthem into a concert.
| | |
| --- | --- |
| | So when Robert Kelly took it upon himself to, as Stu would say, "straight freak" the national anthem, did he do the same thing? Did he simply keep it true to his people, or did he go overboard? Did he bastardize it, or beautify it? |
The phones started ringing again!
When it was all over, a sea of boos could be heard following him out of the ring.
In my basement -- silence, once again. Then … daps, pounds, hugs and screams. Freedom.
Phones finally stopped ringing, because calls finally got answered.
Can you believe it? R. Kelly just stepped-out the anthem! He turned the banner into a steppin' cut! He took it to the hood! He brought it back to Chi-town! Unbelievable! That was incredible! America don't know nothin' 'bout that! Bet it's going to be on the radio tomorrow. Turn the radio on now, I bet they already playing it! Dude's a genius. I gotta call you back, my other phone is ringing.
All of this was being said simultaneously, all at the same time, but not just in my basement. In other black basements, living rooms, clubs, holes in walls, sports bars … anywhere in America where we could get PPV.
In a word: unreal.
But at the same time, to ourselves and to each other, every one of us who experienced R.'s Boondocks moment could all only say one thing, because really there was only one thing to say. As it was so eloquently stated on "Tom Joyner's Morning Show" on Monday: "R. Kelly has finally lost his mind."
Or did he do nothin' wrong?
*****
Then, in that hour of deliverance, my heart spoke. Does not such a country and such defenders of their country, deserve a song?
-- Francis Scott Key
Oh say … can you see where this is going?
Since 1931, when Congress enacted into legislation "The Star-Spangled Banner" as the national anthem of America, thousands of people have offered their renditions of what has been called by many "the most important song in American history."
Most have been performed at sporting events. Most have developed lives of their own.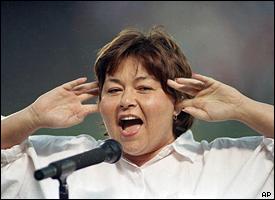 AP
We don't really miss Roseanne ... do you?
From Roseanne Barr's crotch-grabbing, spit-driven version at a Padres game in 1990, to Barry Manilow's silky smooveness at the 1984 Super Bowl, to Jimi Hendrix's purple haze-induced version (originally performed at Woodstock) that was last heard nationally in Latrell Sprewell's And1 commercial, to Steve Tyler and Aerosmith's "home of the 500" version sung at the 2001 Indy 500, the nation's anthem has been the introduction to almost every major sporting event in this country since WWII.
But in 1968, before Game 5 of the World Series, it was Jose Feliciano who changed the way "the poem was recited." Because his connection to America was different than most Americans (Feliciano was a native of Puerto Rico, but raised in NYC), his interpretation of the anthem was unlike anything people in this country had heard before.
He kept it true to his people. But the rest of the country wasn't ready.
It never is.
So when Robert Kelly took it upon himself to, as Stu would say, "straight freak" the national anthem, did he do the same thing? Did he simply keep it true to his people, or did he go overboard? Did he bastardize it, or beautify it?
Catch the Fight ...
... and the anthem, Saturday on HBO at 10 p.m. ET.
And even if he did take it beyond the limits of standard patriotism, doesn't he have that right as an American? Even as one that has "African" before his name, just like Feliciano has "Latin" in front of his?
Kelly's (and his people's) blood is on that anthem just like everyone else's -- his skin color just isn't.
So when the boos rained down from the $300 seats inside the Mandalay Bay, I wished I could see who was booing, and find them, and ask them, "Why?"
Ask them, isn't the national anthem, just like sports, supposed to be open to creativity and the performer's interpretation of it?
Ask them -- just like sports -- is there a "right way" to perform it? A "fundamental" way?
Or can a brotha still freestyle it, "And1 it"?
And if you think the national anthem in sports is not significant, ask Mahmoud Abdul-Rauf why he disappeared from the NBA. Better yet, ask Carlos Delgado what he had to agree to when he joined the Mets.
And deeper still, because of sports, hasn't it -- the poem Francis Scott Key wrote in 1814 trying to find a counter to Britain's "To Anacreon In Heaven" -- become nothing more than a promotional tool for whoever is performing, or the company that is either airing or hosting the event the anthem precedes? Making the sporting event almost secondary to the performer and/or performance?
I mean, at heart, hasn't sports done more to damage the importance of the national anthem than it has done to solidify it?
Isn't that the American way?
Yet (again: simultaneously, at the same time) what makes the national anthem so compelling is that over the years its singular significance of patriotism has come through a singular outlet: sports.
The anthem is not heard to begin days of business, to begin days of health care, to begin days of law and law enforcement, to begin days of politics and partying.
| | |
| --- | --- |
| | Somehow, someway, black people have been able to feel pride whenever one of us steps up to the mic and puts some of us into a song that didn't have us in mind when it was written. |
It's sole purpose -- to a certain degree -- has become to provide the country with a sense of pride prior to any sporting activity that is about to jump off.
But through those sports venues, the existence of the national anthem, the fact that it is always going to be performed, opens the door to things often much deeper than sports itself -- like the battle between celebration and patriotism.
Two great points were made in conversations I had with two friends when discussing this topic. One pointed to the hypocrisy of the anthem's existence in sports, the other to the realism and accuracy of R. Kelly's rendition.
One: While at baseball games that include Canadian teams, the Canadian national anthem is always played before the American national anthem. Yet half of the players on the field may be Dominican. If the anthem really stood for a nation's pride in sports, they'd play the Dominican national anthem at those games, too.
Two: "The Star-Spangled Banner," if you listen to the words, is about waking up in the morning and finding out the flag is still there. It's about a moment of joy, a celebration. Black folks, when we celebrate, we dance. R. Kelly gave tribute to that song the best way he knows how. "Oh we can see? The flag is still there? Banners yet wave? Let's step."
What was funny about the R.'s performance though was not how he went so over-the-top with it, but how it forced many blacks to feel something we haven't been forced to feel in a long time: patriotic.
It made many of us feel -- especially if any of us were around white folks watching it, waiting for the fight -- like we had to un-defend his actions. Like it was our "can't-we-all-get-along" song that he just disrespected.
Every national anthem played or performed in the United States is supposed to make us all -- black, white, red, yellow, brown, purple, green, fuchsia, plaid, etc. -- feel that way.
But it doesn't.
To many of us, it's just another song.
[Note 1: Our patriotism comes in the form of a James Weldon Johnson anthem, or anything by James Brown.]
[Note 2: See "Living In America" or "The Payback," both by James Brown.]
Except for when one of us gets up and does his or her own thing.
AP
Beyonce is one of our favorite national anthem performers.
Like when Beyonce blew it beautiful at the 2004 Super Bowl, or when Stevie Wonder blessed it at Game 3 of last year's NBA Finals.
Or when Alicia Keys and Angie Stone rearranged it at the NBA All-Star Game while singing "God Bless America." Or when Whitney Houston was able to make the world hear it differently before the 1991 Super Bowl.
Or when the Grambling State marching band did it in '68 and '75, making them the only performers to ever twice play the anthem at the Super Bowl.
Or when then-Blazers coach Mo Cheeks helped that little girl, Natalie Gilbert, before that playoff game in 2003.
Or when Marvin did it.
Somehow, someway, black people have been able to feel pride whenever one of us steps up to the mic and puts some of us into a song that didn't have us in mind when it was written.
But none of us had any idea that Kells would take it there. Not with Pookie 'n them in the ring, gators sliding across the canvas; not with adding a break in the track to improvise crowd involvement before the "home of the brave."
But he did. And honestly, even this deep into this column, I don't know what to say.
W.E.B. Dubois wrote in his "The Souls of Black Folks" that the most difficult hurdle black people would face in the 20th and 21st centuries in America is dealing with the duality of being black in America.
Last Saturday night, before the fight, R. Kelly put that theory to the test. Can we love what he did, or do we have to hate it? I'm not sure.
Accept it, reject it? Embrace it, erase it? What's a negro to do?
Still don't know.
But when HBO replays that joint this Saturday night, guess who's going to be in front of a Samsung flat screen, with the volume on blast, creased and cuffed, steppin' in the name of love? Steppin' to the rockets' red glare?
And guess who won't be alone?
*****
Only in America …
It's amazing that only through sports am I able to write this column. Only through sports will people have this conversation.
Why? Because only in sports does America's national anthem get heard on a regular basis.
And here's the bigger picture …
Only in America can someone who's standing trial for child pornography be asked to sing the country's national anthem.
In a sport that Don King once ruled.
Only in America.
Scoop Jackson is an award-winning journalist who has covered sports and culture for more than 15 years. He is a former editor of Slam, XXL, Hoop and Inside Stuff magazines and the author of "Battlegrounds: America's Street Poets Called Ballers" and "LeBron James: the Chambers of Fear." He resides in Chicago with his wife and two kids. You can e-mail Scoop here.