By Scoop Jackson
Page 2
It started with a hug.
A warm one. An affectionate one. Nothing "Brokeback." Just friendship. A friendship that is more than 20 years old.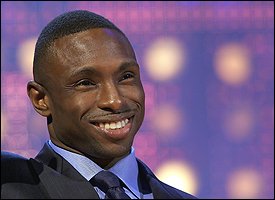 Lisa Blumenfeld/Getty Images
Avery Johnson smiles wide before the All-Star Game.
There was a smile on his face. Different from the one that is there all the time. This one was wider, deeper. It wasn't the happy-to-be-alive smile that usually dominates his face. No sir, this smile was about a life accomplishment. One that he didn't even see coming.
It started on Friday. The day he faced the media for the first time as the coach of the Western Conference All-Stars. An assignment given only to coaches whose teams have the best record in the NBA 51 games into the season. An accomplishment.
He sat there inside the Hilton Hotel ballroom. Smiling. Answering every question thrown at him.
Then he saw me. The media person who has known him the longest, the one who understands this more than anyone else because I was there when people called him "Duggy."
Who knew?
Who knew?
That he'd be here this soon, this quickly. Before he turned 43.
Who knew this would happen when he began this journey as a replacement coach only 11 months ago.
Not me. Not when he took over the helm of one of the most misunderstood and underachieving teams not owned by the Maloofs.
Not when he was proving Damon Stoudamire wrong after Stoudamire said San Antonio will "never win a championship with Avery Johnson as their point guard."
Not when he and I were together in New Orleans; I at Xavier University, he at Southern University. Not when he would come down to the Barn for pickup games on our campus and display the gift that had him leading the nation in assists. Not when I replaced him for two games on a New Orleans semipro team, Team Gumbo, in 1985.
None of us knew he would be here, on this stage, so soon in his life. On center stage. Watching Beyoncé sing her last song with her girls, watching 10 of the best ballers in the world compete for best intro during the introductions.
His ecstasy took over his nervousness. This weekend he was like a kid in a GameStop, or a candy store.
For four days … a smile.
On Saturday he turned practice into his own personal mini-concert. Getting the crowd hyped, getting them to choose sides, getting them to know him.
After no one seemed to want to make a basket during shooting drills: "If you all don't hurry up and and make a shot the coaches are going to get in and shoot for you all."
AP
Avery Johnson has the Mavs clicking on all cylinders.
After Tracy McGrady missed a few easy shots: "Tracy, you never miss when the Mavs come to visit the Rockets -- why are you missing now? What are you averaging against us? Like 45?"
After he saw Kobe laughing: "We already know what Kobe's averaging against us. What is it Kobe, 55?"
After verbally separating his first team and second team: "I'm saying first team, second team but we all know all of you all are first team to me."
It was a public introduction to him, for a world who really didn't know him.
Oh, they all knew who he was, the funny-talking "country" point guard from San An who they called the General to David Robinson's Admiral.
But this was different. This was a new and improved Avery Johnson who never needed newness or improvement. This was a man who, in the first 62 games of his coaching career, might have found his calling. Discovered why God put him on this earth.
But before this weekend no one had the chance to see him like this. In his first All-Star Weekend. Ever.
On Sunday, God's love. Being honored at a gospel brunch. A recognition that had nothing to do with his being a professional basketball coach.
His faith was served before the game.
He came to the game in his Mavericks blue. Dark blue suit, soft blue shirt. Tie, cuff links, cursive signature over the wrists, blue square toes. Like he belonged.
He got serious at the 6:19 mark of the third when he saw his 21-point lead evaporate to seven. He unbuttoned his suit jacket and walked out on the court while his team retreated to the bench. He brushed his hand down his tie. The smile was gone.
Even inside the time of his life, Avery Johnson can't stand to lose. The fastest coach to 50 victories in NBA history could not have his first All-Star appearance as coach have an "L" attached to it.
He had a plan to put five 7-footers in the game as soon as Flip Saunders put in all four of his Detroit players. Flip did it, Avery didn't. All gimmicks aside, he had a game to win. One that he eventually didn't.
But the second the game was over, the smile returned. He walked behind the scenes, being led to the postgame podium, soaking in the moment.
When he saw Tim Duncan, he said: "I put Tim Duncan out there to guard LeBron and he wound up getting the MVP."
When he saw LeBron, he gave him a hug, congratulated him, then said: "You spoiled my first All-Star Game."
AP
Johnson just seems like a natural leader.
But when it was all over, when no one else was around, I still don't think he had absorbed his last four days.
"Scoop," he said, "it's just unbelievable that I can call Kobe, T-Mac, Tim Duncan, Dirk, a lot of these guys I competed against, some -- Steve Nash, Dirk, Tim -- I've been teammates with. So for this weekend to go so well, in terms of me being a head coach for such a short period of time and coaching the All-Star Game in Houston … man it's just been …"
"Unreal," I say.
"Phenomenal," he corrected me.
"Who knew, back in the day," I reminisced, "we'd be standing here? With you coaching an NBA All-Star team?"
"Well, you know I didn't come into the season trying to be the All-Star coach," he says, accent intact, humor still serious. "I want to be coach of the month in June."
And it ended like it started … with a hug. Me telling him how happy and proud I am of him, him continually saying thanks.
Both knowing how far he's come.
Then he walked off, smile on his face. Knowing, as he said just five minutes earlier, that the magic slipper would come off in less than an hour.
Scoop Jackson is an award-winning journalist who has covered sports and culture for more than 15 years. He is a former editor of Slam, XXL, Hoop and Inside Stuff magazines and the author of "Battlegrounds: America's Street Poets Called Ballers" and "LeBron James: the Chambers of Fear." He resides in Chicago with his wife and two kids. You can e-mail Scoop here. Sound off to Page 2 here.