By Scoop Jackson
Page 2
INDIANAPOLIS -- With 3:53 left, I ran out. Hit the streets looking for them before they got gone. Trying to right my wrong.
Me: "Yo, my man, you got any UCLA National Champs shirts left?"
Street Vendor: "Sorry fella, they just got confiscated."
I forgot Florida was the party school. I forgot how they have the University Gone Wild thing down to a beautiful science. On the streets of 'Nap town, thousands of them filled the concrete. Every bar from Ram to Slippery Noodle to the lobby of the Hyatt, where the U of F alumni association was celebrating its 100th year, to 6 Lounge and Blu and every other carrier of Bud Light and Hpnotiq on Meridian Street.
They were calling it Billy Ball. Either through screaming voices or stickers on their freshly minted 2006 NCAA National Champion Ts. They sang school songs. They walked around naked with nothing but a Speedo-supported alligator covering their private parts. They made sure that no part of their celebration was going to be private. They wanted the world to know that they are a university that never expected something like this to happen, but they were well-prepared once it did.
And until 2010, when the F4 comes back, Indy ain't gonna be the same.
---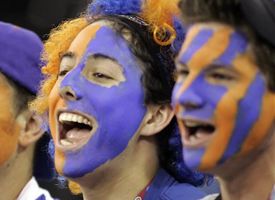 AP Photo/Michael Conroy
Will Florida fans be back at the Final Four next year? Only time will tell.
But what happens now? What happens this same time next year, when the IND isn't the site, but the ATL is? Will the same euphoric coeds and fans in orange and blue "Let's Make a Deal" outfits, painted faces with blonde hair and new phenomenon backs be back? Will this team be back, to defend what they just discovered Monday night was theirs?
It -- the new almighty exalted mystic rulers of college basketball, possibly the scariest defensive team we've seen in nonprofessional ball in a while -- is a team of sophomores. And one junior. By winning the national championship, they lose nothing. Literally.
No doubt, Joakim Noah played himself into the lottery during this tournament…
(Sidebar: One advantage for Noah if he enters the NBA draft this year? He could possibly lock up the top pick before national high school POY Greg Oden enters the draft next year after he serves his time at Ohio State.)
…but many people believe he won't be leaving the Gainesville campus anytime soon. Which leaves Florida with something we haven't seen in NCAA basketball in a long time: a team that has a chance to be the USC of basketball.
But will that be enough?
See, defending a title is always harder than the initial get. This season the Gators had no target on their backs. They were ranked No. 41 in the AP poll to start the season, No. 39 in the ESPN/USA Today poll. They were never ranked No. 1 during the season, even after winning their first 17 games. They were never the squad of the SEC (remember, Tennessee got a No. 2 seed coming into the 65). But now all that will flip.
Come Midnight Madness in October, the target on Taurean Green, Lee Humphrey, Corey Brewer, Al Horford and Noah's back will be so big, they'll look like five Public Enemy albums. The pressure to do next year what they just got through doing will be thick as Pharrell's new song. And losing six games, like they did this year trying to do it? Kanye West. Mission impossible.
LaMarcus Aldridge (Texas, if he stays), Roy Hibbert (Georgetown), Patrick O'Bryant (Bradley) and Glen Davis (LSU) will battle Noah for the "junior big man of the world" title (not to mention UConn's Rudy Gay, who might be the preseason player of the year if Adam Morrison doesn't return to Gonzaga). And every team full of non-seniors is going to come at Florida like the Gators stole something.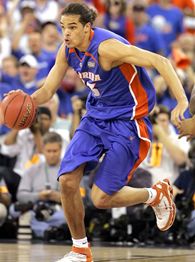 AP Photo/Darron Cummings
If Noah comes back, he'll be -- arguably -- the best big man in the college game.
Like they stole a national title.
Like Digger, Dickie and Jay Bil said after Monday's game, UNC, Kansas, Ohio State and UCLA -- who will be just as good next year as hunger and Mbah a Moute's improvement sets in -- will all be hummin' comin' at Florida in ways impossible to Xscape.
Add to that the nonfiction that next year, unlike the last 10 years in college ball, every Parade/McDonald's/Sonny Vaccaro high school All-American will be in a uniform presided over by a four-letter word instead of three. Oden at Ohio State, Durant at Texas, Scheyer at Duke, Collins at Kansas, James at Oklahoma. Got freshmen?
Most college teams will be stronger next year because of the NBA age ruling. No one is leaving, and everyone is entering.
Now add in the "fiction" -- and we'll just call this the George Mason Effect -- that every mid-major in the country will be playing harder than they ever have and will be taken more seriously by coaches at elite programs who previously put them on their schedules looking for easy wins and RPI padding.
All of a sudden, defending an NCAA title just got as hard as a brick of government cheese.
But this is what will make Florida great. Not great for next year -- great for life. Repeating will put them in the historical context of the two-year, one championship '90 and '91 UNLV squad. A squad that, in very similar fashion, brought all of its main players back after winning the chip, only to lose the wrong game to the wrong team at the wrong time of year, but is still remembered as arguably greater than the team that won it the year before.
If them Gators come back and repeat -- simply based on what they'll have to go through over the next 12 months -- we could be looking at a team that will have to be recognized as one of the best ever. But they'll need to win it next year to prove it.
Or -- like UNLV -- die trying.
---
As proven by the Lady Terps -- who started two freshmen, two sophomores and one junior, all returning next season too -- youth is the new sonic movement in college basketball. Experience has become overrated.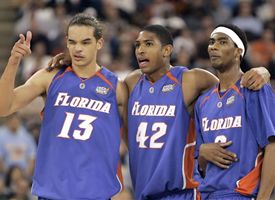 AP Photo/Mark Humphrey
The Gators could really make their mark on history by repeating next season.
As Billy Donovan said on the podium after Monday's win, "I'm still not sure the best team won."
Neither are we.
But instead, the team playing the best ball did win. And that's more consequential. For now.
For this year, not next.
Because from this point on, for the national champions from the FLA, playing the best ball isn't going to be enough. They have to somehow become both the best team and the team playing the best ball. That's going to be their duality. Their Souls of Orange Folks.
And in the new lexicon of Billy Ball, Donovan has one thing in his favor that no other coach in the country has: People named Noah tend to like things in two.
Scoop Jackson is a national columnist for Page 2 and a contributor to ESPN The Magazine. He has a weekly segment on "Cold Pizza" and is a regular forum guest on "Rome Is Burning." He resides in Chicago. You can e-mail Scoop here. Sound off to Page 2 here.