By Scoop Jackson
Page 2
How do you recognize a blessing in disguise?
Does it happen when you are at the Ohio State University, scoring the winning touchdown in the national championship game your freshman year? Or does it occur when they ended your college career, when Jim Brown shows up in your life to play counselor and adviser in your fight to get into the NFL two years before you are allowed to? Or does it occur when a groin pull pulls you out of contention for a roster spot on an NFL team and, for the first time in your life, you've been cut from a game you'd decided was going to be your life?
Or does it occur at 3 a.m. on I-70 in Columbus, Ohio, after an illegal U-turn turned into a chase, after the police spike and blow out your tires, after you resist being arrested, after they find three loaded handguns, one loaded AK-47 and a half-empty bottle of Grey Goose in the front seat and you in a bulletproof vest?
When your life goes from the sky to the sewer in four years, how can you tell where the blessing is?
What if in your life, with all of the accolades, promise and acclaim, the best thing that ever happened to you was when those cops pepper-sprayed you and cuffed you and ducked your head into the backseat of their squad car? What if it was all finally over? What if the last thing that happened to you saved your life?
---
"I don't know what happened to him, what got into him. I just know that's not the Maurice Clarett that I knew. And I know the fans know that's not the Maurice Clarett that played football at Ohio State."
Current Steelers WR (and former OSU WR) Santonio Holmes, to ESPN.com's Gene Wojciechowski
The Maurice Clarett who showed up in the Franklin County police station the other night was not the Maurice Clarett who captivated the nation four years ago in the Fiesta Bowl with the promise to make us never know who Reggie Bush was. That Maurice Clarett disappeared the minute he scored his last touchdown, the minute OSU turned its back on him, saying he acted alone in receiving benefits from the university to help the Buckeyes win their first undisputed national title since 1968.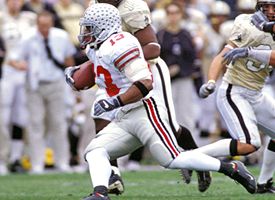 Kirby Lee/Wireimage.com
Seems like ages ago when we watched Clarett play for OSU.
That Maurice Clarett was never to be seen again.
Instead, the world was introduced to an athlete who had nothing to hold on to, nothing to grasp, nothing to love. An athlete who was living a lie because the game he possibly was born to play was slowly being taken from him. But he didn't know it. Not then. Not as a teenager.
Because the Maurice Clarett who just had his bond raised from $200,000 to $1.1 million to $5 million in two days thought football was going to save him. Thought it would stop him from being the person that lived inside of him. But once the game was removed from his life, once he realized the NFL would exist without him, the truth of his life was exposed to him. To the point where he couldn't even help it, or himself.
Which is why (and how) a young man goes from being a third-round draft pick in April 2005 to getting charged with robbing people for cell phones in alleys at gunpoint in January 2006.
"He's a thug," Hubbard HS (Chicago) defensive coach Andre Curry said. "I hate to say that, but it's true. He used football to get away from a troubled childhood. Now that football is out of his life, the true Maurice Clarett comes out."
As cold as that sounds, it's fair. Acutely accurate. But it doesn't explain the how and the why, the reason.
Or why the last time he played a meaningful game of football was three years ago. Why the sport that was supposed to keep his mind away from the devil's playground, clear of the elements fighting inside him, now lives only in his heart and no longer in the rest of his body or mind.
Because in Maurice Clarett's situation there is a difference between an excuse and the reason.
Saying that he was done wrong by Ohio State University or the NCAA, or not given a fair chance by the Denver Broncos or the NFL is an excuse. One used too often when dealing with superiorly talented souls who waste away opportunities less-talented and hungrier souls would die to have.
But there is a reason. There always is. And in the saga that has become the first 22 years of Maurice Clarett's life, what we are witnessing is only the surface. The reality is much deeper. Something that might not explain everything, but something that no longer should be ignored or dismissed.
Something that takes this into consideration: He grew up with two brothers and 11 cousins in his grandmother's house in Youngstown, Ohio. His grandmother's house. Not Mom's, not Dad's. Thirteen kids under one roof, survival of the illest, with an older woman trying to hold it all together. According to ESPN reports, he ate "pork and beans for dinner, a couple of folded slices of bologna (no bread) for lunch." By the time he enrolled at Ohio State, he had attended the funerals of 10 of his friends, witnessed two people shot and killed in front of his grandmother's home, and served three stints in a local juvenile detention center.
Nine times out of 10 (12 out of 13, to be exact) he was the one the family was banking on to save them. Their lives existed in anticipation of his future.
In wait of football.
But then …
"What happened [to Clarett] is indicative about everything that's bad about being a star in sports at an early age," says Chicago Sun-Times national columnist Rick Telander. "The nonsensical, quasi-suicidal behavior of someone with no guidance, no true foundation. It's almost symbolic of the game of football itself."
Causing Jon Saraceno of USA Today to write: "If Clarett could fall any further, any faster, he would be Marcus Dupree. Or maybe Mike Tyson."
And this was before Clarett's latest arrest.
At no point in anything he did was his family mentioned. In all of the drama that became his life leading up to this latest incident, the only people who seemed to have any role in Clarett's life were attorneys. His life, for all intents and purposes, might have been worse than Tyson's. At least Mike had Cus D'Amato. Whom did Maurice have?
"I think he's mad at the world because he feels his sport has turned on him," former Dallas Cowboys linebacker Mickey Pruitt said over the phone about Clarett. "Being cut from Denver, banished by the university and no family, he had nowhere to turn, no outlet. Football was all he had. Once he lost football …"
Once Maurice Clarett lost football, his life unraveled much like Kirby Puckett's life did when he lost baseball. Clarett became the third act of the football tragedy, "Fall From Grace," starring Alonzo Spellman and Ricky Williams. The gifts could not control the curse inside them.
The difference? Spellman was grown. Williams was grown. Puckett was grown. All had professional careers, all had a chance, a taste of it.
Clarett was 18. A child in the scheme of things. One who never played in the pros. One who never tasted his dream.
And still we wonder why he snapped four years later. And still we act as if this childhood and the last four years void of football had nothing to do with why we're all doing stories on him that have nothing to do with the only thing he really knew how to do in life: Play football.
And still we judge.
As he said of himself: "You don't know what I've been through, so you can't judge me. Until I know what you've been through, until I know the reason for doing what you're doing, you can't judge me."
And still we act as though we're surprised that the first part of Maurice Clarett's life came to an end the way it did.
---
There was a time when Clarett and LeBron James were close.
Friends. Partners. Sharers of the light.
Both were football gods in Ohio. Ranked No. 1 and No. 2 as the best players in the state. Maurice had a year on LeBron. Senior to his junior. Clarett was the leader. Finished high school early. Good kid. Smart kid. The original Chosen One.
Even though LeBron's father was incarcerated, he still had his Moms (Gloria) and a support system of trusted family and friends that had (for the most part) his better interest at heart. Something LeBron had since birth … something Maurice wasn't born with.
So when the limelight hit both, they went in totally different directions. Not right and left -- right and wrong.
What does that say about Maurice Clarett's life? What if that wrong direction is Maurice Clarett's fate?
Seriously. Honestly.
What if the fact that the police caught Clarett when they did turns out to be the best thing that ever happened to him in his life? Seeing the direction his life was going? The direction his SUV was headed?
What if all of this is his blessing?
"This arrest may save his life," XM radio's "House of Sports" host Terry Tuff said. "It's time for Maurice Clarett to stop dreaming about being a professional football player and start trying to become a professional human being. This situation, God might be working with him."
"He wasn't going to the cash station, that's for sure," continued Pruitt, who is now running the football program for the Chicago public schools. "This arrest saved him. The way he was dressed, the time of night, what he had in the car, he was a man on rage. If they hadn't gotten to him when they did, there's no telling how his night would have ended."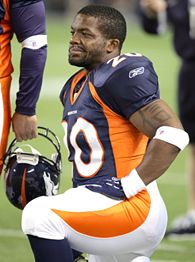 E. Bakke/Wireimage.com
Clarett was cut from the Broncos in a blink.
Four loaded guns, bulletproof vest, half-empty bottle of vodka, life-cleansing phone calls to a friend (LeBron), a writer (Tom Friend), his agent (Nick Mango), his former coach at OSU (Jim Tressel) and the owner of a team he had signed to play for in the Eastern Indoor Football League (Jim Terry), a holster in a backpack, a CD of children's songs sung by prison inmates, while only blocks away from the home of a woman who was slated to testify against (and identify) him in a pending case in which he was awaiting trial on two counts of aggravated battery, four counts of robbery and one count of carrying a concealed weapon.
All signs directed toward the end of something. His life or someone else's.
Something only a blessing can block.
Because at the rate Clarett's life was spiraling out of control, death was not far away. Not far from next. And he was not far from becoming a more highly celebrated version of Rae Carrruth. Or worse, the next O.J.
But if you are Maurice Clarett, how do you comprehend that this latest incident in your life might be the best thing that has ever happened in your life? How do you swallow that this happened to you so something worse wouldn't? How do you digest that the bullet you just dodged was not one that came from one of your guns or one that was actually fired?
How do you see that this is all a blessing in disguise when all you could visualize was your life in the NFL? When football was supposed to be your freedom? As a kid, all you dreamed about was touchdowns, 100-yard games and NFL paydays, and as you got older, those dreams came close to reality because stardom found you -- fast. Then it was gone.
Two years before Clarett entered the halls of Ohio State University -- where some say his life began and others argue that it really ended -- Harry Edwards, in an interview with ColorLines magazine, discussed what eventually could be Clarett's eulogy.
"The overwhelming majority of black athletes come out of the lower echelons of black society," the professor said. "I don't think it is accidental when you look at the inordinate number of blacks in jail and the proportionate number of blacks on athletic teams. You are essentially looking at the same guy. They both have numbers; they are both in uniforms, and they both belong to gangs. They only call one the Crips, or the Bloods, while they call the other team the 49ers, Warriors, A's, or the Giants. They are all in pursuit of respect. They all, at one level or another, keep score. The parallels are all there. It is the same guy."
A 6-foot, 230-pound running back who once wore the number 13 and rushed for 1,237 yards in a one-year career at football's second highest level, scoring 18 touchdowns and never losing a game, finds his way to the criminal justice system. To become a part of it. For possibly the next 10-15 years. Minimum time, maximum security.
How did a sociologist predict you? Society predict that the world would see you? Predict the person you would become?
How on this day, while you sit inside a jail cell, can you convince yourself that football, the game you believed you were brought on this earth to play, didn't save your life … it was the reason it almost ended?
How do you accept that as your blessing?
If you are Maurice Clarett, how do you finally tell football goodbye?
Scoop Jackson is a national columnist for Page 2 and a contributor to ESPN The Magazine. He has a weekly segment on "Cold Pizza" and is a regular forum guest on "Rome Is Burning." He resides in Chicago. Sound off to Scoop and Page 2 here.