By Scoop Jackson
Page 2
To let John McEnroe, at a U.S. Open media session, tell it: "[Andy Roddick] seems to be finding his game again, winning in Cincinnati.  Has Jimmy Connors by his side.  I'm sure that will get a lot of attention here, as it should. They've only been working together this summer, but I've already seen huge strides in his game.  His first tournament in Indianapolis he made the final there, lost in a great match to James Blake, and then Andy was injured for a couple of weeks and came back in Cincinnati and after a first-round scare he played as well as I've seen him play in a while.  He seems to be playing more aggressively.  He's stepping into the court a lot more, trying to return a little bigger off second serves, come into net a lot more.  His mind-set is very positive, and I think Jimmy has had a huge impact there, sort of positive reinforcement."
---
The question was posed on SportsNation a month ago: To what do you attribute Andy Roddick's recent struggles?
(1) Parting with Brad Gilbert (as coach)? (2) His attitude/lack of intensity? (3) Not enough of an all-around game?
My question: Why stop there?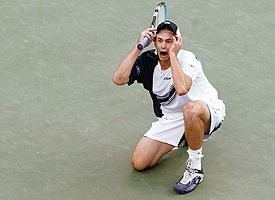 Nick Laham/Getty Images
When Roddick won the U.S. Open in 2003 at 21, it appeared he would be the next great American star.
What about the desire to improve, the will to live up to what he once was and had promise to become? What about seeing players like Roger Federer and Rafael Nadal and Marcos Baghdatis and David Nalbandian and Blake catapult past him in the last three years and not showing the wherewithal to try to catch them? What about his severing ties with former coach Tarik Benhabiles in 2003? What about putting in the hours, days, weeks and months to develop a stronger backhand and net game? What about footwork? What about simply acting like or giving the public perception that he wants to be the best?
At the start of the 125th U.S. Open, the truth needs to be unleashed. We need to look at the tennis player who has possibly been the most underachieving player on the tour the past three years. One who has been falling and just recently seems to be making the effort to get back up.
Since he won the 2003 U.S. Open and vaulted to No. 1 in the world rankings, Andy Roddick has done this: reached the Wimbledon semis (2003), the Australian Open semis (2004) and the Wimbledon finals twice (2004 and 2005, losing both times to Federer).
Then the bottom fell out.
An embarrassing first-round loss at the U.S. Open in 2005 was followed in 2006 by a fourth-round loss at the Australian Open, a first-round loss at the French Open and a third-round defeat at Wimbledon.
How does a man go from winning a Grand Slam tournament to losing in the first round of that same tournament in two years? He's now ranked 10th in the world.
(And having James Blake, one of only three American players ranked in the men's top 35 -- Robby Ginepri is ranked No. 21 -- jump from No. 210 in 2005 to No. 7 now, hasn't helped Roddick's reputation.)
In boxing, you can have bad nights; in college football, you can have bad games. Things happen, your career or season pays for it. But in tennis, on the ATP circuit, losing consecutively in the first, third and fourth rounds of major tournaments equates to a desperation that would bring Grissom out of the lab or Andre Braugher back to television.
To his credit, since the loss to Blake in the finals at Indianapolis in July, Roddick did win the ATP Masters Series title on Sunday in Cincinnati, defeating Juan Carlos Ferrero 6-3, 6-4.
It was his first tournament win since last October, his first Masters Series win since 2004.
So maybe the turnaround is in motion. Maybe the Andy Roddick who was predicted to carry the American men's tennis throne that Pete Sampras and Andre Agassi held down will again make appearances in Slam finals and climb up the world rankings.
Maybe, now that Jimmy Connors is his new savior, he'll get the chance for a new introduction.
Maybe the real Andy Roddick is about to introduce himself to us all over again.
---
To let Matt Cronin, on tennisreporters.net, tell it: "[I]t's Roddick who troubles me the most. I hate to say this about a 24-year-old, but at this point, he's looking like a one-Slam wonder, and that's too bad. He's a fiery, intense competitor who's an honest, likable guy despite his tendency to let his mouth run on occasions, but it's very difficult to see just how he's going to become a top-five player again. ... really, what's he's bringing to the table that's so special? There are at least 25 other guys on tour who can hit a forehand as well as he can. There are at least 100 with a better backhand, and a good 30 with better volleys."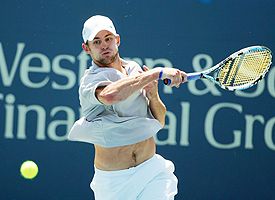 Robert Laberge/Getty Images
Roddick hasn't advanced past the round of 16 and has two first-round exits in his last four majors.
To let Morris King Jr., head of MAGIAN World Class Tennis, tell it: "All of this hype about Connors being the second coming, being Moses parting the Red Sea -- anything that Roddick does immediately, right now, has nothing to do with that. But to answer the question if he's overrated, I'd have to say 'kind of.' He has larger issues. The problem with Andy Roddick is that over the years he's gotten super-arrogant. He started showing that arrogance and he immediately started losing. His humbleness left. ... It's not something you can directly put your finger on. But it's there. It's something I observed. It's also something everyone around him seems to avoid."
To let Touré, a contributing editor to Rolling Stone who's covered tennis for many magazines, tell it: "I don't think Andy's overrated. He's a strong player, one of the best in the world. He's better than James Blake, who happens to be ranked ahead of him now. Roddick's got a great huge serve, a great forehand, and the heart and grit we saw in Connors and [Jim] Courier. But because A-Rod didn't grow at all until relatively late in his teens, he never developed a strong net game, so he's a bit limited compared to the elites Federer and Nadal, who are all-court players. Everyone lives at the baseline nowadays, but to be elite you've got to be able to get inside the service line and win some points. I think Roddick will win more slams in the future. But I do wish he'd stuck with Brad Gilbert. That was the best he ever was."
---
Overrated? Yes. No. Quite possibly. Not really. Ugh.
To say Andy Roddick is overrated might be just short of cruel -- but also as accurate as hitting the 25-point red circle of the board that surrounds the 50-point black bull's-eye in darts. On three successive throws.
The only thing that saves Roddick from the "O" word is his parallel other, Lleyton Hewitt. No one can call Roddick overrated without making Lleyton his doubles partner. Because the Siamese-ness of their careers and the similarities of their falls are as if they were separated (by two years) at birth.
Hewitt began his pro career in 1998, Roddick in 2000. Hewitt has 25 singles titles, Roddick 21. Both were once ranked No. 1 in the world, Hewitt in 2001, Roddick two years later in 2003. Hewitt became the youngest player in history to be ranked No. 1 (at 20 years old). When Roddick attained the ranking, he became the second-youngest ever.
Hewitt has two Grand Slam titles (U.S. Open 2001, Wimbledon 2002) to Roddick's one. And since Hewitt achieved the top ranking, he's been in two Wimbledon finals (just like Roddick), two Australian semifinals and two quarterfinals at Roland Garros.
His career match record is 427-132, Roddick's is 345-107; 69.0 percent to 68.9 percent.
And although he held the No. 1 spot longer than Roddick (68 weeks total to Roddick's 12), Hewitt is presently ranked seven spots below Roddick at No. 17.
Lleyton Hewitt is only 25 years old, Andy Roddick turns 24 on Aug. 30.
But what makes the case for judging Roddick as overrated compared to Hewitt is the "profile" -- a branding that Roddick helped create for himself.
In a portfolio that ranges from his ringing the bell to open the stock market to hosting "Saturday Night Live" to his high-end endorsement deals with American Express, Rolex, Cadillac and Lacoste/Izod to his former high-profile relationship with Mandy Moore to the rumored higher-profile relationship with Maria Sharapova, Roddick has not helped his cause by living the lux life off the court while living up to Roscoe Tanner on it.
And because of that, many analysts, commentators and tennis experts have questioned his commitment to the game. Questioned whether he really wants to be a dominant player in the sport or just receive stardom from it. They have focused on his underachievements of the past two years. Or as James Blake even said in the Houston Chronicle about last year's early U.S. Open exit, "American Express might have gotten even more press with him losing in the first round."
Maybe, just maybe, if Andy Roddick wasn't a man, if his chromosomes weren't registered XY, he could be considered the male equivalent to Anna Kournikova.
But that would be wrong ... wouldn't it?
---
To let Andy Roddick, on Bloomberg News, tell it: "I haven't played my best tennis this year and that's not a secret. But to talk about my career as people have this summer, in context of it being a finished product, is not fair."
---
In 2003, in an interview in Deuce magazine, Roddick looked into his future. "American tennis fans have been spoiled in the best possible way," he said. "I'm working on it. It's not all roses, but you see rookies come into the NBA and they have no jumper, and then four years later they're hitting fadeaways. That's what I'm hoping for; that's what I'm working towards."
It's been three years. What's changed?
He's gotten older but not better. In using his basketball analogy against himself, Andy Roddick would not be on par with LeBron James, Dwyane Wade, Amare Stoudemire, Gilbert Arenas or even Josh Howard -- all basketball players who have gotten progressively (and ridiculously) better each year.
Fadeaways? In this line of thinking Roddick is, who, Kwame Brown?
Which is why he needs to stop. He should stop smiling now. Stop acting like this doesn't bother him.
It's that time.
Time to drop the attitude and arrogance, drop the profile, drop the extracurriculars, drop SFX.
It's time for Andy Roddick to be angry at the world, time to be angry at this column, time to be angry at himself.
He's sitting on the 10-spot in the rankings when the third -- or second -- should be his. By the end of this U.S. Open he'll either move up or further down the ladder. Towards heaven, or closer to hell. He'll either start the beginning of being the next Andre Agassi or continue to be the frustrating Andy Roddick.
Who knows?
He needs to make us believe that he's serious about tennis. That the game and his place in it mean as much to him as it does to those who are rooting for that player from three years ago to return.
Because there's a difference between being overrated and just over. Andy Roddick needs to know this.
He needs to act like he knows this.
Maybe Roddick has been unlucky. But Brad Gilbert was not luck, attitude and intensity are not luck, not having more than a 153-mph serve is not luck. But not having luck is something one can only blame oneself for.
Oprah Winfrey once said that she is living proof that the harder you work the more luck comes your way.
Why hasn't Andy Roddick found any luck over the last three years of his career? Only God, Oprah -- and maybe Jimmy Connors -- have the answer.
Scoop Jackson is a national columnist for Page 2 and a contributor to ESPN The Magazine. He has a weekly segment on "Cold Pizza" and is a regular forum guest on "Rome Is Burning." He resides in Chicago. Sound off to Scoop and Page 2 here.