By Scoop Jackson
Page 2
"As hard as it is to admit, a change may be good for everyone." -- Allen Iverson
Now, he wants out. Finally!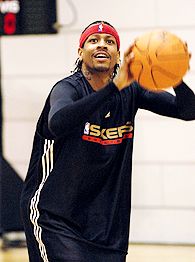 David Dow/NBAE via Getty Images
Even though he now wants out, don't expect suitors to line up for Allen Iverson.
After being shopped – honestly – for six years (especially if you include the summer of 2000, when the Sixers tried to trade him less than a year before he would take them to the NBA Finals and win the MVP award), Allen Iverson has finally reached that point most parties reach in a broken marriage.
They've been done. He's literally
done
. The differences are beyond irreconcilable … it's Bobby Brown and Whitney Houston time. But there's one problem: No one wants him. For so many reasons that have nothing to do with basketball, it seems none of the 29 teams outside the 215 area code want anything to do with Allen Iverson. Not that a trade won't happen, but it will be more of a club "settling for" Iverson, as opposed to an actual desire to have AI on its roster. Why? Because the only difference in today and almost every offseason this century is "the demand." The one that AI apparently put on Sixers GM Billy King when he walked into his office Tuesday and verbally cosigned his walking papers. The big difference: Allen Iverson finally conceded. And his concession won't change the market. The only thing it will do is make Sixers chairman Ed Snider and King more aggressive in getting him outta there, so they can get on with their lives. Without The Answer. One would think after 10-plus seasons, four scoring crowns, three steals titles, seven All-Star appearances, two All-Star MVPs, three All-NBA first-team selections, three All-NBA second-team selections and one MVP award, teams would be lined up like PS3s were on sale. But one would be wrong. Despite his gift for basketball, Iverson has another gift that many teams in the NBA don't want to deal with … and that gift is a combination who he is and who they have been waiting on him to become. From the business side of the equation, trading for Allen Iverson has to be beneficial for his new team … both on and off the court. In a market where some of the cities that host NBA teams are not "urban" cities, having Iverson as the face of your team will not be "in the best interest" of the franchise. Which makes a deal for Iverson as much a business decision as it does one based on basketball. For franchises like Utah, Minnesota, Milwaukee, Indiana, Portland, etc., the conversations will go far beyond what happens on that 94 foot-by-50 foot space of hardwood. And those conversations probably have occurred in the past, too.
Allen Iverson
Point Guard
Philadelphia 76ers

Profile
2007 SEASON STATISTICS
GM
PPG
RPG
APG
FG%
FT%
15
31.2
2.7
7.3
.413
.885
All that doesn't help the cause, but there's yet another factor working against Iverson, that's even a bigger "force of resistance" here. And that is the combination of his age (31), the way he plays and the universally preconceived notion that his decline is about to set in. You know, that mentality that "every year is his last year playing this well" which has been floating around the NBA for the last several years. See, more than anything (more than the other baggage they'll say comes with Iverson: insubordination, lack of punctuality, bad practice habits, poor shot selection, selfishness, mood swings, etc.) teams have been hesitant because they fear his decline is about to hit. Every GM is waiting for him to fail, waiting for him not to be able to do the impossible again. Ever since he came into the NBA in 1996, Iverson has done things he was not supposed to be able to do. Every season, he has proved people wrong. Five years ago, people around the league were saying he couldn't continue to play like he plays, that in five years he'd be out of the game because no one his size can attack the game the way he does. Every year was supposed to be his last. Five years later, 31.2 ppg, 7.3 apg, 2.2spg. Still.
Eliot J. Schecter/Getty Images
Iverson's attacking style has always prompted rumblings that his career would have an early demise.
Still they doubt. Still they say that one day his smoke and mirrors will be exposed, the David Blaine act over. He has been over-the-hill, over and done with, over and out'd since he was 25. He's 31. He's 16 months younger than Steve Nash.
But you'll never hear any GM concerned over trading for Nash, reluctant because his game is on the verge of falling off. And it's that "against-all-odds" state of affairs that Iverson has had to deal with his entire career, his entire life if you want the truth. His fight has been constant – as he continues to prove people wrong, but at the same time never proving himself right. That's the AI paradox: one that he will not be able to change; one he's unfairly about to be victimized by again. So, let it be said that the Allen Iverson Sweepstakes will not be the bidding war that many would expect for a player of his brilliance. Instead, the unfortunate dark side of the game is about to reveal itself in the form of 15 teams fighting
not
to make a trade for Allen Iverson. Sit back and watch how one of the game's best players gets treated in the open market. See how a player of Iverson's value learns how hypocritical "value" can be in the business of the NBA. Notice how after years of Philly trying to get rid of him, the fact that Iverson finally has agreed to a divorce, won't change anything. And when it's all over, pay attention to who really comes out the loser in this: the Sixers or the teams who decided to stay away from Allen Iverson.
Scoop Jackson is a national columnist for Page 2 and a contributor to ESPN The Magazine. He appears regularly on "Quite Frankly" and other ESPN shows. He resides in Chicago. Sound off to Scoop and Page 2 here.