By Scoop Jackson
Page 2
The dreads are dripping from under Reggie Nelson's orange helmet. Sweat. And something more. Maybe part of his soul.
If you saw some of the images of him from Florida's practice last week, you'd notice that his mesh No. 1 jersey is always rolled up above his waist, and there's a yellow "Livestrong" Armstrong band orbiting his left wrist.
Both take on different meaning now.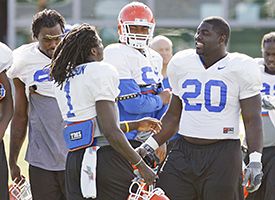 AP/Ross D. Franklin
Reggie Nelson (No. 1) must play just 17 days after his mother died from cancer.
He's been shadowing, covering the teammates who have who have become his "familia" over this last month, as they run their practice routes. They, too, are dripping wet from Urban Meyer's preparation for the biggest game of their lives.
But their perspiration doesn't weigh as heavy. Not heavy like Reggie Nelson's.
It is said that the team smiles differently when they see him now. It is said that when practice is over and the helmet comes off, teammates surround him. They all smile. They want to – need to – see Reggie Nelson's eyes. See if the eyes of their 6-foot-1, 193-pound defensive leader has changed since their Florida Gators football squad found out it was going to be playing for a national championship.
They need to see if he's a'ight.
See … Reggie's mother died on Dec. 22. And now he has a football game to play.
---
Nelson, a first-team AP All-American safety, wasn't supposed to be attending his mom's funeral days before the day she's been waiting for his whole life. The way they had it planned, Mary Lakes was supposed to be around for the Tostitos BCS National Championship Game on Monday and then hold her son's hand days later when he announced he was going to forgo his last year of college to become a possible first-round pick in the NFL draft in April.
But breast cancer waits for no one. No game. And even after a three-year battle, there's no way in heaven Reggie Nelson could have prepared himself for this moment, this day, this stage of his life without his mother.
Many media members have tried to talk to Nelson, but his coach cancelled those sessions. Nothing personal, but Meyer felt this was not the time for any non-family member to be getting into a member of his family's personal business, although Shelley Smith was allowed to tell his story on "SportsCenter."
What culminates on this day is not the physical preparation that Reggie Nelson has had to endure during the days of grieving, but the mental aspect of having to deal with his mother's loss and maintain a focus that helped carry him to a national title game.
And the un-irony of this, as cold as this sounds (cold as it actually is), this might have been the other way around. With Reggie Nelson being a y.b.m. in America's homicidal society – even a young black male studying sociology at a major university, tied for second in the SEC in interceptions, a Jim Thorpe finalist as one of the three best defensive backs in the country – he might have been laid to rest before his mother, missing the big game, missing the rest of his life, never seeing his future.
He might have been one of those statistics.
Being one and knowing many, it's almost impossible to believe that thoughts like these are not searing themselves into Reggie's consciousness. How do I continue; how do I do this without my moms?
I'd put anything on this being part of his mind-set that he can't shake. Not because I know him, but I've known so many like him. You begin to feel them, not just feel for them. Empathy can be serendipitous.
Marc Serota/Getty Images
Nelson intercepted six passes for the Gators, returning one for a TD.
But that becomes secondary. At least for this one night. How does anyone play on when the game they are about to play is meaningless to them but means everything to everyone around them?
How does Reggie Nelson play a game this big when it will be the first game of his career that he won't make the phone call he always made right before a game to hear his mother's voice? Or does he still make the call and pretend to hear her voice on the other end, because he's heard her voice so much over the last two weeks that he probably already knows exactly what she was going to say? If any of us were Reggie Nelson, how would we make these 60 minutes mean everything in the world?
How? He has to look into the eyes of that family – his teammates – and see. He has to look into the eyes of linebacker Brandon Siler, who's going to have the job of "containing" Ohio State quarterback Troy Smith, the 2007 BCS version of Vince Young, and the 2007 BCS version of LenDale White in Antonio Pittman. He has to look into the eyes of defensive tackle Joe Cohen, his boy from high school who rode with him to Melbourne, Fla., for his mother's funeral. He has to look into the eyes of team captain Jemalle Cornelius, all-world freshman wide receiver Percy Harvin, all-SEC center Steve Rissler. He has to look into the eyes of running back DeShawn Wynn and backup quarterback Tim Tebow, the two players who might be as important to the outcome of this game as Nelson was against Alabama, when he was the SEC's Defensive Player of the Week. He has to look into the eyes of Meyer and defensive coordinator Charles Strong, who continuously has spoken on his behalf over the last few days.
Reggie Nelson has to look and see where they are. See that they are with him.
He has to find a way to compartmentalize like those much older than him who have lost and had to perform have done in the past. Jordan. Woods. Bonds. The great ones. All have had to endure (even though it was their fathers that passed, not mothers, which can be a total different set of circumstances when it comes to the bond between mother and son) what Nelson is living through this moment.
But they all faced this as adults, out of college and in the pros, married. None were still kids when it happened to them, when their life changed because part of their life ended.
Yet, Reggie Nelson is going to be asked to get past this.
But somehow none of this can be roaming through his head when the game begins. Somehow he's going to have to find life in death. And after the game is over – shock the world or lose – he's going to have to do the same: Find his life in his mother's death. Then he's going to have to find a way to explain it all to his daughter.
Something a kid is never supposed to have to do.
---
There's a mural that went up last Sunday on the infamous 34th Street Wall in Gainesville. The day after Reggie's mom's funeral.
It was done by the familia Reggie doesn't know he has. The family that he'll never meet. The family that will help him get through Monday.
The mural is of Mary Lakes as an angel, looking down upon her son. Art imitating the afterlife.
For the young prodigal godson they call "The Eraser" inside Gator Nation, the image is one that he'll never be able to erase from his mind. Even if he never gets a chance to see it.
Under the image of Mary, the words read, "Reggie, you will always be the wind beneath her wings."
Words he must live strong by from now on.
Let's hope that after Monday, Reggie Nelson will be able to use those words to carry him through more than a game of football.
Scoop Jackson is a national columnist for Page 2 and a contributor to ESPN The Magazine. He appears regularly on "Quite Frankly" and other ESPN shows. He resides in Chicago. Sound off to Scoop and Page 2 here.