So what if Kobe talked to him?
According to Chip Brown of the Dallas Morning News, Kevin Durant recently got a call from Kobe Bryant to talk about how, if Durant came out of school early -- like right now -- he would be part of the family. Part of the monopoly Phil Knight built. Free Air Force 1s for life.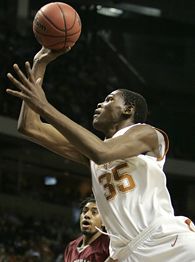 AP Photo/Elaine Thompson
Durant is the man of the moment -- of course everyone is going to chase him.
Durant wears a size 18.
"Kevin will go two or three years at Texas, if he could," is what Taras Brown, the man Durant calls his godfather, said before the season, according to Brown's article. "It won't be because Kevin Durant or [Ohio State's] Greg Oden want to go. The shoe companies will make them an offer where it's impossible not to go."
Such is the life of superstardom, even before it starts. It's bad enough that the NBA had to fine Danny Ainge for sitting next to Durant's family during the Big 12 tournament, and Michael Jordan for mentioning Durant's name in an interview. Now the league is going to have to find a way to stop players -- not execs -- from contacting future players on behalf of the shoe companies that sometimes pay players more money than their teams do.
Now, Bryant has "angrily" denied contacting Durant. But if what Chip Brown wrote is true, then I only have one question:
What's wrong with that?
Kevin Durant is that dude right now. He's LeBron from four years ago, as far as having the ability to make grown GMs salivate like a store manager when Oprah walks in to shop.
If you're Nike or adidas or Reebok or Converse (or And 1 or Li-Ning or Starbury, for that matter), why wouldn't you go after this cat with the hard sell? What have you got to lose? Every shoe company is in competition, just like the teams vying to get the No. 1 pick by losing as many games as they can. So why should they act any differently than those NBA teams, when having such a player on their roster could have a similar payoff?
Think Nike isn't benefiting from LeBron as much as the Cavs? Think adidas isn't getting out of T-Mac and KG the same thing the Rockets and the T-Wolves are? D-Wade for Converse, versus what he does for the Heat? And Reebok is in more debt to Allen Iverson than the Nuggets will ever be.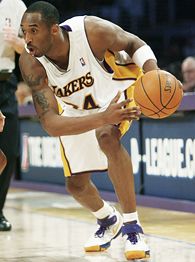 AP Photo/Matt Sayles
Seems kinda natural Kobe would reach out to the next big thing.
The point is simple: If it takes a once-in-a-generation player (Kobe) to reach out to get another once-in-a-generation player (Durant) to possibly sign with the shoe company he's with before the young 'un enters the stage, then screw ethics. Nike would be smart to use a player of Kobe's magnitude to "pitch" to whoever it is who's "got next." We can't hate the player or the game for this.
This has become part of the high-stakes game of pre-professional sports. It's part of the business of basketball. Durant's going to sign a shoe deal, and he's going to sign it with the highest bidder, or maybe with the company that made the most impressive pitch.
And Kobe Bryant is a 95 mph slider on the outside corner.
Calls put in to Nike and adidas for this column went unreturned. And why should they call back? What's the big deal? The rumor of a $30-50 million deal to land Durant could be exaggerated. Those might just be arbitrary figures thrown out there to keep the other shoe companies away because Nike knows they can't afford to match that number for a player's initial contract. Who knows?
And as John Thompson said recently on his radio show: "It's better to have someone like a Kobe Bryant or someone legit from the shoe companies talking to these kids rather than someone off the streets that's telling the kid lies and in the position to mess up the kid's life by having them believe something that's not true."
At the end of the day, has there ever been a shoe company that's ruined a young player's career by offering him a deal?
Don't think so.
So if there's a part of you that feels that this is wrong, that this whole "shoe companies getting involved with kids not yet in the NBA" thing is dishonorable, iniquitous, immoral and corrupt, just remember the two life lessons Lyn Collins and Nelly taught us:
First: "You gotta use what you got to get what you want."
And last: "What good is all the fame if you ain't ------ the models?"
Scoop Jackson is a columnist for Page 2 and a contributor to ESPN The Magazine. He's also the host of ESPN Original Entertainment's "NBA Live: Bring It Home". Sound off to Scoop and Page 2 here.