It's NBA playoff time, at last. And here are the five with the most to prove this postseason:
1. LEBRON JAMES
Bron took a lot of hits this season. Pundits, experts, analysts, reporters, sociologists, bartenders, cab drivers, etc., all began to "wonder" whether he has what it takes to be who the world expects him to be: the greatest basketball player ever.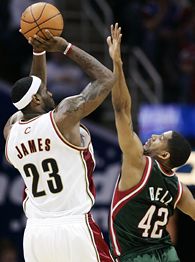 AP Photo/Mark Duncan
LeBron's heard the doubters this year -- time to show them what's what.
It seemed like LBJ heard those words -- and, immediately after the All-Star Game, found a way to make everyone wish they could pull their words back like Don Imus.
But now it's time for LeBron to really prove those people wrong. Because if Bron doesn't play better than he did during last year's playoffs (which is almost impossible, because he played the best ball of his career during that span) … if he doesn't win more games at the buzzer, hit clutch free throws down the stretch of every close game and get the Cavs past the second round … he'll be hearing the "wondering" again. There will be one harmonious voice heard across NBA Nation, simply saying about King James: "We spoke too soon," followed by the always popular, "We told you so!"
And in a world that hates global icons, there's nothing worse than proving your haters right.
2. DIRK NOWITZKI
Ever since the final buzzer of Game 6 in last year's Finals, Dirk has been getting a raw deal.
This season he was chiefly responsible for elevating his team to a win total (67) that only five teams have reached in the history of the game. According to 10 of the 16 experts on ESPN.com, Dirk is the league's MVP. Yet no one can forget how he went out in last year's Finals. He (and the Mavs collectively) let one player (Dwyane Wade) and three refs (each game) take Dallas' title away.
Dirk must lead his team to a title this postseason. It shouldn't be like that, but it is. If the Mavs fall short, and if Dirk doesn't push his regular-season numbers -- 24.6 ppg, 8.9 rpg -- close to 30 and 15 respectively, the millions of fans who can't let go of last year will look at this year as further evidence that Dirk doesn't necessarily have what it takes.
3. STEVE NASH
MVP or not, Mr. Nashty has to get to the NBA Finals to validate his status as the undisputed best player of his generation.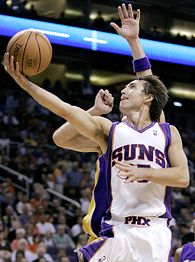 AP Photo/Matt York
Nash has to help prove that Phoenix's style works in the playoffs.
No one questions Nash's heart, soul, skills, desire or drive. But some people argue that Nash's -- and the Suns' -- style is better suited for regular-season ball than the postseason game. Remember, though, that this will be the first time (keep your fingers crossed) that this Phoenix squad will be at full-roster strength to make a legit run at the title.
This year Nash has to make the 11 players around him better in Game 83 and beyond, the same way he did in Games 1-82. He has to take this team at least to the Finals. The public won't turn on Nash if he fails, like they will on Dirk and LeBron. But his legacy is at stake nonetheless.
4. DENVER NUGGETS
Even though the Nuggets have to play the Spurs in the first round, the Ivo/Melo combo must pay dividends early to make the trade worth it.
And although it's unfair to put this type of pressure on the Nuggets, the playoffs are not about being fair. With Denver having two of the three most dangerous offensive weapons in the NBA, people expect results, plain and simple.
The fact that the Nuggets are going up against the NBA-equivalent of the New England Patriots means nothing. The fact that they are missing Kenyon Martin -- a power forward who has been to two NBA Finals and could be the difference-maker in any series they'd have to play in -- means nothing. The fact that San Antonio, Houston, Utah, Phoenix and Dallas are all better teams (especially on defense) means nothing.
The Nuggets need to win, right here, right now. Pushing the Spurs to a Game 7 won't help. The Nuggets have to win the series. If not, what's the difference between last year's playoffs and this year's? A Round 1 exit is a Round 1 exit.
5. FLIP SAUNDERS
Last year Saunders hadn't been there before -- not with this team. Last year -- despite 64 wins during the regular season -- the Pistons were still Larry Brown's squad. But not anymore.
After going through the fire with Detroit last year and losing, Flip now has no excuse for why his team won't tangle with the Western Conference's representative in June. The players won't get blamed if the Pistons fall short of the Finals. Flip will.
And that's messed up. But Saunders inherited a team that was one quarter away from winning two chips in a row, intact. The Pistons lost a defensive hero this past offseason, but they picked up Chris Webber (circa 1999). The bench is better than it was last year (Flip Murray), the rotation is better than it was last year (with Antonio McDyess, Nazr Mohammed, Jason Maxiell and Carlos Delfino rotating in as well), and the best GM in the game (Joe Dumars) has his back.
"We [had] to have a better inside presence offensively," Saunders said after losing to the Heat in last year's playoffs. "If you want to beat Miami, you have to have a center who can score against Shaq." Well, Saunders has the center he was talking about a year ago. So if he doesn't get to the Finals, the world is going to say to him the same thing Antonio Tarver said to Roy Jones Jr. before he knocked him out: "What's your excuse going to be now?"
Scoop Jackson is a columnist for Page 2 and a contributor to ESPN The Magazine. He's also the host of ESPN Original Entertainment's "NBA Live: Bring It Home". Sound off to Scoop here.