If I said women are more dominant in sports than men, what would your reaction be?
On ESPN's/Page 2's "Who's Now?" project that runs on "SportsCenter," there are four brackets in which each "now" athlete is placed. There's a Jordan bracket, there's Ali, Babe has one, and then there's Billie Jean King.
In looking at the icons named for each bracket, I thought of how cool it was for them to include BJK, have a bracket named after her in recognition of her contribution to women in sports and sports in general.
Then it hit me: Of the four athletes who have brackets, King was the least dominant in her sport. So why'd they choose her? Then it hit me again: If this thing is based on dominance (not that ESPN ever said it was), Jordan, Ruth and Ali are not as dominant in their sports as the three top women athletes have been in theirs. Were any of these dudes as dominant in their sports as the most dominant females in their particular sports?
I thought for a moment. The answer I came up with was "no."
Now I know blasphemy when I read it, know it better when I write it, and saying that "girls" are better at sports at the highest level than "guys" is as sacrilegious as saying Meryl Streep is better as an actress than Robert De Niro is as an actor. But the funny thing about blasphemy is sometimes it's true.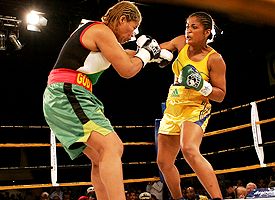 AP Photo/Themba Hadebe
Laila Ali's dominance in the ring has few peers.
Here's my point: Was Michael Jordan more dominant or better in basketball than Cynthia Cooper? Was Muhammad Ali more or as dominant in boxing as his daughter Laila was before she was dancing with stars? Is Tiger Woods as dominating as Annika Sorenstam? Is Roger Federer, who many are considering the greatest tennis player ever, as dominant now as Steffi Graf was only 15 years ago?
Cynthia Cooper initially (she came out of retirement and played one year in 2003) played in the WNBA four years, she won four championships, four MVPs in those championships and two MVPs for the regular season. No other basketball player in the game's history can claim that kind of dominance.
Laila Ali, same thing. In her 24 professional fights she's never lost (21 KOs) and has never even come close to getting beaten. Of all of the great fighters who have ever fought (Lewis, Dempsey, Robinson or anyone that ever held the pound-for-pound crown), how many can claim that?
What about Graf? For the last two years, we have been talking about Federer and how he's dominating the circuit and how he's going to finally win tennis' Grand Slam. Well, Steffi not only won the Grand Slam (1988), she damn near back-to-backed it by winning three of the four majors in '89, losing only to Arantxa Sanchez-Vicario in the finals of the French Open. And while Roger can't seem to win that major, understand this: Steffi won all four majors in tennis -- at least four times each.
And while we sit around and drink Tiger's water as if it's holy, Annika's water might be wetter. Tiger, 77 career wins; Annika, 84. Tiger, 57 PGA tour wins; Annika, 69 LPGA tour wins. The only advantage Woods has right now over Sorenstam (outside of earnings, but you can't blame Sorenstam for that because if she were a "he" she'd be atop the Forbes list, too) is that he's won 12 majors and she's sitting on 10. But still.
Is Pat Summit more dominant than John Wooden or Dean Smith? Or does she just have more wins? Is Roger Clemens a greater pitcher in his sport than Lisa Fernandez was pitching in hers? Is Ronaldinho or David Beckham really greater or more dominating in soccer than Mia Hamm was? Is Carl Lewis really greater in the field of track and field than Jackie Joyner-Kersee? Or is any man in track and field, for that matter, on par with Babe Didrikson?
This is not about greatness as much as it's about dominance. And how women athletes in their respective sports have come to define dominance better than men have.
So if I made the statement again -- women are more dominant in sports than men -- would your reaction still be the same as it was when you first started reading this column?
Thought not. But at the end of the day, your reaction won't matter; no one will care about this, because women will still be looked at in sports as less than equal. Their level of competition amongst themselves is not as great. Many will feel that they are not even deserving of being in this type of conversation, not worthy of this type of praise. Blasphemy, don't forget.
Sad, ain't it? But that's the Title IX axis this sports world spins on. Makes you feel good that Billie Jean King was even able to get a bracket named after her, but at the same time makes you wonder why all four brackets weren't named after women.
Scoop Jackson is a columnist for Page 2 and a contributor to ESPN The Magazine. He's also the host of ESPN Original Entertainment's "NBA Live: Bring It Home". Sound off to Scoop here.