Some GMs are idiots. Straight up incapable of doing what you or I could do with less money and no experience in the game. You know who these people are, no need to mention names.
Up until yesterday Danny Ainge's name was on that list. Some (in Boston) would say at the top. With Ainge's acquisition of Kevin Garnett, added to the fact that he also found a way to get Ray Allen on draft day -- and he was able to accomplish both without losing Paul Pierce -- this could be the biggest turn from hell to a small slice of heaven by any general manager in the recent history of basketball. And it doesn't make a difference if the Celtics win another game.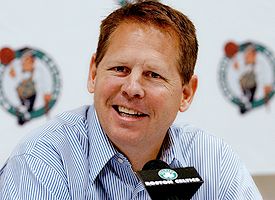 AP Photo/Charles Krupa
Who would've thought Danny Ainge would get the last laugh in the Eastern Conference?
But they will win another game. And another and another. They will win more games than they did last year. Barring serious injury to two of the three major players, they will make the playoffs next season. Everyone will forget the Greg Oden lottery scheme. Boston is back in the game. Welcome.
More than anything, Ainge has just redirected a general consensus of himself. Not that he made us (those who publicly and privately created adjectives followed by specific nouns to describe his GM abilities) appear foolish right about now, but he just made us look at him differently. Like he's competent without the "in" in front.
As Garnett's agent, Andy Miller, is quoted as saying last month in regard to this trade, "this would be a major trade that would affect a franchise and those in the organization, so you better be sure [he wants to be there long term]." Ainge took those words and gave a "date with Esther Baxter" type of extra incentive that made sure that with the addition of Allen, KG might want to stay in Boston a little longer than summer 2008, when he could have opted out of his $23M-per-year contract.
And it's there where the brilliance in this lies. All coming from Ainge. Of course, at some point his friendship with McHale (Kevin, GM of the Timberwolves) had to play a role, but credit should be given in much the same-yet-opposite manner it was credited when Ainge let Antoine Walker walk away (twice!) after overlooking the truth (pun) that the last two years 'Toine and Pierce were together and healthy the Celtics made the playoffs, one year (2002) reaching the Eastern Conference finals. Ainge learned from that. His mind is different now. Maybe. When his plan to land Oden failed, his backup plan -- one we had no idea existed -- went into full effect.
His mind, into full-effect mode. Thinking both Allen and KG have been parts of trios before so this will be nothing new -- just possibly better. KG's most recent trifecta in Minnesota with the Latrell and Cassell Show in 2004, got him to the Conference finals (Western) and won him the MVP of the season. Jesus (Allen) was a part of a ménage-a-trois also, in Milwaukee in 2001. Big Dog Glenn Robinson and the same Cassell who resurrected KG were the Mod Squad then. They, too, reached the Conference finals (Eastern), losing in a Game 7 to the CBA Sixers unit that was one of the most improbable (codeword: horr-i-ble) squads to make the NBA Finals before the Cavs did it this year.
Which is the reason and rationale that sprung Ainge into this Homer Simpson-esque epiphany. He saw in June what the world saw: a team not ready to be in the Finals, in the Finals. Only Ainge knew he could do something about it, and all the rest of us could do is watch. Painfully watch.
If a team out of the East only needs one great player to make it to the Finals, what happens to the team that has three? This is the thought that ran through Ainge's oft-questioned, never-seriously analyzed mind while watching the Cavs get swept. And whereas most other GMs were thinking two -- as in "if one player in the East can get you to the Finals, why not two?" -- Ainge (apparently) was thinking beyond. It's as if he knew what all of the other Eastern Conference GMs were plotting and he plotted deeper. Something geniuses do, not idiots.
So Danny Ainge has removed himself from the Jerry Krause list. The idiot has left the Garden. Congrats. The imbecilic role he had mastered over the last four years as Executive Director of Basketball Operations all makes sense now and can all be excused (and can all be worth it) once the KG era begins.
As Red Auerbach said the day Ainge took office, "I know that it will be a great relationship because he is a worker. He has a great personality, he's smart and bleeds green!" He probably died wondering like all of us, "what the hell is going on?" There was no green blood. Even the leprechaun seemed confused. Now, looking down, Mr. Auerbach -- thanks to the person he left his legacy in the hands of -- can light up a stogie and finally, I say finally, rest in peace.
Scoop Jackson is a columnist for Page 2 and a contributor to ESPN The Magazine. He's also the host of ESPN Original Entertainment's "NBA Live: Bring It Home". Sound off to Scoop here.
TIM DONAGHY SCANDAL
Former NBA referee Tim Donaghy pled guilty to federal felony conspiracy charges alleging that he passed along inside information on NBA games.
Donaghy also alleges that referees helped alter the outcomes of games during the '02 and '05 postseasons.

He was sentenced to 15 months in prison in July.
News
•
Phoenix prosecutor wants federal files
•
Donaghy's father says NBA must share the blame
•
NBA's disclosure of own probe of officials on hold
•
Adviser: Donaghy 'couldn't stop' gambling
•
Two ex-classmates of Donaghy get prison time
•
Report: Donaghy made calls to fellow ref
•
NY prosecutors: Ref 'central' to NBA bet scandal
•
NBA's restitution case vs. Donaghy questioned
•
Donaghy lawyer: NBA trying to vilify ex-ref
•
NBA ups Donaghy restitution figure to $1.4M
•
Referee from alleged fixed game to work Game 5
•
Ex-referee denies improper officiating claim
•
Kings lament Donaghy's claims from 2002
•
Report: Federal agents ask ex-ref about Bavetta
•
NBA ref responds to Donaghy's 2002 claim
•
2002 playoff game at heart of allegations
•
Stern allows some forms of gambling among refs
•
NBA refutes report of refs disciplined
•
Ex-ref Donaghy forfeits cash as part of plea deal
•
Stern defends refs, vows to wait before punishing
•
Ex-prosecutor counseled refs during FBI probe
•
Attorney to lead review of NBA refs
•
Report: Donaghy to talk about other refs
•
Donaghy could face state charges
•
Donaghy pleads guilty to felony charges
|
Docs
•
Donaghy to plead guilty on betting charges
•
Lawyer: Donaghy classmate expects indictment
•
Congressman requests discussion with Stern
•
Stern: Donaghy only referee believed to have bet
•
Transcript of Stern's news conference
•
Police called to Donaghy's home
•
Report: Feds believe ref will cooperate
•
Reports: NBA referee bet on games
•
Mayor: Scandal won't hurt Vegas' NBA dream
Stats
•
Donaghy's 2006-'07 game log
•
Donaghy's 2005-'06 game log
Analysis
•
Munson: What happens on judgment day?
•
Munson: Prison or no prison for Donaghy?
•
Neumann: Nader feels vindicated
•
Hill: NBA not helping their own case
•
Stein: NBA has no quick fix for fixing charges
•
Smith: Season shaken by Donaghy nightmare
•
Munson: Donaghy's claims troubling for NBA
•
Adande: Shine brighter spotlight on refs
•
Sheridan: What next, Commissioner Stern?

•
Munson: Q&A about Tim Donaghy and the law
•
Sheridan: 10 Q&A on the scandal
•
Sheridan: Even Stern uncertain about latest crisis
•
Stein: Donaghy questions and answers
•
Drehs: Expert finds funny numbers
•
Broussard: Refs say it's isolated incident

•
Katz: College officials fear lasting backlash
•
Jackson: Sad, not shocked
•
Drehs: Q&A with gambling expert
•
Sheridan: Three big questions
•
Simmons: One man out, one league in trouble
•
Stein: Players react
•
Sheridan: Team USA players react

•
Stein: Official nightmare for Stern
•
Sheridan: The Donaghy file
•
Adande: NBA's image takes another hit
•
Jones: More bad news for the NBA
•
TrueHoop: Two unproven beliefs remain so
•
TrueHoop: Here's an early NBA fixer
TrueHoop
•
Betting expert: There's more to this story
•
Observations on the Donaghy documents
•
No specific mention of game-fixing
•
Donaghy treated for gambling addiction
•
Reaction to Donaghy's guilty pleas
•
Donaghy details from the Justice Department
•
Donaghy surrenders; what it all means
SportsNation
•
Vote: Your reaction
More
•
NHL: Frei: Keeping eyes open
•
Soccer: European scandal awaits resolution
Community
•
Fan reaction puts Stern in hot seat
ESPN Top Headlines