HARLEM 2006
You're looking at the single most significant basketball portrait taken in the 21st century. No one believed anyone could gather this many talents and temperaments so very early on a summer evening but it all happened like magic, and the world will one day be smitten with this picture.
If you go to Art Kane's Web site, this is one of the first things you'll see. Harlem, 1958. The people in this photo -- Dizzy Gillespie, Count Basie, Thelonious Monk, Charles Mingus, Benny Golson, Eddie Locke, Horace Silver, Art Farmer, Max Kaminsky, Sonny Rollins -- were legends at the time, known around the world as some of the greatest living jazz musicians. Kane took the photo for Esquire magazine, and it's become one of the most recognized images of the 20th century. He called it "A Great Day In Harlem."
Now, look at the picture above. At the people on the stairs, in Harlem. See a similarity? Get the picture?
Almost a half-century after Kane did something everyone thought was impossible, Kris Stone did something everyone thought was impossible, too. The young men before you were (almost unquestionably) the 24 best high school basketball players in the country last year. And they were brought together, not for a photo op or to pay homage to Kane's brilliance, but to play ball. To play basketball the way it was meant to be played: on concrete instead of wood; in the 'hood instead of arenas; for passion instead of points. Improvised … much like the jazz artists who stood on those stairs on 126th Street improvised when they played.
On Friday, Stone will do it again. He'll assemble 24 of this year's top high school players on the steps of a stoop off Frederick Douglass Boulevard. Lance Stephenson, Tyreke Evans, Jrue Holiday, Luke Babbitt (four out of the five Dime magazine "Dream Team" members), Devin Ebanks, John Riek, B.J. Mullens, Renardo Sidney, Brandon Jennings and more. They're here to play against each other one day and one day only, Friday night. Untouched by shoe companies and college coaches, unprotected by the AAU and the NCAA. Together for the game, not stardom or fame. Together because basketball, not the NBA, is in their DNA.
"The main reason I did this?" said Stone, associate publisher of Rise magazine and one of the founders of the Boost Mobile Elite 24 Hoops Classic. "I wanted to get back to the heart and simplicity of the game of basketball.
"These kids represent the rawest talent that has played on this court since back in the day, when the Hall of Famers before they became Hall of Famers used to play out here. There's so much history and culture here that's beyond basketball."
The court? The Apollo Theater of basketball: Rucker Park. Harlem, no doubt.
Stories from last year's inaugural Elite 24 game still circulate around the basketball world. About J.J. Hickson's 34 points, about Michael Beasley's damaging 26, about "Doobie Doo" Jennings' 15 assists.
About the 141-139 final score.
About how Steve Nash -- who just happened to be in New York at the time -- took the subway uptown, got lost, got found, and grabbed a seat next to Jason Kidd. About how it was the first time either of them had been to Rucker.
Sadly, the game of basketball has lost its purity. Corrupted by greed and exploitation, pride replaced by purpose, basketball -- particularly at the high-stakes high school level -- is no longer a game played simply for the sake of playing a game. And if the Elite 24 hadn't been created, none of these players would get to experience this feeling of freedom on a basketball court ever again.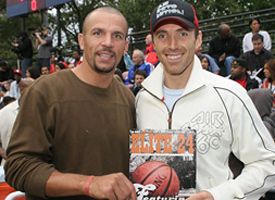 Rise magazine
Jason Kidd and Steve Nash attended the Elite 24 game last year. Wonder who'll show up this year?
This year's photo will look different. Same amount of players, but not the same historical significance. Unless you look deep. Look past the talent assembled, and you'll see how deep the history of this game really runs. Look at Noel Johnson, and his innocent face. Look for the game in his eyes. Because Noel is the son of one of NYC's playground sons. His father, Lynbert "Cheese" Johnson (all-city, Haaren High '76) ran these streets, ran these courts, before he played for the Golden State Warriors in the early '80s.
Noel, a 6-foot-7 "prod" (product and prodigy of the Class of 2009) out of Atlanta, carries the game on his shoulders with almost every step he takes on asphalt. He has a connection to this NYC playground that he inherited the second he was born. This game birthed him. "This is like a homecoming for me and him," Cheese said on Thursday before boarding a plane to come to watch his son play. "Out of the 24 players in the game, 7-10 will be McDonald's All-Americans this year. Being invited was a blessing, but at the same time I told my son when he's on that court tomorrow, let 'em know … let 'em know that, 'I'm here too!'"
And even though Noel has worked out with Antoine Walker, has Nate Archibald as a mentor, has Mike Glenn as an "uncle" and Xavier McDaniel as a godfather, and even though Noel might be the No. 1 high school player in the country next year, he is no different than anyone else in the picture. No different than Demar DeRozan and LaQuinton Ross, no different than Trey Thompkins and Kevin Jones, a player from Mt. Vernon, N.Y., who is a replacement for Al-Farouq Aminu. Because on Friday night, when all 24 players come together to play and not pose -- once that ball is tossed in the air, once they get a feel for what basketball really feels like when played on hollowed ground -- they'll know that "a great day in Harlem" is more than just a legendary photo. It's an experience. One that hangs in hearts, not on walls.
As the legendary David Ladson of the Bronx, aka "The Human Playground," once said, "There's a difference between having a hoop on your back and doing nothing and having a hoop on your back and doing something." Peep the metaphor. Everyone in this photo has a hoop on their back. They know it, we know it. It's just the hoop is invisible in the picture, just as the instruments were invisible in Kane's.
Scoop Jackson is a columnist for Page 2 and a contributor to ESPN The Magazine. Sound off to Scoop here.