This was my dude coming in, the one I was going to roll with once the season started, the one I was going to believe in the way I didn't with Vince Young last year, the one that was going to pull me back to the Silver and Black.
Back to them Ice Cube days. Back to the Raiders skull caps in 90-degree weather, patches on the right eye on Sundays, Jack Daniels kegs instead of beer. Back to last-minute flights to Oakland, calls to E-40 for game tickets and directions. Yay, yay.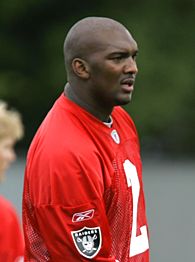 Ben Margot/AP Photo
The impasse between the Raiders and JaMarcus Russell hurts both parties -- and the fans.
But somehow, largely because of a financial disagreement between Raiders owner Al Davis and the LMM Sports Management team of Eric Metz and Ethan Lock, the NFL introduction of JaMarcus Russell won't be happening this Sunday -- or maybe any other day this season.
A four-month stall in contract negotiations, is how it's being referred to. The difference in one man and one team and a protection of guaranteed money for the player who was picked No. 1 overall on April 28.
"I know the players, even better than the coaches, understand the professional side of [this]," new-to-this Raiders coach Lane Kiffin, who formerly was USC's version of Charlie Weis (as in, one who oversaw a brilliant offense and has the rings to show for it), said last month about the stalemate with Russell. "I don't think there's resentment at all, especially from the players."
But what about those of us who aren't on the field but have been waiting for this moment of return? What about those of us who, since Tim Brown left and took the last bit of Raider respect around the League with him, have been "holding out" ourdamnselves, for a savior (no disrespect to Randy Moss, Warren Sapp and Art Shell, but …) to come in and save us, bring the pride back along with the pain, make the team across the bridge stop laughing at us?   Guess no one cares. We can still hear the laughter.   What began as a dream has now turned into something Wes Craven could love. A nightmare on Harbor Bay Parkway. Caught in the middle of moral and negotiating ineptness, Russell now is the first No. 1 selection since Orlando Pace in '97 to miss all of training camp due to an inability to agree to contract terms. According to The Sacramento Bee, the Raiders have offered Russell approximately $27 million or $30 million guaranteed, depending on which side you believe. But Carl Steward of The Oakland Tribune, who has written extensively on the nonchanging state of negotiations between the Raiders and Russell, says there's more to it than just dollars.   "Somewhere along the line in negotiations, Russell's agents angered and embittered Al Davis over their demands," Steward said via e-mail. "Al has a history of drawing a hard line when that happens, regardless of how it affects his team."   A once-smart draft move by the Raiders -- one that Jeff Chadiha (before he joined ESPN) in SI graded an "A-" -- has now become a saga. A saga that has last year's worst offensive team in the League (10.5 ppg), a team in desperate need of a QB (a savior), in a dispute over "maybe" between $3 million or $4 million in guaranteed money and how a small fraction of the guarantee of that money is going to be spent. A saga that includes Mario Williams, last year's No. 1 pick and his contract ($54M/$26.5 million guaranteed); Alex Smith, the 2005 No. 1 pick and his contract (which can max out at $49.5 million/$24 million guaranteed); and Calvin Johnson, this year's No. 2 pick, and the $27.2 million he received in guaranteed money being used as justification for the demands of two headstrong agents.   A saga that three weeks ago had Kiffin throwin' his hands up.   "I've got to protect this team," he said on Aug. 16. "To take time to [speculate on] JaMarcus, whatever that means, is not helping the team right now."   A saga of a standoff that neither side can honestly afford to lose.   And although life has proved to us that there are three sides to every story, this story has four.   1. The side that understands Davis' stance on not handing over an unprecedented amount of money and other incentives to an unproven rookie -- especially since he signed Daunte Culpepper in July for leverage in a situation like this.   2. The side that understands Metz and Lock's reasoning for wanting their client to be fully protected in the infamous "skill-and-injury" clause that each of the past 15 No. 1 picks have received in their contracts to protect their guaranteed money under all circumstances, including injury, poor performance and even death. (That's something, according to the San Jose Mercury News, that Metz apparently is willing to include in the contract through language that obligates Russell to "repay" some of the guaranteed money if he violates any behavior rule inside the contract.)   3. The side that understands this is typical Raiders business practice (think Marcus Allen) and explains why they were 2-14 last year.   4. The side that understands Metz and Lock might be over their heads in this one, this being their first No. 1 pick.   The problem with this four-sided story is that it's not the story of a square; it's a story of a Rubik's Cube. Dimensional, layered, complex, time-consuming, painstaking, tedious, mentally draining … pointless. Twisting everywhere outside McAfee Coliseum are questions, not only about what's wrong with the Raiders, but also this one, which is heard more often: What the hell is going on inside JaMarcus' head?   Davis has come out publicly at times throughout the drama to make comments directed at Russell and the situation, using terminology like "forfeiture and accountability" and saying "we can overcome anything." As in, anything that might not include JaMarcus Russell. Members of the Russell camp (nonfamily members) have kept it mum (the people at LMM chose not to speak for this column), smartly deciding to keep all dialogue internal except for conversations with those who are in position to cut their client a check.   In JaMarcus' head -- whether it's being put there by outside forces, no one knows -- are the facts that he is young and he is the commodity he is. The Raiders might be the hardware; but without the software, hardware is just a piece of plastic. He knows the NFL has 31 other teams; and eventually, every one of them is going to need a quarterback. Inside JaMarcus' head is his future, not just this one season.   The larger concern should be if what's going on in Davis' head is more captious. Is he willing to hold his ground and make Russell believe he feels his value to the Raiders is closer to Rex Grossman's value to the Bears than it is to Tom Brady's value to the Pats or Peyton Manning's value to the Colts? Davis has to convince Russell (and Metz and Lock) that he doesn't give a damn about losing a No. 1 pick and never signing him, that sitting out the entire season and watching Russell re-enter the draft next year will hurt the player more than it will his franchise.   The silver is gone; it's just black now. The one color not in a Rubik's Cube. Leaving only one uncertainty unsolved, only one question unanswered: Which side's gonna blink first?   "[This] absolutely could have been avoided because with the first pick in the draft the Raiders could have started negotiating with Russell's people well before the draft," Steward said. "[Yet] while the system is flawed, the Raiders can ill afford to be the team that makes the statement about paying rookies big bonuses before they've done anything."   And as of right now, all four sides to this story are just sitting there waiting for nothing to move and something to happen at the same time. And according to reports, both sides are back in discussions and a deal -- not necessarily an agreement -- is close to being done. Regardless, as one person in a chat room at armchairgm.com said, "Welcome to capitalism in the anti-anti-trust world of the NFL." A place where the motto of a team with the worst record in the League is "Just win, baby." A place where winning sometimes has nothing to do with football.   Yay, yay.  
---
  He was last seen with a football in his hand on the field in minicamp in Alameda, wearing the no-contact red jersey. No pads. The No. 2 on his chest looked good. He looked like he belonged.   Word is, he purchased a house in the Bay Area not long after his 22nd birthday. Word is, he won't move into the house until he signs with the Raiders.   Looks like the crib might be empty for a while.   When it is all said and done, we know there will be no Vince Young-type season for JaMarcus Russell. Maybe not even a Matt Leinart-type season. We -- Raiders fans -- know there might be a chance he never wears the black jersey with a No. 2 on his chest.   And in the uncold, trying-to-understand, not-always-willing-to-accept-the-business-side-of-things hearts of ours, we just hope that before 2007 ends, "our dude" doesn't end up not only teamless, but homeless too.
Scoop Jackson is a columnist for Page 2 and a contributor to ESPN The Magazine. Sound off to Scoop here.