NEW YORK -- Just for a moment, be honest with yourself: Have you ever seen anything like this?
There are two answers: "Yes" and "No." And since we are talking about Him, right now you'd be right with both answers.
Him. The one who just won his fourth straight U.S. Open, his 12th Grand Slam. Him. The one who has been No. 1 for more consecutive weeks in his sport than anyone in the sport's history. Him. The one who has players on the ATP Tour happy when they come in second. Him. The one Jim Courier said, "You have to be in denial" to think you can beat. Him. The one who is so good that in his semifinal match against Nikolay Davydenko, the No. 4 player in the world, he nearly doubled his average number of errors (25; his average unforced errors per match is 12.8) and still won in straight sets. Him. The one who has his game so locked-in that "the best ever" comments are no longer compliments.
Be honest: In your lifetime, have you ever seen anything like Him?
It happens every now and then in sports. Someone comes along and pushes the boundaries past comprehension. It happened with Jordan. It's happening with Tiger. An athlete separates himself from everyone else playing the game to the degree that opponents aren't even afraid anymore; they're just defeated. Done.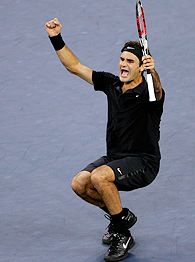 Chris McGrath/Getty Images
Just like Tiger Woods, Roger Federer is pushing the boundaries past comprehension.
No professional athlete will admit to that defeated mentality, but they know it well because too many of them live there during these reigns of dominance. It's a place beyond fear, where other players are more than just intimidated by them. They become almost in awe.
"I'm not walking off with any questions in my head this time. I'm not walking off with my head down. I played my [butt] off out there tonight. I played the right way. So, you know, it helps, but that doesn't mean I can't be [upset] about it." -- Andy Roddick after his loss to Him in the quarterfinals.
When dominance gets to this point, it becomes a tease. Not just in the end results, but in the process of reaching this level. They reel you in, "tease" you into thinking there is hope when hope really doesn't exist. And the cruelty in it, from an almost sadomasochistic standpoint, they do this to their opponents, it seems, on purpose. Tiger does it. Jordan did it. Lance Armstrong did it. So did Muhammad Ali, Babe Ruth, Jim Brown, Bill Russell, Wayne Gretzky, Pele. They mess with your head just for the hell of it, almost to make it interesting for themselves. It's sick and demented. It's beautiful.
"But by 5-4, I was just [trying] to concentrate 100 percent. Just keep all my power, you know, win the third set. And then, like, I'm losing 5-5, and I lose [the] game and set and match." -- Davydenko after his loss to Him in the semifinals.
When he pumped his fist toward the ground after his win, he became one of us, regular people. It's something they all seem to do, it's their second of weakness, their version of an outta-body experience. Then they return. There's always a smile on their faces, but no remorse in their eyes or hearts for what they've just done to another human being. The emotionlessness with which Roger Federer goes about "murdering" his opponents is clinically consistent in how those who are "Hims" operate. "He wore black during the tournament because he wanted to be respectful to the funerals his opponents were attending when they faced him," someone in the stands said at the end of the Open.
Novak Djokovic, who had just lost 7-6, 7-6, 6-4 in the final, whose funeral we all were attending, waved to the crowd. The expression on his face was full of more joy than that of the person who had just won the U.S. Open. This is what they do to others: They make them enjoy losing -- only to them. Psychologically, they subtly and subconsciously put their opponents in an altered state, a state in which the look on someone like Djokovic's face after losing to Him says, "I'm going to have to get used to this." Because Djokovic, as much as he wants to believe otherwise, knows that, for a long part of the rest of his career, these runner-up trophies and second-place checks are going to be as good as it gets.
"One of the biggest strengths is his mental strength. He has [an] advantage over every player because he makes us think, 'We're playing against Roger Federer.' I was asking the crowd what I need to do. Nobody had an answer." -- Djokovic after his loss to Him in the final.
There is no humiliation in a loss against them. The gods don't want anyone to feel humiliated. They make those who go against them doubt. Make them have doubt in moments mortal athletes have waited all of their lives to get to. Super Bowls. World Series. NBA Finals. Stanley Cup finals. Majors. Grand Slams. And afterward, others talk about how they're going to tell their grandchildren they played against … Him.
Federer, just like all the other Hims, has made the separation between Him and the rest of the tennis world -- past and present -- mental, not physical. That's typical of a Him. These dominant athletes are just mentally stronger. They use their minds to make others feel weak, inept, incapable of winning. They make others question their own ability -- allow them to have seven set points and never allow them to win a set.
Jordan once said that when he was on his game, "You are at my mercy."
The dominators repeat this silently when they are performing. It's like their personal chorus to a song only they can sing. A Him's hymn. The arrogance in those words is lost in the accuracy. That's the undeniable constant that appears in all of them, a trait. When they play -- and aren't just playing around -- they have everyone at their mercy. Woods, Armstrong, Russell, Brown, Ruth, Jordan, Gretzky, Pele, Ali. They make losing to them an honor. A samurai mentality passed on to those who are at their mercy.
And in the context of where he is among those we choose to judge greatness and dominance by, Federer might be -- of all those who have reached godlike status in sports -- the epitome. Leaving the question: Is he greater, more dominant, more merciless, mentally stronger, more separated from everyone else in his sport than all the other "Hims" were/are in theirs?
Read the list again: Woods, Armstrong, Russell, Brown, Ruth, Jordan, Gretzky, Pele, Ali … Federer.
Be honest with yourself. You know there's only one answer to that question. Not two.
Scoop Jackson is a columnist for Page 2 and a contributor to ESPN The Magazine. Sound off to Scoop here.