MC --
'Sup man? Been peepin' you on the Show. You shaved the goatee for Round 2. Smart move. Len Goodman likes the clean look. He swings votes that way … that's the David Stern in him. Anyway, look, we need you to come through, need you to continue. Not that you aren't doing a good job, but outta respect to everyone not made of plastic, you can't let Wayne Newton beat you. Yes, his partner, Cheryl Burke, is amazing, and we'd all love to see her every week, but after Emmitt winning two seasons ago and Laila getting robbed last season, the world of sports needs you to live another day. Sorta like Joe Torre.
So with that said, if you don't mind, I wanna give you a little bit of advice, friend to friend, on how not to get voted off "Dancing With The Stars." Basically, I just want to make sure you don't lose out to an Osmond or a Cheetah Girl. You wouldn't be able to survive the jokes.
First, sometime before the next show, watch "Idlewild," then Justin Timberlake's HBO concert, then Chris Brown's performance on the MTV Video Music Awards, then "West Side Story," then Michael Jackson in "The Wiz," Gene Anthony Ray in "Fame," Robert Taylor in "Beat Street" and Maurice Hines in "Cotton Club," then watch Al Pacino's tango scene in "Scent of a Woman" at least three times, then pay attention to every move Gene Kelly (not Fred Astaire, because contrary to popular belief Gene was a better dancer) ever made. Load all of that into that billionaire boys club mind of yours, memorize it all, then incorporate it into your next performance. Do that and they'll be testing you next week for "the cream" thinking that there's no way anyone could have gotten that rhythmic in a week without cheating or having an affair with Janet Jackson.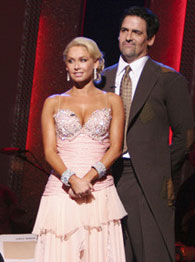 ABC
Some friendly advice, Mark …
let Kym lead.
Then, let Kym Johnson be you. Let her lead, let her be the Man. Pretend she's Hillary and you're Bill. That's how and why the men celebs have been winning the show year after year. One unwritten and undiscussed rule in ballroom dancing is that the women do all of the work. Kym is the next-best dancer on the show after Cheryl and Max. Let her do the work. You just play the role. Sex appeal sells more than sex. And not that you aren't sexy, but Mark, you and I both know … Look, Kym's got it, got almost everything you don't. Let her flaunt it. Then promise her after it's done that you'll pay her an absurd amount of money to stop dancing and move to Dallas to perfect the Mavericks dance team. Not that they need it, but it didn't make any sense for you to lose to the Heat twice in one Finals. Get what I'm saying?
Third, get some James Brown in your life. And I don't mean that white folks' James Brown, that "Sex Machine," "Body Heat," or "Living In America." I'm talking about some real JBs. Some "Monaurail," some "Doing It to Death," some "Pass the Peas," some "If You Don't Get It The First Time, Back Up And Try It Again." Some of "The Payback." Real James Brown music will get you on the One, not the "three" everyone else on the show is on when they are dancing. Remember Steve Martin in "The Jerk"? Don't be that. Find the One, my son. It will free your mind and your ass (and hips … you know those judges love hip activity) will follow. By the end of your performance, they will think you are the greatest white dancer since John Travolta.
Last, whatever you do, don't -- or at least try as hard as you can not to -- listen to the music that band is playing. They can make a DJ Premier or Mark Ronson song sound like polka. Sneak an iPod shuffle into the vest pocket of one of those tight jackets they'll have you wear. Have the original song playing in your ear while you are out there slayin' 'em on the dance floor. Don't overdo it. Stay sly, cool, remember, "the other side of the pillow." Then when Carrie Anne stands up clapping and says, "Mark it seems like you were in another world out there, like you were dancing to a different groove," wink at her and give her that same look that most refs give you after you blame them for another Mavs loss. The look of, "You have no idea what's really going on." Don't forget to wink.
And stop mouthing the words of the song. This ain't "Karaoke With the Stars."
Oh my bad, I forgot, there's one more thing. Call some of your players, and have them take you to some spots. Dallas has a few, hell, you might own some of them and not know it. You need to get out in the streets and learn what folks our age aren't doing. What's the point in paying a bunch of millionaires millions of dollars and not using them for what they really seem to be good at: hitting the clubs? Spring for the table, buy the Veuve and Effen, and just sit back and observe. Watch how different the response is to a Lil Jon song from when it's played at your arena. Just don't try to get on the dance floor. That nonsense that you've been training all those hours learning for the show, that won't help you at the club. You'll be tossed out so fast you'll think your name was Adam Jones.
That's it. The only reason I'm writing this to you is because the NBA is desperate for something good to happen. And right now, you're all that's left. On the ABC message board, someone wrote that you were "the rich guy who is also not good at dancing and an annoying mouther of lyrics." Man, after what just went down with the Knicks, Donaghy, Steph's drama, Shaq's divorce, LeBron rocking Yankees caps at the ALDS in Cleveland, etc., we just need to see you prove the haters all wrong and revive the NBA before the season starts. No pressure, it's just that the entire world of professional basketball is depending on you. So don't mess up and get voted off.
G'luck homey. Break a leg … or have somebody's (Wayne Newton's) leg broken. Whatever works.
I'm out like Jennie Garth, Scoop
Scoop Jackson is a columnist for Page 2 and a contributor to ESPN The Magazine. Sound off to Scoop here.