"I always wanted to move men, to take them to a level that they've never seen before." -- Jerry Manuel, as quoted by The New York Times, Feb. 24, 2007.
There is honesty in his voice when you speak with him. A calmness. But there's something else.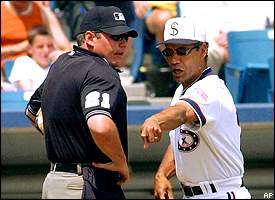 Associated Press
Jerry Manuel, 2000 AL Manager of the Year with the White Sox, has been overlooked for another managing opportunity.
Jerry Manuel will be the first to tell you that he is not upset, pissed, mad or even angry at the world. He'll tell you that he holds nothing against the baseball world that seems to have turned its back on him. He'll tell you that his faith is too strong. He'll tell you that a higher being has a higher plan. But still inside of that voice, there resides something else.
Something indivisible but without justice. Something that knows something is wrong.
---
While baseball held its general managers meetings in Orlando, Fla., Jerry Manuel sits at the bottom of a hill with his 84-year-old mother in Sacramento, Calif. In the past few months, the revolving door of managers has begun to spin again. Joe Torre in L.A., Dusty Baker in Cincinnati, John Russell in Pittsburgh, Trey Hillman in Kansas City, Joe Girardi in N.Y. Last offseason, it was all about Lou Piniella taking over the Cubs (even though before spring training there were seven managerial positions open). The year before, pretty much the same circle. Through all of this, a former manager of the year (seven years removed) with a .515 winning percentage and nothing lower than one third-place finish in his six-year managing career, waits. Waits for his shot to get back in and do what he feels he was destined to do: lead.
But it's hard, excuse me, impossible to lead when you are forgotten. It's hard to look at the far side when the world passes you by. You are too close to it to see what's truth and what you want to be truth. When baseball sources were asked, the words "too cerebral" come up as to the (main) reason Manuel is not where Willie Randolph and Baker are.
"What does that mean?" his wife, Renette, asks, rhetorically but very directly. "Just because he doesn't scream and yell and he isn't animated is that supposed to mean that he can't manage? My husband is 'relational,' in his approach to life and in baseball. He can touch people."
"He's not a big name like Don Baylor or Frank Robinson or Dusty," his oldest son, Jerry, says, "and with him being of color that's probably one of the more accurate reasons why he hasn't been asked back."
Regarding Manuel's firing by the White Sox, general manager Kenny Williams was quoted by the Chicago Sun-Times as saying, "I looked the man straight in his eye and I told him I feel like I failed him as well. That should be any supervisor's role or attitude if they have to make a move with someone that reports to them. They have to share the burden of the responsibility if that person doesn't succeed."
Bill Stoneman, an Angels senior advisor who worked with Manuel in Montreal in the 1990s, said Manuel's situation is an "exercise in patience."
"There are only 30 managing jobs in baseball, and the turnover is not what it used to be. Jerry is a very talented guy, smart, has energy and the type of person we need more of in baseball. He has to get his foot in the door and into an interview room, but he -- like everyone else -- has to have patience. Patience will be his reward."
All said there is still something wrong. Baseball knows it. Jerry Manuel knows it. No one can or will put his finger on it, because no one really wants to know that reality -- whatever that reality may be. In a life that has promised fairness to no one, one of baseball's more heralded communicators hasn't come out of the dugout and had the final decisions on pitching changes since 2003. Others with inferior records and inferior résumés have moved past him, been given opportunities not offered to him. And not that there haven't been other prospects who have been overlooked (mind you, Manuel is not alone in this), but this situation is more of a case study than an accusation.
So he waits. As the teachings of Gandhi, Dr. King, Jesus and Nelson Mandela have helped construct his "cerebral" character, Manuel is appreciative of being the bench coach for the Mets, being Willie Randolph's right-hand man. But still. As his wife says, "He wants to manage, but we can't allow this to supersede everything in our lives."
---
He laughs.
"You have to somewhat understand my foundation in order for me to answer that question," he says. "Am I frustrated? My beliefs will not allow me to be frustrated by man."
Q: "It seems like you are the forgotten guy right now."
A: "It appears that way."
Q: "And that doesn't frustrate you?"
A: "Only when I step outside of my beliefs. Like any man would be. I can understand what's going on and what's happening, but since being fired in Chicago and since I was manager of the year in Chicago, I feel that I have grown in the arena of managing. That's what is frustrating. It's frustrating that I don't get to show that. But humility has a way of revealing things to you that you didn't see from where you were sitting."
Q: "Humility meaning …?"
A: "Going from first-base coach [with the Mets] to the bench coach, which is just like managing but you obviously don't have the last say. I was even growing then as a manager-in-waiting [before that]. But these last [four] years since I last managed have been like a winter for me: Even though there were not leaves on my tree, my roots were still growing deeper. And that's the frustrating thing, I'd like to see that tree blossom."
Q: "Have you interviewed?"
A: "Only three times -- two I would not call serious. Only one team, and I'm not going to tie in names because that's not who am, but I will say that the people of that one organization that did take the time to interview me, did so in a way that I felt was a real interview process. They sat me down, they had questions, they broke down situations, strategies, spring training, they went right on down the line and asked me what they would ask anybody they are seriously trying to find out whether or not you can run this particular club. That team was the only one. The other clubs: one interviewed me in the lobby of a hotel. Mind you, there's traffic, people checking in and out, people constantly interrupting you. The other club, that interview was done in a restaurant. In a busy restaurant. I'm sitting at a table with a group of men, and they are interviewing me over lunch."
(Silence. I'm waiting for him to say more.)
Q: "That's it? That's been your whole interviewing process?"
A: "In four years, that's been quote-unquote my whole interviewing process since I last managed."
Q: "Three -- really one -- interviews. That's it? Do you have any idea how many managerial jobs have been open over that period of time?"
A: "No, I don't."
Q: "You stopped counting awhile ago. I feel you. I can hear it in your voice. Have there been any jobs open that you actually wanted?"
A: "All of the jobs that have come open, when you are on the outside, you can see yourself in those particular positions and you can strategize to what you would do if given the chance to bring that club to the next level. So I'd have to say, all of them, because the urge is to get back and show. Show the growth."
Q: "It seems though that the media route is the way to go to get back in or get considered. It's like ex-managers [and former coaches in other sports] are using television and radio as pulpits to get their ideas and strategies out there by becoming studio and broadcast analysts. It seems like that visibility puts them at the top of GM and owners' lists when it comes to recruiting candidates for managers."
A: "The media has the power to make someone the choice of the people without the people really knowing who they are choosing. You know what I'm saying? And that I understand. That's a good angle to pursue, but if you have managed and done these things, you know what they make of you is not really true. That presentation often is not really who you are because you are not being judged from the inside. By doing that [owners and GMs] are gathering information [about you]. They are not learning that information."
Q: "The main excuse I've heard is that you are too cerebral."
A: "It can be taken a couple of ways. If that's what they are saying about me, 'Well, he's too cerebral …" I have to take it as a compliment. It's difficult for other people to define you if they don't know you. That's why, me, I will feel better given the chance to be interviewed than for you to use hearsay about me and make a decision on hearsay. If you met me and said, 'No, we're not compatible' or 'You wouldn't make a good fit here,' that's fine. You've [at least] spent that time to find out for yourself. Personally. But to deny someone on what someone said or on what others may be saying, that to me is totally unfair."
Q: "But what if they are basing it on statistics?"
A: "If it's being done in my case statistically, then it's really unfair. I'll throw mine up against anybody! That's not a big deal. See [they] can justify it any way they want to anyway."
Q: "Where in your mind does race play a part in this?"
A: "That's where we have to be somewhat careful. Because we cannot afford to be wrong in what we say. I would hope -- I will say this again -- I would hope that as a society we have gone past that. I would hope. Now do I believe that? It would be hard for me to believe that we have gone [that far] to the other side on that particular issue. I mean, it is what it is. That's unfortunate. But at the same time we [African-Americans] tend to use or play that card when it affects us versus playing that card when we know it's affecting everyone else. And that's just as unfortunate."
Q: "So in your mind you are not a victim in this?"
A: "No, no. No, no. It just ain't that time yet. Can't be that time yet."
Q: "And where time doesn't exist, patience does."
A: "Yes. This is a temporary thing that I'm in. You have to understand that God doesn't deal with time, we do. Our problem is that we have time that pertains to us and that's what makes things frustrating. Did you get that? He doesn't have time attached to him, but we do. As human beings, we only have so much time, and that's why we put everything we do in a rush. And when it doesn't happen, that's what causes frustration." Q: "So not being frustrated, having faith, looking at the total prism of whatever reasons as to why you haven't been given a fair opportunity to manage again, how do you still find love for baseball and not let the business of baseball interrupt that love for the game?"
A: "Um, good question. For me, my love for the game is bigger than me being a manager in the game. See, my dad played in the Negro Leagues. I was bred into baseball. My love affair with baseball goes back to before I ever thought about managing. So I will remain in it, always. Maybe not in the capacity that will do what I think that I want to do, but as long as I feel I have something to offer to this game, then there's a place for me to have an impact. Does that answer that for you? (Laughs.) If I didn't grow, I don't think there'd be any urge to manage again. If I thought I'd known it all, then I wouldn't want to get back. But when you have something brought up in you, when you get revelation on things that you never did get before, you have an urging, a longing to 'Let me share this, let me share this.' And in the end, you don't want to share it for reasons of selfishness, you want to share because you have grown. And you want to share those things at the highest level."
Q: "Over the last month or so when you heard all of the names of people being hired for manager spots -- Torre, Dusty, Girardi in New York, Russell with the Pirates, Hillman with the Royals -- how did that make you feel?"
A: "I can't say that they aren't good for the jobs that they got because [with the exception of Dusty Baker, who has been a mentor to Manuel] I don't know any of them. I don't know who they are as people. I don't know Trey Hillman. I don't know John Russell. We [the Mets] played against Girardi in Miami [when he was managing the Marlins]. But -- and I'm not saying this with any disrespect to those who were just chosen to fill positions -- I think eventually [managing] is going to come back around to people needing people that are experienced and need to hopefully get them to another level. Again, you can look at this thing a lot of different ways through a lot of different prisms and come up with different opinions."
Q: "Earlier you were saying this is about sharing at the highest level. I have to ask you, since you are a bench coach for a team that is being considered one of the elite teams in the game and a team that is in the process of building something very special for the game of baseball in the context of racial diversity and minority inclusion, would it be as satisfying to win the World Series under Willie, under [Omar] Minaya, with the makeup of the squad you have now with the Mets or not winning a World Series but getting a chance to manage again?"
A: "Oh man, that's a tough question to answer truthfully. I think … I think I would find satisfaction in both of them."
Q: "Equal?"
A: "I would hope. I would hope. I would hope. You need to understand this, because in all truthfulness it's selfish, and I feel like I'm going the other way -- but would hope that I would get to a point where I would be more satisfied helping someone than me doing it myself. But I'm not there yet. I want to do it myself."
The obvious explanation is that Manuel is being forgotten because someone else was able to do with his core players what he wasn't able to do. When asked if Ozzie Guillen winning the World Series only two years after Manuel was fired has had any bearings on why Manuel hasn't been hired, one baseball writer pointed out to me, "Terry Francona won the World Series right after Grady Little was fired in 2004. In 2005, the Dodgers hired Little."
And Grady Little just removed himself from the Dodgers so that Torre could take his place. The door keeps revolving. And here's the irony in all of this: Even when you look at it in many different ways through many different prisms and come up with many different opinions, Grady Little will be a manager again before Jerry Manuel.
The question is, why?
Scoop Jackson is a columnist for Page 2 and a contributor to ESPN The Magazine. Sound off to Scoop here.