A message to the greatest boxer alive: It's time to shut it down.
I'm begging you. Please.
After left-hooking Ricky Hatton back to Manchester ("Knocking him on his flag," as my uncle said), it is time for Mayweather to hang up the gloves and call it what it is while it is what it is: One of the best boxing careers ever seen. He has nothing left to prove. He's done his bid. It's time to do the Jim Brown.
But that won't happen. You know it. I know it. Mark Cuban, Helio Castroneves and Wayne Newton know it. Because in this era of professional sports no one can or will walk away at the perfect time. It's like there's a gene inside the DNA of all athletes that makes them compete past the point of brilliance and into this place where, let's just say, you end up in a Wizards uniform not making the playoffs.
At 39-0, Floyd Mayweather has the chance to be remembered as one of the undisputed pound-for-pound best ever in his sport. And although he said after the fight, "I've done all I could do in this sport, so I'm not thinking about fighting anybody else. I've accomplished my last goal" and promises that "I will never let boxing retire me," the power of money, ego, pride, boredom, limited options and more money will make someone with the op to go down in history take a risk that more often than not turns the most beautiful careers into something Julio Franco and Ricky Henderson would laugh at.
And sad to say, Mayweather is about to be the next victim.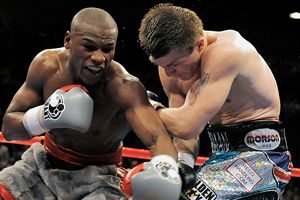 Gabriel Bouys/AFP/Getty Images
After knocking out Ricky Hatton, Floyd Mayweather has nothing left to prove.
The calls will come. The calls from Bob Arum and others in the boxing world who will scream that his career is incomplete until he faces the undefeated Miguel Cotto. In an L.A. Times story, Arum, who promotes Cotto, was quoted as setting the bait minutes after the Hatton fight: "If [Mayweather] thinks he has a chance to lose, he won't take a fight. He's afraid to lose, and that's a horrible, horrible thing ... anyone who's not realizing that's what's happening with Floyd is moronic."
The problem with this is unless Mayweather stops, it won't stop. After a Mayweather-Cotto fight, there would be another someone (Paul Williams, 33-0), then another (Antonio Margarito, 35-5), then another (Kermit Cintron, 29-1). Then others will want another shot (Hatton and de la Hoya), and by then one of Mayweather's sons will be in the ring with an IBF belt and an undefeated record. In sports there is always going to be someone there to test you, someone who feels he needs to go through you to validate himself. The difference in boxing is that you are considered a punk if you don't fall for it.
So what's a filthy rich, "I'll make it reign on your ass all night long," only 10 fights away from matching Rocky Marciano's undefeated 49-0 record, 30-year-old, fan-base growing, "Dancing With The Stars," HBO 24/7 darling of a Pretty Boy to do?
The dysfunctional heaven and hell in this for Mayweather are Brett Favre and Barry Bonds; two athletes who just a year ago were in his shoes. They both chose to continue. Look at the outcomes. Favre -- after all his tears following the final game last season -- became the feel-good NFL story of the year and Sports Illustrated's Sportsman of the Year after everyone said he should have called it quits. Heaven.
Bonds ...
In reality, to those who play these games for checks, be it boxing or baseball, badminton or bowling, sports is just another form of crack or meth. It's addictive as gambling and sex, harder to let go than power and politics. Who are we to make judgment on when someone should end his life's calling?
It's rare that we as fans get to see perfection in sports. Not perfection in being undefeated or never losing, but perfection in performance. We admire the rise, are fascinated when they go through the years of dominance that makes them icons, and pray that they get out before this thing called the trajectory of a life in sports exposes them like Antonio Tarver did Roy Jones Jr. Every year there is one athlete who should really, really contemplate leaving his or her sport not because the time is right but because the time is perfect.
And after this latest round, Mayweather is that athlete. It's just too bad this will not be the end.
In an interview in 1999, when he was in the early stages of becoming possibly the most dominant athlete of this generation, Shaquille O'Neal said with no hesitation, "I ain't playing till I'm 40. Three more years of this ... after one ring ... at 30, I'm out."
Like I said, it's like crack.