"American Gangster" Bootleg Deluxe Edition: Weeks before the film hit the screen, the movie hit the streets. The deluxe edition is now available with behind-the-scenes footage of Ridley Scott replacing Antoine Fuqua as director and bonus commentary by Jay-Z on why his "inspired by" CD ("American Gangster") isn't as good as the film, or so everyone claims.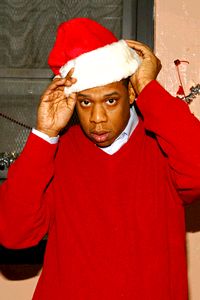 Scott Wintrow/Getty Images
"Hey … who said my album wasn't great?"
RCA EZ201 Small Wonder New England Patriots Edition Camcorder:
The white pocket-size camcorder comes with Patriots logo and a built-in 19-0 screen saver whenever the LCD screen is flipped out. This model's USB side panel plugs are perfect for super fast uploads to PCs inside coaches' boxes, and it's durable enough to handle New England weather in January.
"Meet John Black: Memoirs Of A Lakers PR Guy": For the past 10-plus years John Black has been the gatekeeper to the best soap opera in sports. This autobiography (with foreword by Dominick Dunne and J.A. Adande) reveals everything from how Phil Jackson gave Kobe the book "Black Like Me" to read to how Jerry Buss tried to make Shaq the highest-paid player in the league by only one dollar to justify trading him.
Roget's International Thesaurus for the BCS-challenged: This first-edition, 1,700-item text is the definitive collection of synonyms for coaches and players whose teams are shafted out of playing for a national title. Divided into two parts: the first consists of words that can be used at news conferences, during interviews and when on ESPN; the other part contains words to be used for off-the-record, private, not-around-anyone-from-the-NCAA conversations only.
"Make It Drizzle" The Poor Man's Strip Club Survivor's Kit: Complete with rubber bands, wrinkled unmarked singles, a bottle of Cook's Grand Reserve and Pacman Jones action figure. The perfect gift for the man who wants to ball with the ballers but can't really afford it.
Hush Puppies Suede Loafer (The Michael Vick Edition): The perfect offseason lounge footwear with Tri-Zone cushioning and Bounce technology. PETA approved. Comes with a 23-month warranty.
The Les Miles Cuisinart stainless steel waffle iron: Shaped like an "M," this top-of-the-line breakfast appliance comes in two colors (maize and blue) and makes two types of waffles. Great for indecisive coaches who waffle back and forth with decisions. Only sold at Crate and Barrel locations in Louisiana and Michigan.
Palm Centro Smartphone powered by Boost Mobile (The Jacob and Co. H24 57mm jumbo model): This Five Time Zone advanced version handheld PC combines the best features of "the Curve" and the MOTO Q and comes in pastel colors and with diamond accents. The global G4 network can operate Windows Live and Apple's Leopard simultaneously while the "Where You At?" GPS system can locate any woman's man who's not where he says he is.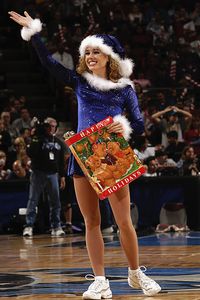 Fernando Medina/Getty Images
Happy holidays, indeed.
Lemar and Dauley "Always Political … Purely Promotional" 100 percent Compton cotton cashmere-lined sweats and hoodies:
New official street gear for faux thugs who don't want anyone to know they listen to Kanye West. Made for NBA fans astute enough to cheer for Etan Thomas, but so superficial that they know Gilbert Arenas only as well as motorsports lovers who only appreciate Danica Patrick for her driving.
"A Very Special Christmas 5" (songs by the University of Miami football team): Playlist includes, "All I Want For Christmas Is My Two Gold Teeth," "Santa Claus, Go Straight To Dade County," "Jeezy the Snowman" and "Hark the (Miami) Herald, Ray Lewis Sings." Proceeds from this album/CD benefit the future psychiatric care of Randy Shannon.
Xootr Swift Tour de France foldaway 12-speed bicycle: The perfect gift for cyclists trying to avoid anti-doping agencies or Tour director Christian Prudhomme. Comes with yellow jersey, cheat sheets for how to pass drug tests, syringes, creams, vinegar, a bottle of Jack Daniels and Floyd Landis' cell number. Retail cost $695, but cheaper in Europe because of the sad state of the American dollar.
"*" by Marc Ecko: The urban clothes designer launches what is being called by Bruce Pask, the men's fashion director of The New York Times Style Magazine, the best men's apparel collection of 2007. The line will be available in every U.S. city except San Francisco. The one-of-a-kind Camo design baseball jacket (cost: $752,467) is made up of tiny asterisks with an imprint of Barry Bonds' face on the inside lining.
The Juanita Jordan monogrammed and striped handbag by Goyard (exclusive): The hot new designer brand has made the ultimate "undersized" accessory for the woman who is entering the second stage of her life while inheriting her ex-husband's fortune. The bag comes half-full and never half-empty. Buy now and get a free 12-issue subscription to O magazine and a "Hillary '08" campaign button.
The Tim Donaghy Sharper Image witness protection package: Includes new wife, new kids, new home, airline tickets to Chilchinbito, Ariz. (pop. 462), new wardrobe, hair stylist, makeup artist, vocal coach, seasons 3 and 4 of "Nip/Tuck," Bill Curtis' "American Justice" series on A&E on DVD, and a lifetime supply prepaid calling cards to keep the FBI informed of your well-being and existence. Only one package per customer. (Also available: The Gambino Family Search and Destroy Spy Package)
An NFL-commissioned, Castner-framed original oil painting of Kevin Everett by Ernie Barnes: Simply because of what Everett represents, every one of us could use one in our home to inspire us.
Scoop Jackson is a columnist for Page 2. Sound off to him here.