Kelvin Sampson, stay strong. So what, they have phone records. So what, they say you gave "false and misleading information" to investigators. Five major violations committed … more infractions pending … it means nothing. Because none of it is true. To you.
"The allegations that I knowingly acted contrary to the sanctions that occurred are not true," you said. "I have never intentionally provided false or misleading information to the NCAA. I intend to work within the NCAA process on this matter, and I look forward to my opportunity to do so." You, Kelvin, are my newest hero. I too have "KS" on my adidas.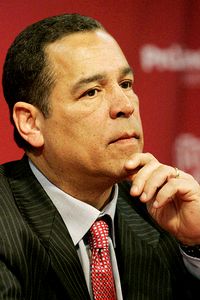 AP Photo/Tom Strattman
Kelvin Sampson sounds a little like Roger Clemens and Bill Belichick, doesn't he?
There's an old saying: Self-incrimination is for suckas.
Only those who are weak in mind -- ridden with guilt, thanks to a strong moral compass -- confess to a sin (or something the general public considers a sin) they've "apparently" committed. As the evidence stacks up, when the feds show up, "suckas" begin to break. Cracks appear in their psyches. News conferences become confessionals, cameras and tape recorders the priests.
Victim: "I made a mistake. I'm sorry for what I did. I want to apologize to my family, my friends, my fans and the organization. I let a lot of people down. And to all of the kids out there, this is not the message that I want to send out. I'm not the hero you made me out to be. I'm only human …"
Blah … blah … blah. Sucka.
The other day, according to the New York Daily News, a photograph surfaced of Roger Clemens at the infamous party at Jose Canseco's house that Clemens and many others insisted he did not attend. For many people, this would be the perjury breaker, the smoking gun that puts a hole in your credibility the size of a Siberian diamond mine. That's if this were any other athlete. But this is Roger Clemens, the American hero who's turned denial into an art form.
In this era of professional sports figures publicly pleading guilty to crimes they haven't been caught committing, it's so refreshing to see guys like Sampson and Clemens admit to nothing. Sure, Andy Pettitte came off like some sort of saint, and people are looking at his moral fiber as something we all need to incorporate into our daily diet. But, truth be told, Clemens should be given an Oscar for his acrimonious and hostile defense of self.
Lately, and particularly in sports, the art of self-exoneration has become as trendy as facial hair and Derek Lam sunglasses. Barry Bonds, Bill Belichick, Miguel Tejada, Lance Armstrong, Michael Vick (until he had no choice), Pete Rose (who held on for a historic amount of time), Marion Jones (again, held out until the end), Floyd Landis, Rafael Palmeiro -- even beyond sports, look at how John McCain stood his ground defiantly last week when The New York Times reported a possible improper relationship between him and a female lobbyist. So beautiful.
Clemens says Pettitte "misremembers," Belichick says he "misinterpreted," Sampson "never intentionally misled" -- these guys have laid the groundwork for all to follow when the Clay Davis is about to hit the fan or when the men in the windbreakers show up at your front door. Admit to nothing, even if there's a videotape, or friends have turned state's evidence. The manhood rule supersedes all: Self-indictment is for losers. And the No. 1 rule in sports is: Don't be a loser.
Losers tell the truth. Well, let me rephrase that: Losers admit to the truth when denial is still an option. The duty is to go out like a man. Head up, chest out, deny 'til you die. "It's in man's nature to deny," my great uncle used to tell me as a kid. "Because when you go to the grave, you take those denials and whatever you did wrong with you." We as a nation should take pride in how Bonds has stuck with his "flaxseed oil" testimony. We should applaud Landis for his Jack Daniels regimen. Forget being like Mike. Be like Clemens: When in doubt, assign blame elsewhere. Blame your wife, throw her under the bus. Bring your deceased mother into the mix -- say that she was the one who advised you to take B-12 shots. Go to lengths unseen outside of an episode of "The Maury Show." Say your old physician (Ron Taylor of the Toronto Blue Jays) is responsible for giving you a "bad shot"; say the commissioner is to blame for not "recommending" you talk to the interviewers for the Mitchell report; say you want to appear in front of Congress.
Damn immunity. Show no fear. Get your "KS" on. That's what the great ones do. They stay true … to self only.
It's true, players like Canseco opened up the door for the dirty truth in sports to come out the way it has the past few years. And yes, everyone who told the truth regarding the Mitchell report should be commended for possibly being the catalysts for cleaning up all of sports.
But Canseco's a sucka. Brian McNamee's a sucka. Jason Giambi, Chuck Knoblauch et al -- all suckas. They ignored the golden rule: Never, ever, under any circumstances, sell yourself out.
It's real men like Clemens and Sampson who know that in sports, staying sucka-free is vital, and when choosing between telling the truth and dying in denial … choose death.
Scoop Jackson is a columnist for Page 2.