The third quarter. Game 1. That's all you need to know.
That was when the best-kept, underappreciated, unsuspecting, unassuming, uninvited secret unveiled its self. It came to the door of the NBA playoffs and stood there, waiting for someone to open it. The league was like, "Yeah, we know they have reservations, but they don't have the nerve to show up … do they?"
Knock, knock.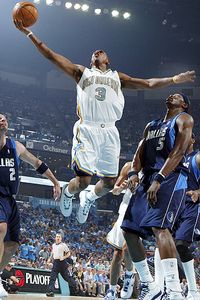 Layne Murdoch/NBAE via Getty Images
Chris Paul is only in his third NBA season. Just imagine how good
he could be in his prime.
Yesssiiirrr, they showed up. Dressed in colors no one should wear to a place that has a dress code. Purple? Yellow? Green? Turquoise? The New Orleans Hornets came to the postseason dinner that is the NBA playoffs and let the remaining teams know: Sidney Poitier got nothin' on them.
All season long, they've been doubted. They've had one player exalted to MVP candidate status. They came into the playoffs as neophytes and are in position to make a more impressive run than the Golden State Warriors did last season. As Chris Paul says in ESPN's "Only one can win" spot: He's not here to lose.
The difference between the Warriors' Dr. John Wade Prentice impression last year and the Hornets' this year is fundamental: The Hornets have things -- let's call them sides -- that don't exist on any other team in the Western Conference. They have the only player in the West who can defend Tim Duncan, Amare Stoudemire or Carlos Boozer for 48 minutes, a player who also led the league in offensive rebounds -- Tyson Chandler. They have a player who might be the most dangerous and most difficult matchup coming off the bench, a player for whom no team has a clear-cut answer, a player who almost single-handedly took out the Spurs while he was playing for Sacramento -- Bonzi Wells. They have possibly the best backup point guard in the league -- Jannero Pargo. They have a third player in their starting lineup who can score 30 in any game of a series if a team makes a defensive decision to not let Paul or David West beat it -- Peja Stojakovic.
There are other side dishes -- Morris Peterson on offense, Hilton Armstrong on defense, Mike James being Mike James -- but it's the collective, what they have been able to do all season and what they have the ability to do during this playoff run, that needs to be recognized … before it's too late and they are in the Western Conference finals or playing the Boston Celtics in June.
Truth be told: The Hornets are the most complete team left in the NBA. They have two -- maybe three -- legit All-Stars and a bench on which the drop-off of talent is not that drastic from players four to 10. It's just a matter of, from this point forward, can they play the best?
"We have to be on point. I tell them, 'You can't make the same mistakes in the playoffs like you do in the regular season,'" coach Byron Scott told ESPN. "We have to do what we've been doing all season long: prove people wrong."
Now they just have to do it better -- be better than the Mavs' best, better than the rest of the West's best.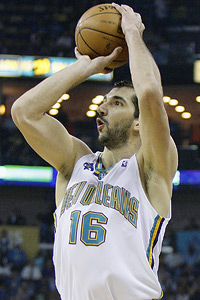 AP Photo/Alex Brandon
Peja Stojakovic will make defenses pay if they focus too much on Chris Paul and David West.
There are no true role players here. Everyone is accountable for everything. This defines their completeness. Mo Pete has to rebound. D-West has to set picks. Peja (even though he is as close to a player paid to do one thing as it gets) has to drive and slash, not just spot up and launch from 23 feet, nine inches. CP3 has to play D. Their Achilles' heel of being one-dimensional on offense (take away their pick and roll, and they could be in trouble … but that's much easier said than done), missing jump shots (which can and historically has happened to the best teams in the playoffs over the years) and being piteous in offensive rebounding (they were 24th in the league during the regular season) can be exposed, but because they are so thorough, can be overcome. Easily.
And that never-ending, forever-omnipresent complaint about the Hornets' lack of experience? Been there, heard that. There's one word for those who hold that against them: Obama. And he's still standing.
Even though they came to this dinner as the No. 2 seed, the Hornets never felt they were welcome. It wasn't that no one wanted them here, but no one anticipated they'd show up. No one anticipated they'd be led to a table. No one knew they could afford to pay the bill.
Well, the bill has come, and not only can they afford to pay it, but they can -- and will -- leave a generous tip. And since the Hornets got it like that and no one knows it but them, they will be gracious in un-defeat. They'll show that just because you don't have experience, it doesn't mean you don't belong.
As ESPN's Mark Jones said, even before the 35-point, 10-assist, four-steal playoff debut of CP3, "Don't be fooled by the angelic face; there's a killer inside." Well, that applies to all 12 members of this squad, not just the kid who should be MVP. And as long as the man who should be coach of the year doesn't lose them the way they say he "lost" the New Jersey Nets when he twice led them to the promised land, they could very well be the NBA version of the New York Giants this year.
So, I'm sold. I'm drinking the Neptune Monsoons the Hornets are selling, eating the shrimp po-boys, red beans and rice and being served. If anyone has any doubts, has the audacity to not believe in the Hornets, go back to the third quarter of Game 1 against Dallas. That 16-3, four-minute run, that nine-minute span during which they held Dallas to 4-of-17 shooting, that small moment when they looked better than any of the other 15 teams over the playoffs' first weekend.
A team in its very first playoff game, a game in which it was supposed to fold because the stage was too big, in which it wasn't supposed to show up. That's when the Hornets themselves did two things: They began to believe themselves, and they began to believe in themselves.
Now, they just have to keep that us-against-the-world mentality. They have to keep telling themselves that no one really expected them to show up to this dinner.
Scoop Jackson is a columnist for Page 2.
Also See
ESPN Top Headlines