It's David Stern's worst nightmare. We all knew it was eventually going to happen. Now it has arrived. The elements. The trappings of words, actions, ignorance and pride. The beef.
Can anyone say dress code?
But now, Soulja Boy has reared his Collipark head.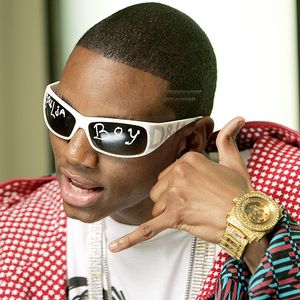 AP Photo/Reed Saxon
Soulja Boy is suddenly at the center of an NBA controversy.
What began last week as a simple response to a simpler response that "apparently" -- according to Washington Wizards guard DeShawn Stevenson -- began before Stevenson called LeBron James "overrated" has turned into an LL/Canibus beef only the Source Sports would love to resuscitate.
"[LeBron] said something about my game. He said I'm getting a lot of hype this year, that he doesn't think I'm the good player I am and basically that I suck, our team sucks and we're not going anywhere. I took offense to that," Stevenson was quoted as saying in the Washington Post. "If LeBron James never said that comment, we wouldn't have the rivalry we have right now."
And now the graves of Pac and Biggie are spinning like Sprewells. The bravado and code of the block that made them icons, shaped the decline (if not demise) of a musical generation and was eventually an indirect accessory to their deaths has finally and inevitably crept into the NBA.
It was James' comment about "me responding to [Stevenson] is like Jay-Z responding to Soulja Boy" that made Soulja Boy upset -- and had TNT superimposing Marv Albert's head on a Soulja Boy-like frame while he cranked that and did the Superman … which possibly led Stevenson to invite Soulja to the Verizon Center as his guest for Game 3 … which led to the Cavs losing … which led to Jay-Z realizing the deck was being stacked against one of his honorary Roc members … which led to Hova recording a response … which led to that song being downloaded and played after the game at a club named Love in D.C. while James hosted a party (a club apparently frequented by members of the Wizards) … which led Damon Jones to get on the mic and further diss Stevenson … which led Caron Butler -- the only Wizard at the club at the time -- to leave because he felt his teammate was "being disrespected" … which led to everyone from Mike Wise in the Washington Post to Mike Tirico on the ABC broadcast to talk about the beef … which inadvertently but somehow connectedly led to a flagrant foul being called on Stevenson for taking an inadvertent swing at LeBron's head … which led to Bron getting slightly p.o'd … which led to him finishing with 34 points, 12 rebounds and 7 assists and the Cavs winning the game … which led to the inevitable "it ain't over" mentality that is the never-ending grand finale of all beefs.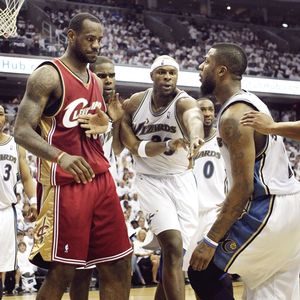 AP Photo/Pablo Martinez Monsivais
LeBron James and DeShawn Stevenson and have ignited a feud that may be about more than just basketball.
In all of this (as it has been in all beefs) is the b.s., the nonsense that breathes life support into a situation that should have been pronounced dead long before this column was written.
Now Stevenson says the situation has become "overblown." Really?
Overblown in that it has transcended the game and taken on the DNA of something bigger than the personal dislike between two ballplayers. Now they have allowed "outsiders" to get involved. Sides will be chosen. TMZ will bring the cameras. And unlike any other NBA beef in the past, this one brings hip-hop into it, parlays its own personal sound track and innocently involves those from the urban battlefield called the record industry into the one area of the game the NBA wants to keep sacred: the game itself.
And now what? Where do we go from here? Will Lil Wayne come to Jannero Pargo's rescue for the flagrant foul Jason Kidd committed on him? You know, because he has to protect New Orleans! Will J-Kidd have KRS verbally squash Pargo for thanking Weezy for having his back and believing that Lil Wayne and not he is the greatest MC alive?
Will Lupe roll with Kobe just in case KG is on some Rick Ross trip and one of them wins the MVP the other felt he deserved and they meet in the Finals? Will T.I. craft something special for the Hawks from his cell to tick off Boston and have it played in the spot Paul Pierce kicks it? Will Eminem come out of retirement and go at LeBron and Jay-Z on the Pistons' behalf and finish what Soulja Boy couldn't, just in case Sheed & Co. end up playing the Cavs in the Eastern Conference finals?
Will LeBron use hip-hop again as another analogy of his superiority?
See, it could go there. This is the Parrish Smith box (not Pandora, yo) that the NBA was trying to keep locked. This is the level that the league did not want to stoop to. How low can it go? Very low. From ignorant to ig'nunt. It can go to a level that has been played out in music videos, club shootings and Vibe magazine covers. It could lead to Suge Knight discovering the next O.J. Mayo and becoming a basketball agent.
Which is why David Stern has never been a fan of associating his business with the business of hip-hop. Which is also why, as crazy as this situation is, you can't be mad at him. It's not that anyone saw something like this developing, but it is a course of events that can make every commissioner in professional sports and almost every CEO of a multimillion-dollar corporation come to a conclusion and mind-set that no one inside of hip-hop can defend as wrong.
This war of words between two players in an NBA playoff series has the power to validate those who believe corporate America should distance itself from urban culture and to shape the way the world thinks of those players who claim they rep hip-hop. As marketable as LeBron is, this beef that has extended beyond the basketball court won't do him much damage, but it can hurt everyone else who looks like him, plays against him, hates him, loves him, wants to be him. It substantiates that private "see, I told ya" moment that happens in places where players aren't invited, where their contracts are signed and negotiated. Where the future of their game is really decided.
And the main problem with this LeBron/Jay-Z versus DeShawn/Soulja Boy idiocy is that it won't stop. The code by which the culture lives and all of us who live in it tells us just that: And it don't stop … and it don't stop … and it don't stop.
All which will make commissioner Stern look like he was right from the beginning and he'll come off like a genius once again.
But this time at our ig'nunt expense.
Scoop Jackson is a columnist for Page 2.
Also See
ESPN Top Headlines