The scene is Los Angeles' City Hall Plaza, where a large group of Lakers fans congregate for what was supposed to be a parade celebrating the 2008 NBA championship. What they got instead was a powerful concession speech and a message of hope … well, sort of.
Thank all of you. Thank you so much. Well, this isn't exactly the speech we planned on giving, but we sure enjoyed the ride.
(Cheers)
This was a long road, you all stuck with us the whole way. You never left us and we love you for that. We have so many people to thank. To the basketball experts, analysts and columnists who stood by us, who said we were a team of destiny and that we we would win it in five. To all of the fans around these United States who remained loyal and committed when it was easy to hate us for our newfound success. To those who invested so much of their time in arguments trying to explain to people how we were a TEAM now and no longer a one-man show. To those who have the purple and gold in their hearts and encouraged us to fight even when we seemed to be overmatched against teams we were not supposed to beat until next year.
Well, next year came one year too early, don't you think?
(Loud cheers)
Without Andrew Bynum, no one gave us a chance. They all said we'd go down. Even with Pau Gasol. They said we'd get out of the first round but go no further. Yeah, well look what happened? Look what happened in Denver, look what happened in Utah, look what happened in San Antonio.
(More loud cheers)
We entered this race, this race for a championship, because we have an old-fashioned conviction: that Lakers fans deserve a ring. And this year was the year we planned on bringing you one. We didn't, but until that day comes you can always find us battling until the end. Trying to restore the fundamental aura of excellence that you have grown to expect and demand of us. And one day, we promise, that day will come.
What can we say? We tried. We knew coming in it wasn't going to be easy and that we had our work cut out for us. But we really believed that in a seven-game series we'd prove that we were the better team. But this time it just wasn't meant to be. So right now, we have to congratulate the Boston Celtics on their world championship.
(Long, loud boos)
No, no, no. They earned this and we must respect that. They played hard and did some things that we weren't necessarily expecting. They made great adjustments. Their defense was better than any we'd seen. Their bench out-mobbed ours, their coach outcoached ours. Their veterans exposed our youth. We lost the third quarter in every game. And almost every game it seemed like they had some unsung hero step up for them that we just were not prepared for.
We know it was supposed to be a classic. A throwback to the series that took place in the '60s and the '80s. All of the hype: the rebroadcast of old games, the magazine covers, the Bird/Magic "There Can Only Be One" spot. It was supposed to be a battle of the ages, a series that restored the rivalry. Instead it showed that we still have a lot of work to do to get to their level. With all of the talk about how dominant the West is compared to the East, they showed themselves not only to be a formidable opponent but one that we must concede is superior. Hey, if we beat the Jazz in six and the Spurs in five, what do you think the Celtics would have done to them had they faced one of those two teams in the Finals?
There was a lot at stake for us. Phil Jackson taking over Red Auerbach as the coach with the most NBA titles, Kobe establishing himself as a winner without Shaq, the organization trying to prove that it is the greatest franchise in NBA history despite the fact that the other guys have won more championships. All of these things played a role in the extra pressure that was placed on us to win. They were all things we felt we could overcome, but ultimately we couldn't. And the next time we'll know how to handle these things differently, because they will be less of a concern. Hopefully.
Our youth showed itself in Game 4 when we amassed that 24-point lead and lost it. It was the same 24-point lead they had on us in Game 2, but because they have players on their team who have so many more years under their belts than most of our players, they kept the lead and home court. And even though we didn't admit it at the time, we can say now, after a couple of days of letting it soak in -- something we learned from Hillary Clinton -- that loss in Game 4 was the tipping point. That game emotionally and psychologically drained us. We said at the time that we were going to take it "one game at a time" after that, but we knew right then when Ray Allen got that wide-open layup with 16 seconds left that it was over.
(Silence)
But there's no reason to be discouraged. So we got our asses handed to us in the Finals. It's something that has happened to many teams before and they've all bounced back. Right now we can't remember who those teams are, but we know they exist. And if they don't, then next year we'll be the first!
(Cheers)
So today, we are standing in front of you saying: Yes we can!
Yes, we can win a title! Yes, we can overcome this defeat! Yes, we can one day beat the Celtics! It is true that some changes will be made and some of the players who are on this squad will not be a part of that movement. We will work hard to get players in here who can defend Kevin Garnett and know how to box out and play help defense. We'll work hard to get players in here who do not rely on multiple 15-20-foot shots to get them out of shooting slumps. We'll work hard in not letting the referees or the foul shooting disparity mentally mess with our heads (or at least not make postgame comments about it). We'll work hard to make sure none of our players reach this stage and are "confused" on the court. We'll work hard at getting players who are not defensive liabilities to the point that other players' faces light up when those guys check in. We'll work hard on finding a James Posey, P.J. Brown and Sam Cassell for ourselves next season. We'll work hard to build a team as "complete" as the one we just lost to.
And we will work hard to get back here. Harder than we've ever worked before, harder than any other team in the league. And next year it is our pledge to prove to you that your support and your continued belief in us is all we need to reach our goal. This Finals will be the turning point to the future of the championship coalition we are trying to build. And even though losing to Boston the way that we did was unexpected, it is the best lesson we could have learned.
Which is why this time next year, by the grace of God and Mitch Kupchak, we guarantee we will not be the team giving this speech.
We can't promise you that it will be the Celtics, but it damn sure won't be us.
(music: "Don't Stop Believing" by Journey)
(Loud cheers/applause)
Thank you again. God bless you all. And God bless the Lakers.
Scoop Jackson is a columnist for Page 2.
2008 NBA FINALS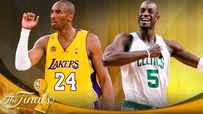 And then there were two -- the Lakers and Celtics. Who will win the NBA Finals? Let the games begin.
Finals schedule | Playoff bracket | Playoff home
Daily Dime
•
Celtics win 17th championship title
•
Did C's lose Regret Game?
•
A little help from Kobe's friends
•
Time for L.A. to go small
•
The Finals Can't Shake Donaghy Mess
•
Unlikely Game 4 comeback gives C's 3-1 lead
•
Rondo's ankle could change L.A.'s game plan
•
Kobe leads Lakers to Game 3 win
•
Lakers need to attack the paint
•
Lakers learn Powe's name in Game 2
•
Time for Gasol to step up
•
Lakers need better defense in Game 2
•
Pierce sparks Celtics in Game 1 victory
•
Expert predictions, clutch stats
•
Pierce loves playing Lakers
•
Celtics to meet L.A. in the Finals
Lakers vs. Celtics
•
Stein: Q&A after six-game "sweep"
•
MacMullan: Pierce's long road to greatness
•
Hollinger: From camp to champs
•
Stein: Boston's big three shine
•
Adande: Questions loom over Lakers' future
•
Hollinger: Celtics commit to defense
•
Scouts Inc.: Game 6 breakdown
•
Hollinger: Farmer steps up in Game 5
•
Sheridan: Late-game letdown for Celtics
•
Stein: Lakers ready to make history?
•
Adande: Greatness eluding Phil and Kobe
•
MacMullan: Doc adheres to dad's lessons
•
Jackson: Time for L.A.'s concession speech?
•
Stein: Game 4 not Kobe's finest hour
•
Adande: KG dominates Gasol again
•
Hollinger: Rivers makes all the right moves
•
Hill: Kobe's Laker legacy on the line
•
Hollinger: Vujacic lends helping hand in Game 3
•
Jackson: Jump shot Jesus has returned
•
Stein: Lakers need to earn sympathy
•
Adande: Lakers feel foul over whistle disparity
•
Jackson: Leading role suits Pierce
•
Adande: Kobe turns away from the pass late
•
Stein: Pierce's knee key to rest of series
•
Finals factor 1: Kobe Bryant
•
Finals factor 2: Celtics Defense
•
Finals factor 3: Paul Pierce
•
Finals factor 4: Home-court advantage
•
Finals factor 5: Battle of the benches
•
Hollinger: Lakers offense vs. Celtics defense
•
Broussard: Turning back the clock

•
Adande: How did Kobe get here?
•
Scouts Inc. breakdown: Lakers vs. Celtics
•
Coaching comparison: Red vs. Phil
•
Smith: Kobe's moving forward
•
Scoop: Fiendin' for a ring
•
Top 10 moments of Lakers-Celtics rivalry
•
ESPN Classic schedule: Relive the rivalry
TrueHoop
•
TrueHoop: Finals reflections
•
TrueHoop: Doc Rivers' redemption
•
TrueHoop: Lakers got Rondo'd
•
Tough night for Allen
•
Game 5 live blogging
•
Laker nation vs. NBA refs
•
Pierce and the evaporating knee story
•
Game 2 live blogging
•
Coaxing Kobe Bryant into hero mode
•
Game 1 live blogging
•
Today's game isn't so different
Simmons
•
Notes from the C's winning night
•
Boston's X factors
•
Game 4 running diary
•
Time for NBA Finals answers
•
The C's and city both look good
•
The Truth comes out in Game 1
•
NBA Finals forecast
•
Chat: NBA Finals preview
•
Simmons: You want a piece of Kobe, Boston?
ESPN The Magazine
•
Sporting Equivalency: NBA Finals meets hip hop
•
Broussard: Reporting from the NBA Finals
Fantasy
•
Join the fun of NBA Finals: Playcaller
Audio
•
Dish: NBA Finals recap
•
Wyc Grossbeck on C's championship
•
Ray Allen on how the Celtics evolved
•
Bob Ryan compares '86 C's to current one
•
Jon Barry credits Tom Thibodeau's team defense
•
Game 4 reactions
•
Rajon Rondo on Pierce, Game 2 plans
•
Bill Walton on Celtics-Lakers history
•
Dr. J on Finals, '80s hoops
ESPN Top Headlines