1. Kevin Love gets love
In a perfect world he'd be gone by 8 p.m. ET. But that won't happen. In any other recent draft -- with the exception of 2003 -- Kevin Love would have been an automatic top-five selection. Blame his moms and pops for not getting busy a few years earlier, because he would have had his own sweepstakes in 2005 and 2006, when Andrea Bargnani and Andrew Bogut were the top choices.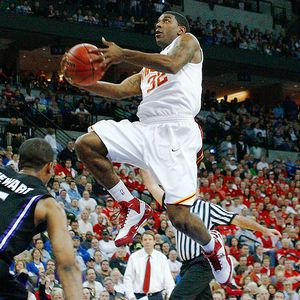 Jamie Squire/Getty Images
The best for Kevin McHale to get fans to forgive him for trading KG? Draft O.J. Mayo.
2. "And with the third pick, the Minnesota Timberwolves select … O.J. Mayo
The whole Miami thing (Shawn Marion not opting out, Pat Riley having questions about Michael Beasley's "character," last-minute secret workouts of point guards) messed up the most perfect fit in the draft. Mayo is perfect for the Wolves. The perfect complement to Al Jefferson, the perfect mystique and sexiness to build a PR campaign around, the perfect draft pick to make up for Rashad McCants and not have Minnesota rely on Marko Jaric's eight points per game at shooting guard. The perfect player who in a few years could make a city forget the hell Kevin McHale put them through for getting rid of KG.
3. The Bucks pick anyone but Joe Alexander
The center/power forward-by-committee continues. At 6-foot-8, Alexander is the type of high-risk player the Bucks have been stockpiling since the Ray Allen era ended five years ago. Still in search of that big-time big (Yi Jianlian, Bogut, Charlie Villanueva, Dan Gadzuric), the Bucks are addicted to spending high first-round draft picks on players considered "projects." Alexander is no Kevin Pittsnogle, but he's still a project.
4. The Nuggets trade J.R. Smith and a future No. 1 pick to the Sonics for the fourth pick
… And draft Russell Westbrook. How beautiful would that be? Westbrook in the backcourt with AI? The enigma that has become J.R. Smith can move elsewhere, taking the mental mistakes that have haunted him in the past two playoffs. Regardless of whether Melo is in a Nuggets uniform in November or whether George Karl is the coach in January, Westbrook -- the second coming of Baron Davis -- would fit in Denver as Tim Russert did in the "Meet the Press" chair.
5. The Spurs draft a player from America
Be honest, it's time for Pop to stay home. It's time for him to draft east of Crenshaw and west of Brooklyn. The Spurs need to rethink their international approach and realize that they already have two of the three best foreign players in the world, and the chances of getting one more are anorexic. It's time to find another Bowen instead of discovering the next Ginobili. The Lakers lost to Boston in six but took the Spurs out in five, so shouldn't DeAndre Jordan or Chris Douglas-Roberts seem attractive to San Antonio?
6. The Pistons pick CDR to become Rip Hamilton's protégé
Every star needs an understudy, someone who can carry on his legacy. Think of how Detroit lucked out with Rodney Stuckey "studying" under Chauncey Billups this season. As one of the best backcourts of this generation starts to age, Dumars could lay the blueprint for the next phase by drafting the player everyone knows is going to be Rip reincarnated. That's much more important right now than trying to trade Sheed.
7. J.R Giddens (New Mexico) and Mike Taylor (Iowa State) hear their names
In every draft, certain players remain on the board because of persistent questions about their character and professionalism. In this year's draft these two will be affected the most. (Michael Beasley also will be affected, but for him to drop from No. 2 to No. 3 is essentially irrelevant.) Each has major talent but has not been able to shake the baggage attached to him during his college career. (Taylor was kicked out of school after his junior season and played last season in the NBA Development League; Giddens was suspended at New Mexico in 2007 for "not being a good teammate.") It's always said that the "B" in NBA stands for business, not basketball. Giddens and Taylor are about to discover how real that really is.
8. The Lakers trade Lamar Odom and the 58th pick to Sacramento for Ron Artest
Someone from the Lakers needs to go, and they need Ron-Ron to beat the Celtics next season. Odom is the most attractive trade bait GM Mitch Kupchak has with which the Lakers would be willing to part.
9. A GM takes a real risk on Bill Walker
He's been labeled as the new Vince Carter … which may not be a good thing. Walker, if he chooses to seriously work on his game in the next three to five years, could be the steal of this draft. He could make the Vince analogies an insult. With the right team and the right amount of patience, he could be another Gerald Wallace or Jason Richardson, but more athletic and more explosive. Scary, ain't it?
10. "The Chicago Bulls select … Michael Beasley"
Derrick Rose is too good to pass up, but once GM John Paxson finds out he can't move Ben Gordon or Kirk Hinrich for someone -- ANYONE! -- to score down low, he's going to realize that Pooh may be, as Paul Pierce once said of himself, "a great player stuck on a bad team." Where Rose will make the Bulls better, Beasley would complete them. And as true as it is that Chris Paul and Deron Williams (whom Rose is compared to) are special players, a Charles Barkley (the player Beasley has a great chance of becoming, especially because he shrunk from 6-foot-10 to 6-7 the way Barkley shrunk from 6-6 to 6-4) only comes around once in two or three NBA lifetimes.
Scoop Jackson is a columnist for ESPN.com.
2008 NBA Draft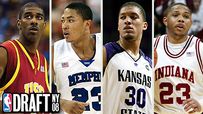 We've got the 2008 draft covered. Who are the top prospects? Check out our analysis, projections, scouting reports and more.
'08 NBA Draft Index
•
Roundup: A rundown of who went where
•
Keeping up with draft day trades
•
Mayo to Memphis, Love to Minnesota
•
Simmons, Ford: Great Draft Debate '08
•
Chad Ford's Mock Draft 7.0: Picks 1-30
|
31-60
•
Chad Ford's Mock Draft 6.1: Picks 1-30
|
31-60
•
Chad Ford's Mock Draft 6.0: Picks 1-30
|
31-60
•
Chad Ford's Mock Draft: Version 5.0
•
Chad Ford's Mock Draft: Version 4.0
•
Chad Ford's Mock Draft: Version 3.0
•
Chad Ford's Mock Draft: Version 2.0
•
Chad Ford's Mock Draft: Version 1.0
•
Draft Machine: Make your picks
•
Who's in, who's out of 2008 draft?
•
Ford's Top 100: Best draft prospects
Chad Ford
•
Draft Watch: How high or low will they go?
•
Draft Notes: Heat trading Beasley pick?
•
Draft Notes: Rose-Beasley rages in Chicago
•
NBA draft strategy: Ranking prospects by tiers
•
Draft Watch: Teams coveting UCLA's Westbrook
•
Draft Watch: Final in/out decisions made
•
Draft Watch: Rush's hot, Arthur's not
•
Draft Watch: International top 15
•
Draft Watch: Alexander's hot, Lawson's not
•
Draft Watch: Miami takes close look at Mayo
•
Draft Watch: Using the measurements
•
Draft Watch: Analyzing combine results
•
Draft Watch: Analyzing official measurements
•
Draft Notes: Who's looking to trade their pick?
•
Draft Notes: Stars come out in Orlando
•
Draft Notes: Beasley, Rose a marked contrast
•
Draft Stock Watch: Forbes taking wing on charts
•
Draft Notes: No. 1 question looms over Paxson
•
Draft Watch: Lawson bouncing back
•
Draft Notes: Rumors, promises and PGs
•
Draft Watch: Orlando hopefuls eye first round
•
Draft Watch: Could Mayo be the No. 2 pick?
•
Draft Watch: Who's No. 1 -- Rose or Beasley?
•
Draft Watch: Mayo's stock is rising again
•
Draft Watch: Judging early entry calls
•
Draft Watch: Nike Hoop Summit buzz
John Hollinger
•
Draft Rater: How will the Euros translate?
•
Draft Rater: Who are the best perimeter players?
•
Draft Rater: Who are the best big men?
•
Draft Rater: Beasley has most pro potential
•
Rating college prospects
More Analysis
•
Katz: Bayless, Gordon survived turmoil
•
Katz: Freshmen could produce record numbers
•
Katz: Draft trade rumors abound
•
Gottlieb: Mayo impresses while others falter
•
Katz: On top 12 picks
•
Katz: Rose's unique passion to win
•
Fraschilla: Who made right choice to return?

•
Katz: Heels win on withdrawal day
•
Katz: Anderson still on fence
Draft Lottery
•
Ford: Beasley-Rose debate rages in Chicago
•
Bulls win lottery; get first pick
•
Ford: Will Bulls take Beasley No. 1?
•
Vote: What should Bulls do?
•
Katz: Lottery projections

•
Fraschilla: Projecting picks 1-14

Podcasts
•
NBA Dish: Paxson on winning lottery
•
Mike & Mike: Paxson on No. 1 pick

•
NBA Dish: Joe Abunassar, NBA trainer
•
NBA Dish: Kevin Love, UCLA
SportsNation
•
NBA Draft polls
Fantasy
•
McKitish: Most freshmen have little impact
•
McKitish: Beasley and Rose as NBA rooks
ESPN Top Headlines