They looked good, didn't they? Flashes of '92, right? Like we 'bout to get that ol' thing back.
But something still doesn't feel right, right? There's still something wrong, isn't there? It's like something is missing, but you just … can't … put … your … finger on it.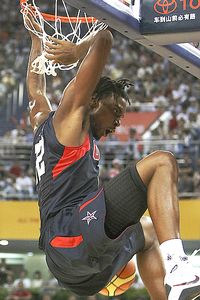 AP Photo/Eugene Hoshiko
Chris Bosh threw down a big dunk against Australia -- but was it an intimidating one?
Let me help. There was a point in the third quarter of USA's final pre-Beijing tune-up against Australia (which was playing without Andrew Bogut, mind you) when Chris Bosh took over. The U.S. lead had fallen to single digits. But, off a pass from Dwyane Wade, Bosh came down the lane doing his best David Robinson impersonation and threw one down. Bill Walton would have been proud.
But after that, the Australians scored with ease. And often. They never flinched; they acted as if Bosh's dunk was nothing more than two points. Another national team, scared by us in a basketball game? Not anymore. Not even facing the best team the U.S. has been able to assemble in eight years.
But Chris Bosh is not the issue here. He just exposed the void that might just hinder the Redeem Team's quest for gold. What's missing on this team is an intangible that, on his best day, Bosh (or Dwight Howard, or Carlos Boozer, or anyone else on the team) can't provide -- the intangible that would make this feeling that's gnawing at the bottom of our stomachs like leftover ceviche go away.
On the eve of the opening ceremony, it's too late to do anything about it. This team has other concerns too -- like occasional apathetic defense, intensity lapses and not having anyone besides Michael Redd to drop needles from 30 feet or anyone besides Tayshaun Prince to lock down a player like Spain's Juan Carlos Navarro if he gets warm. But what's missing is …
Amare Stoudemire.
Even though Chris Anstey of Australia believes the fear factor is still there ("I think a lot of teams get intimidated by that [U.S.] team"), the truth is, if the intimidation factor was there, none of us would have that feeling in our stomach.
Nothing against anyone on this squad, but Stoudemire -- who elected not to participate, concerned about the health of his surgically-repaired knees -- is the only player who was available to the United States who could have taken that feeling inside of us away. His presence, his demeanor, his anger, his power, his meanness, the messages he sends when he plays … that's what is missing.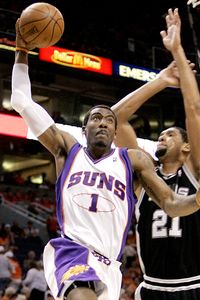 AP Photo/Matt York
Amare Stoudemire brings something to the table that perhaps no other American player can.
The U.S. team is made up of great players, but none are
mean.
They're all too nice. No one is going to elbow an Angolan in the chest for no reason. There's no one who makes other teams think twice about whether they really want to win; that player who can knock the will and ambition out of a team without throwing a punch; that player who can do something on offense that is so intimidating to the opposing squad, the U.S. doesn't have to play defense for two or three trips down the floor because its opponent is so shook up.
Had that been Stoudemire instead of Bosh on the other end of that pass from D-Wade against Australia, flying down the lane for a flush, that game is over. Shrinkage sets in on the other side. Their shots stop falling. Confidence exits their souls as if someone yelled, "Fire!"
But after watching the U.S. get past Turkey and Lithuania like they were AAU squads, and then be challenged by Russia and Australia, it is glass-cubicle clear that once the games begin in Beijing, no one is going to be afraid of the U.S. team. Or anyone on it.
True, LBJ can go nuts. Kobe can lose his mind offensively. And those things may reduce an opponent's chances of winning. But they won't crush an international team's spirit the way they do in the NBA. The Wizards and Spurs may be scared, but the world ain't. Stoudemire's ability to do things by sheer force -- force no other international player, or any other player in the NBA for that matter, possesses -- could have been the difference between this team simply winning the gold medal and this team winning the gold medal while never having less than a 25-point lead after halftime. The difference between destiny and dominance. Redemption and resurrection.
So as you watch this team go for the gold, pay close attention to what is missing. Visualize the difference Amare Stoudemire would've made. Not that we are looking for perfection, but we are in search of something damn close. And if we're looking for this team to re-establish our true place in the game, by having other nations straight scared of us when they have to go against us, then we may have to wait until 2012 -- when Team USA might be able to convince Stoudemire just how necessary he is.
Because in this sport we call basketball, in which we are trying to redeem ourselves, why just go for the gold when instilling fear is a much greater reward?
Scoop Jackson is a columnist for ESPN.com.