It was he who gave me some of the best advice I've ever received. It was then that I learned comedians use their life experience as material, but when they want to educate and say something profound to teach a lesson -- they use sports.
We were sitting in a club, a club he called home, when he said something he learned from Muhammad Ali. A life lesson.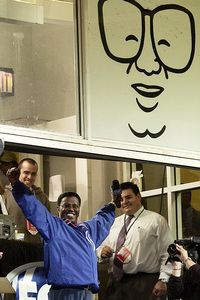 AP Photo/Amy Sancetta
Bernie Mac was a White Sox fan, but he was honored when the Cubs asked him to sing "Take Me Out to the Ball Game" in 2003.
"I'm not afraid of failure," he said then, circa 1996. "If I fail -- man, so what. First of all, I ain't gonna disappoint nobody because that's what they want me to do. I learned that from Muhammad Ali a long time ago. Before one of his fights a guy walked up to Ali and said, 'Ali! Ali! 55,000 people are here to see you [fight].' And Ali said, '55,000 may be here, but 50,000 came here to see me lose.'"
This was the life philosophy of Bernie Mac. One that, if you knew him, you knew he lived by; and if you didn't know him, you had no idea this train of thought existed in him. Bernie left us the other day, and in the words of Don Cheadle, "Heaven just got funnier."
But Bernie wasn't just the King (not "a king," "the King" …) of Comedy, he was one of the great sports junkies/heads/aficionados/connoisseurs of our time. And if we think the world of comedy just lost an icon, we need to think again. Because as far as Bernard Jeffrey McCullough goes, he was much more and much deeper than "Mr. 3000."
"From time to time," White Sox general manager Kenny Williams said the day of Bernie's death, "I would get a message from Bernie saying, 'Nice move,' here, or 'Go get some more pitching!' It was a genuine love of the White Sox and love for Chicago."
His love extended beyond the side of town he was from. When it came to sports in the city, Bernie didn't hate one team because it represented another side of town. He just loved one team more. He was a diehard Sox fan who felt humbled and honored when he was asked to sing "Take Me Out to the Ball Game" during the seventh inning stretch at Wrigley.
Contrary to any belief, it was Bernie Mac's saying of "Who You Wit'?" that became the Bulls' endorsed and embraced theme during their championship runs, not the Gary Glitter anthem. It was Mac who was subliminally our Jack Nicholson, if this were Los Angeles; our Spike Lee, if we were in New York.
He was "Bernie being Bernie" before Manny Ramirez was given the moniker. And just as there may never be another comedian like him, the same can be said about him and his quiet contribution to sports. For the time we spent together arguing about the Bulls at the United Center when he knew he knew more than Phil Jackson … for the time spent riding around the Chi wondering if the Bears would ever win another Super Bowl … for June 29, 2008, the day when he threw out the first pitch of the last game of the Cubs-Sox interleague series … that was all Bernie just being Bernie.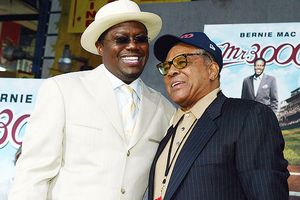 Kevin Winter/Getty Images
Bernie Mac greets Willie Mays at the premiere of "Mr. 3000."
But beyond his personal association with several of the sports teams in Chicago, it was the lessons through sports that he taught and learned that in the end would partially define who he was as a man.
The lessons in the Ali scenario: Stay humble, never get a big head, don't believe your own hype. The lesson in "Who You Wit'?": loyalty. We once talked about the lessons learned through watching Michael Jordan deal with his father's death.
"I watched Michael Jordan today," he said in one of our sit-downs at Milt Trenier's nightclub where, before he blew up big, he used to host Mac Nights, a showcase that would eventually become his HBO show. "How he handled them talking about his father. 'How do you feel about your father? What do you think about the verdict?' People don't understand; they just look at you on the surface. They don't know what that man is going through, but he still treated everyone the same. The pressure of his family, the pressure of the loss of his father, the team, the jealousy … he sustained all of that."
The lesson: Never let the world see what breaks you. Exude class.
Another followed. "Everyone has been shooting at Mike since Detroit [once the Bulls beat the Pistons in '91 to go to the NBA Finals] -- and look how he's still standing. I told Shaq a couple of weeks ago in Orlando, 'Wait your turn.' Magic and Bird had to deal with the same things, all the time. Everybody gets his or her day under the sun, that's what I told him. But it's what you do with that day. …"
The lesson: Patience is life's greatest virtue.
He used them all of the time. Sometimes football, sometimes baseball, sometimes Tiger. It never made a difference. The gift God gave him in life may have been to make us laugh, but he knew that sports were the gift God gave us to learn about ourselves. He did this so beautifully, so precisely. Better than almost anyone I've ever met, he used a devout passion and understanding of sports to learn and to teach about life. It's the joke he never got the chance to tell the world, but the unforgettable life lessons he took the time to share.
Who I'm wit'? The 5,000 who wanted to see Bernie Mac win. And he did.
Scoop Jackson is a columnist for ESPN.com.