OK, let's be honest with ourselves. As much as we'd like to believe that Michael Phelps is the greatest birthed since Zeus and that Usain Bolt might be more impressive than Phelps and that the U.S. softball team might be more dominant than either of them, we have to admit there is another story going on.
Even if it's using only our inside voices, we must admit that the one thing that might have created the most joy during the Olympics so far has not taken place on the field, on the track or in the pool.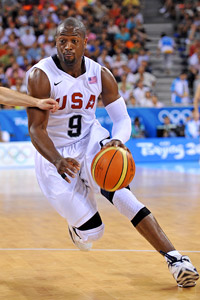 Jesse D. Garrabrant/Getty Images
Wade appears recovered from his injuries, attacking the hoop like the D-Wade of old.
Now, don't say this out loud, because you don't want anyone to look at you all weird, but … Dwyane Tyrone Wade Jr. is baaaacccckkkk!!!!
Let's just call it a comeback inside of the comeback. The Redeem Team's redemption in pool play has the world believing that the organized confusion that was USA Basketball now is over and all is right with the basketball world. Well, pool play is over, and it's time to put the kids to bed and cover the squeamish ones' eyes because it's nation time.
And of all the things the Olympic world of basketball could have prepared for -- LeBron being unstoppable, Kobe controlling games on both ends of the floor, Dwight Howard pulling apparatuses down with Xbox-like dunks -- no one was prepared for the Return of D-Wade. Not like this.
"Don't call it a comeback, I've been here for years …"
--LL Cool J on "Mama Said Knock You Out"
"Coming back like I'm avenging my brother's death."
Big Daddy Kane on "The Symphony"
Pick a lyric. Choose any song that has something to do with revenge, payback, get-back, and none will be strong enough to serve as the soundtrack to Wade's revival over the past week. It's not just the injuries he's had to overcome and play through, but also the doubt others had in him that has become the driving force behind his reincarnation.
"I'm back," he told NBC reporter Craig Sager after his 17-point, 5-assist, 6-steal performance against Greece. Back to the D-Wade who led the Miami Heat to an NBA title.
Back like Robert Downey Jr. Back like CC Sabathia.
Back in his Patrick Ewing pads, making the world realize that LeBron and Kobe no longer are alone atop the "Who's the best basketball player alive?" question that starts arguments in barbershops, bars and bedrooms at least once every month.
Before he convinced the world he had returned, he had to convince others close to him -- USA Basketball magistrate Jerry Colangelo, trainer Tim Grover (who helped bring him back to life), himself. He had to prove to them that he was ready -- back to what he once was.
That could be what fueled this comeback. The proof factor. The "Y'all really thought I fell off" proof that he had to use to prove to everyone from Beijing to Robbins, Ill., that he hadn't gone anywhere, that he wasn't about to become the next Penny Hardaway. The reckless abandon: back. The fearlessness: back. The explosiveness, hops, OMG moments: back. Wade is leading the U.S. squad in scoring at 16.2 points per game in just more than 18 minutes per game of action off the bench, turning should-be out-of-bounds plays into 40-foot alley-oops to Kobe, doing impersonations of Dominique Wilkins on breakaways.
The Microwave -- Vinnie Johnson -- never balled like this.
It's gotten to the point that teams are no longer playing against him but watching him play. Playing so well he should be in a VitaminWater commercial. He's got soul, and he is a soldier.
Maybe it's the No. 9 jersey he's wearing. Maybe the spirit of '92, of who wore the jersey then -- Michael Jordan. Maybe that's what has gotten into him. Maybe once he slid that jersey on, the essence of what it was like for Jordan -- when only two years ago the world was calling him the next Jordan -- entered his spirit?
And now, with a maximum of three games remaining, what's the world to do? How are the Australians, Argentinians and Lithuanians supposed to deal with the return of this Jedi? Is there anything they can do? The spirit of Jordan staring them in the face, pushing the ball down their throats, imposing a personal will on top of the one of redemption the whole team came to China with.
Because the remaining teams in the basketball world must deal with this newly reincarnated D-Wade fact: Yes, there is a difference between someone who is playing the best basketball and someone who is the game's best player, but what do you do when that player becomes one?
Scoop Jackson is a columnist for ESPN.com.
Team USA: Redemption In Beijing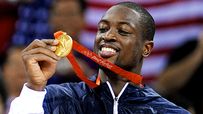 Team USA won the Olympic gold medal in men's basketball after years of frustration.
Roster | Schedule | TV | Scores | Standings
The Redeem Team

Sheridan: 1992 vs. 2008
They redeemed U.S. hoops and reclaimed Olympic gold. So, how does the '08 team stack up to the Dream Team?
Chris Sheridan
•
Sheridan: Dream scene
---

TrueHoop: What next?
Team USA was great in '08. But how will it remain on top of the world? We've got the plan (with a few new faces) moving forward.
TrueHoop
•
TrueHoop: Day of redemption
---

Jackson: Truly redeemed?
Yes, the U.S. men's basketball team recaptured the Olympic gold in Beijing. But did they really accomplish their mission? Depends how you look at it.
Scoop Jackson
---

Hollinger: International flair
Team USA got the gold, but the game of basketball was also a big winner. Here's a look at how the NBA's international stars fared in the Beijing Olympics.
John Hollinger
Medal Round
•
Sheridan: United statement
•
Forde: Coach K deserves praise
•
Hill: Rooting for redemption
•
Sheridan: USA gets revenge vs. Argentina
•
Sheridan: US-Argentina rivalry renewed
•
Sheridan: Dispelling two Team USA myths
•
Sheridan: One down, two to go
•
Sheridan: Quarterfinals roundup
•
Sheridan: A whole new ballgame
•
Sheridan: Previewing the quarterfinals
•
Sheridan: Australia won't be scared
Preliminary Round
•
Day 5: Greece earns date with Argentina
•
Sheridan: Kaman suits up for Germany
•
Sheridan: Unchallenged by Spain in 37-point win
•
Bucher: Unselfishness sets Team USA apart
•
Day 4: Aussies, China clinch medal-round berths
•
Watch: Coach K and the challenge of Team USA
•
Sheridan: Spain's strengths pose challenge
•
Mag: Rubio is Spain's teen phenom
•
Sheridan: Winning Grecian formula for Team USA
•
Broussard: Wade back in elite conversation
•
Day 3: Lithuania, Spain remain undefeated
•
Sheridan: Team USA's Greek strategy
•
Sheridan: Angola was easy, Greece won't be
•
Day 2: China almost upsets Spain; Croatia rolls
•
Forde: U.S.-China game had historic feel
•
Sheridan: Yi struggles against Team USA
•
Day 1 roundup: Argentina upset
•
Israeli, Iranian share embrace
TrueHoop
•
Chris Bosh on Olympic intensity
•
The Next Team USA
•
Suddenly, Team USA looks enormous
•
Spain's joke not funny
•
The other Redeem Team: Spain
•
Dream Team not the model
•
Yao Ming is no Kobe Bryant
•
Team USA's Chinese fans
•
Is Team USA muzzled or not?
Olympic Preview
•
Sheridan: 10 questions for opening round
•
Sheridan: Who will grab gold?
•
Sheridan: Argentina, Russia headline Group A
•
Sheridan: USA, Spain tops in Group B
•
Jackson: Something's missing on USA's roster
•
Kobe & Co. arrive to heroes' welcome in Beijing
•
Ford: Top int'l draft prospects at Olympics
•
Watch: Best internationals in action

ESPN Top Headlines