Black Magic: Ben Jobe Beats Bobby Cremins
Earlier this month, the Basketball Hall of Fame decided it might finally be time to recognize the contributions of some of the people who have gone unrecognized in the world of basketball for decades.
In a move spearheaded by new Hall of Fame chairman Mannie Jackson, the Hall now is forming a committee that will take a look at the Hall of Fame qualifications of players and coaches from historically black colleges and universities.
Finally.
For decades upon decades, the true historical contributions of blacks in basketball (all sports in America, for that matter) have often been disregarded. Over the years, many individuals and teams have not been recognized by -- or enshrined in -- sports' final places of rest. There has been no acknowledgement for the service they provided, the achievements they made and the standards they set. Just as baseball has often overlooked the Negro Leagues in respect to Hall recognition, basketball has fallen into that same trap with HBCUs.
Now something is finally being done about it. But the question is: Why?
We know "why" in the sense that it's about time the issue is addressed, because as filmmaker/writer Dan Klores puts it, "Why should they -- those that have unrightfully been shunned and their families -- be denied?" But my question of why challenges a different concept: Why are blacks still "asking" them (the halls of fame) for their acceptance? Why are we (blacks) waiting on them to recognize our contributions, when in their hearts we aren't really wanted in their halls of fame, and in their minds we have not earned the right to be there?
Why are we still looking to them to validate us?
It's an incomprehensible Catch-44 -- a place between vindication and validation, between a favor and a demand. In June, baseball attempted, through an initiative set forth by Dave Winfield, to right one of its historical racial wrongs by drafting the surviving Negro League players into the major leagues, finally giving them the official recognition they had been denied for so many years. What Jackson, a former Harlem Globetrotter and onetime owner of the team, is doing in this regard is very necessary. He's making a formal request to right the wrongs of an establishment that is failing to display fairness in whom it chooses to honor. His desire to form the committee and to take the steps needed to get the Hall to consider "looking into" the credentials of the overlooked speaks to why it is so important to have someone like him in that position within the hierarchy of sports.
But with all due respect to his position and power, Jackson is doing what should have come naturally and been done long before he was appointed chairman of the Hall's board of directors. The fact that he has to form a committee with no guarantees of enshrinement or honor as an end result makes this seem like nothing more than a 21st century form of segregation to many.
That is why the time has come to stop asking to be included, to be a part of, to be welcomed into any place where it's obvious some of us are not wanted. The time has come to stop requesting. The time has come to stop begging. The time has come for all former great athletes, coaches and contributors in sports that have not been rightfully honored to let it go. The time has come for black athletes to stop letting the halls of fame define who we are and the contributions we've made.
This isn't just in basketball. This is to all African-Americans in all sports who know the color of their skin has/had something to do with why they have been constantly, consciously overlooked and disrespected in regard to inclusion -- as players, as coaches, as teams, as contributors, as a race.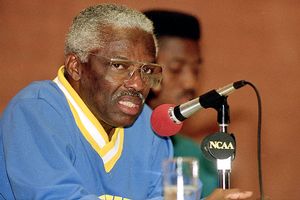 AP Photo/Tim Fitzgerald
Ben Jobe recorded 524 victories as a college head coach and memorably piloted Southern past Georgia Tech in the 1993 NCAA tournament.
In response to the request for no longer seeking Hall of Fame approval, HBCU advocate Ben Jobe (legendary player at Fisk University; coach at Alabama State University, South Carolina State College, Southern University and Talladega College) stands on the equator of the issue, saying, "[Should] we stop asking to get into places like the Hall of Fame? Yes and no."
In a phone interview, Jobe stressed the intricacy of the paradox after clarifying the fact that he didn't recently say (as was reported) that he didn't want to get into the Hall of Fame, but rather that he and anyone who was a student of Hall inductee and legendary HBCU coach John McLendon should refuse "an invite until they have Coach [McLendon] in as a coach and not a contributor."
"I could say 'Yes, it would be great to have [a Hall of Fame] of our own,' but what would be greater is if [the Hall administrators] admit what they really are: a country club that only admits certain groups of people. Now, there's nothing wrong with being a country club, but at least be honest about it.
"The question we have to ask them -- and they have to ask themselves -- is, were we there in the room when they formed the organization? Were there any American Indians there? Were there any African-Americans there? Asian-Americans? If the answer is yes, then let's move forward. 'Yes' we should still ask to be a part of it, because that means we were being considered from the very beginning. If not and the answer is 'no,' then we have to conclude that we were not considered to be a part of this from the beginning, and that's a large part of the reason we are not considered when we deserve to be in there now."
Inclusion, it is understood, is not and has never been a right by law. But at this stage, it is also not something that should still be requested -- especially if justifiably earned. Either those who put up comparable and lateral Hall of Fame numbers while playing or coaching at HBCUs are in -- or they aren't.
But to Hall of Fame president and CEO John Doleva, it's not that simple. He has the responsibility to make sure that what is being done is in the best interest of the people who have been overlooked and what's in the best interest of the Hall … and the game.
"It's beyond stats," Doleva said about the position the Hall of Fame has in this. "There are issues that need clarification and need to be cleaned up. I understand the question of not having to ask for these considerations, which is why we assembled a committee of the right people, historians and others that were there and are acutely aware of those who are not in the Hall of Fame but should be considered.
"We call that selection committee our 'safety net.' They understand that a level of achievement has to be achieved that is worthy of enshrinement. There will be no rubber-stamps, no lowering the bar, nothing upsetting to the Hall of Fame. Our duty is to take a look at things, take a look at certain voids and make them right."
Many say this latest Hall episode was a move made because of the adverse reaction by some to Dick Vitale's recent induction while icons like Teddy Wright (legendary Savannah State coach), Woody Sauldsberry (Texas Southern), Jerry Johnson (who won 815 games as head coach of LeMoyne-Owen College) and Cleo Hill (Winston-Salem State University) still remain un-enshrined. Others say it's a quasi-knee jerk reaction to the ESPN documentary "Black Magic" and consequent public pressure from its filmmaker, Klores.
Both could be true. But does it make a difference? Does it matter? The fact that Georgia Tech head coach Paul Hewitt, current president of the Black Coaches Association, had to write in a letter to Jackson stating that "the legal and psychological system of segregation has had a profound effect upon all of us -- it was designed to exclude. Now in 2008, we ask for your assistance to right this wrong and include" is further indication that although it's something that needs to be done, it's also something that decades into "asking" shouldn't have to be done.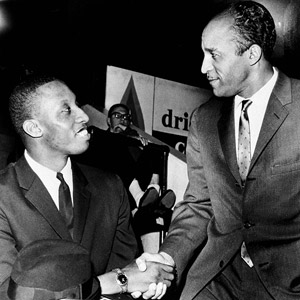 AP Photo
John McLendon (at right, with player Dick Barnett) won 76 percent of his games as a pro and college coach, but he's only enshrined in Springfield as a contributor.
No one with a hint of moral fortitude in his or her DNA can act like this hasn't and doesn't happen more often than it should. There will always be individuals or teams in sports that paved the way for everyone from Michael Jordan to Jim Brown to Jackie Robinson to become icons, yet are nowhere to be found in any sports hall of fame. That is unacceptable but cool, unfair but understood. That's life. Our life. All that's being said is that the time has come for us to stop expecting anything to change and for us to stop pushing for that change to come.
When presented with the concept of petitioning and pleading for consideration, Jackson, with an eloquence befitting someone who grasps the nature of both sides of the paradox while still being at the center of it, explained why "asking" in situations like this is still -- regardless of ideology or moral stance -- necessary.
"There is a need [for blacks] to be recognized by governing bodies and we do not have a lot of [blacks] setting policies," Jackson said. "Too many of us sit on the sidelines. We don't have a voice. I don't believe we need to create a new organization or have our own Hall -- we need to be at the table. This effort has to happen.
"Philosophically, I understand the problems of seeking validation from a larger [organization] inside of a system that's invalid, but our inclusion is long overdue. One thing I've learned in being a chairman of the Hall of Fame is that if you are not in the room, you can't set the agenda. It's all a part of being a part of the governing body to see what happens to the future. Someone has to be there at the table so that we can set the agenda for our future."
It's interesting how the three men inside of this scenario are at the core just looking for fairness. Fairness. That's all. As much as Jobe, Doleva and Jackson are right and all might get what they feel is just, it might be impossible to be fair to everyone involved when there was a fundamental flaw in the foundation at the time history -- albeit HBCU history -- was being made. That's a cold fact to accept, but it too is fair.
Malik Taylor (aka Phife of A Tribe Called Quest) once recited in the hip-hop classic "Award Tour," "I'll never let a statue tell me how nice I am." That is the overall philosophy that needs to be adopted by those who have been collectively dumped on by a jury that isn't comprised of the excluded ones' peers. As valid as all arguments have been in trying to pressure the Hall to do the right thing -- (and as valid and necessary as Mannie Jackson's crusade and efforts are and John Doleva's openness and heart might be -- the time has arrived for us, African-Americans, to stop asking for admittance into places where our historic sports figures really aren't wanted.
Stop begging. Stop looking for validation. Stop hoping for someone to do what's right and what should have been done a while ago. Stop waiting for "them" to authenticate our careers. For a lot of black athletes, the halls of fame should never be the end-all, be-all for what we have done in sports. What we honor and whom we honor should always come first. Fans and true followers know. The game knows.
"No one tells you how to play when the rules don't matter anymore" is what the first black Heisman trophy winner, Ernie Davis, apparently said at one time. The same frame of mind applies here. No one told HBCU coaches and players how to coach, teach and play in the first place because the rules never applied to them. They did what they did, achieved what they achieved in spite of the racism of the times and also because of it.
Moving forward, that's something we need to remember, while at the same time understanding what it really means. Sometimes, history belongs only to the people that produced it. Sometimes, the rest of the world doesn't deserve to share it. We didn't ask for anything then. We should follow the same sense of pride now.
Just because the times have changed doesn't mean anything else has.
Scoop Jackson is a columnist for ESPN.com.