BOSTON -- They say that once someone achieves something, the sense of urgency to achieve it again doesn't exist. Some call it human nature; some simply call it the anatomy of apathy. Most believe one of the reasons such complacency sets in is that it is always harder to do something a second time.
You would think Kevin Garnett -- excuse me, NBA champion Kevin Garnett -- would come back heavy this season. Not in weight, but from the extra pressure that comes when you become the hunted. Heavy because getting to the mountaintop was hard but staying there is a whole new episode -- one that even those considered to be the best to ever play aren't always ready to handle.
But KG is so up for this challenge he doesn't even look at it as one. At least not one that will be as challenging as winning his first NBA championship four months ago.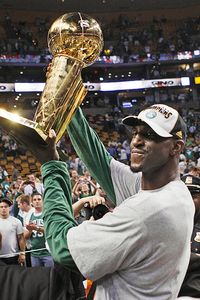 AP Photo/Elise Amendola
He waited 13 seasons, but one trophy is not enough for Kevin Garnett.
He disappears from one closed-door room to the next. Like an illusionist. It's the first day back, first day as crown incumbents. At one point, a scream comes from behind one of the doors. Paul Pierce is sitting outside the room doing an interview. "We all know who that is," he says. "That woke my daughter up, and she's at home."
It was KG, no doubt. Last season when the Celtics asked Garnett to scream in front of a camera so they could replay it on the JumboTron to hype the home crowd before the team intros, there was uncertainty in the scream. Not this time. Now, there's a pressure-less security in his vocal release. Assurance. Defending a title is supposed to be more difficult, but for some reason, he refuses to know it.
"[It's about] being consistent," is how he looks at it, how he makes sense of what is about to come his and the Celtics' way. "Being on the mountaintop is always difficult. I don't think we are going to be sitting back, like, waiting for other teams to take their shots [at us]. You know what I mean?"
Yes, we know what he means. But distancing himself from the belief that this season will be harder than last is a lie he's telling himself. The psychological, mental and physical grind of repeating an achievement that was 22 years in the making for the Celtics -- and 13 years for him personally -- has to be more difficult. Even teammate Sam Cassell, a man who repeated as an NBA champion with the Houston Rockets, knows this.
"The regular season is going to be harder; the playoffs are going to be harder," he said. "Winning doesn't get old, but it gets harder."
When told what Cassell said, KG just exhaled. "Whew … and Sam got three of them, too," he said, referring to Cassell's championship rings. Then KG got quiet. In thought. Dismissed. KG refused to succumb. In his mind, he's "seen it," as in he's seen what other teams are going to come at him with, seen what the struggle to become a champion is like.
"We've been through it, so now we know," he said before disappearing into another room for more interviews. "There's not any extra pressure on us. We're not going to approach this like we have a bull's-eye on our backs. Now don't get me wrong, it's going to be f---ing hard, but as hard as it was last year? I don't think so."
The notion of difficulty has found Doc Rivers. He's the one who's going to have to find a way to make it work again. Do something Gregg Popovich hasn't been able to do. Because while players might fall off in stature and fame from one year to the next, a coach, once he gets a ring, can go from genius to ineptness to oblivion at light speed. And if his team folds under that "defending champs" pressure, it can last for light years.
"It helps that we know it's no longer a question: We know we can win, we know what we are capable of doing and we have a blueprint of how to do it," Rivers said. "To do it again, we have to have the same mentality that we had last year, because at the end of the day, it goes back to the process of getting there. And the process of repeating is the same process of winning it the first time."
But isn't this where the hard part starts?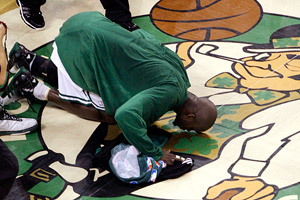 AP Photo/Charles Krupa
At 32 years old, KG says he still has the hunger to lead the Celtics to a repeat.
"Will it be more difficult this year?" Rivers said. "Yes, I think it will be more difficult. But only as far as motivation is concerned. Human nature would say the hunger is gone, but as far as the way we play -- that can't change. I just don't have an answer for the motivational part. But I'm prepared for it."
And it's that same preparation that has Ray Allen on KG's side of this. He, too, feels and finds no extra pressure coming into this season. His attitude? Nothing can or will compare to last season.
"For me, no, this season won't be harder," he said in an almost perfected anti-Jesus Shuttlesworth tone. "Last year we found out, this year we know. We all know now what our roles are. The biggest task of this team was everyone understanding each other's roles and knowing what it took to be a team. We did that. Therefore, I don't think it's going to get any tougher for us."
Teams have been restructured and rebuilt strictly to dethrone the Celtics: Elton Brand to Philly, Jermaine O'Neal to Toronto, Michael Beasley drafted by the Heat with Shawn Livingston added on as an unmatchable X-factor if he's healthy, Mo Williams going to Cleveland to take some pressure off LeBron. And that's just in the East. For the championship battle, the Lakers have Andrew Bynum back, one player the Celtics didn't have to face this past June, and Ron Artest going to the Rockets gives them a trio that might provide a greater challenge than any the Celtics faced last season.
But KG is not convinced. To him, what he had to go through to get the rings he and his team will receive Oct. 28 is equivalent to what the Hellenes went through in "300," what the Warriors had to go through to get back to Coney Island. To him, there's no way he can conceive anything being more painful, more exhausting, more challenging, more impossible.
To him, remember, impossible is nothing.
He exits another room. Stops. States his case. Clarifies.
"Look, Michael Jordan said the first of anything is the hardest to do." With that, KG looked down at me with a "I-know-you-not-about-to-argue-against-Jordan" look.
"[Jordan] made that comment after his first championship, and I've never forgotten it," Garnett said. "He felt that that was one of the hardest things he ever had to do, and he was right."
And you are carrying that with you throughout this season?
"Absolutely."
Before he ducks into another room to do another photo shoot, another interview, another promotional obligation, I tell him something else Cassell said. Something about the hunger that is necessary to repeat as champs when the rest of the world is gunning for you. Something that this year will be tougher -- but Cassell is not worried, because Kevin Garnett will still be hungry.
"Oh, I'm definitely not full," Garnett said. "I need a couple more championships, a couple more short summers like this one."
Then you're done? I ask.
"Done."
Scoop Jackson is a columnist for ESPN.com.
2008 NBA Training Camp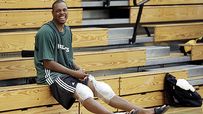 Camps have opened, and all 30 NBA teams are geared for a fresh start.
Training Camp Index
Celtics Camp

Reunited, and it feels so good. Especially after a summer spent basking in the glow of a title run. Now, the Celtics are back and eyeing another trophy.
•
Sheridan: Champs return for more
•
Insider: C's five camp questions
•
Watch: Can the Celtics win back-to-back titles?
Lakers Camp

Think the Lakers are soft after last season's Finals run-in with the C's? Have a look at Andrew Bynum, whose broad shoulders carry the weight of L.A.'s new title hopes.
•
Adande: Expectations for Bynum
•
Insider: Five camp observations
•
Watch: Lakers prepare to defend West
Heat Camp

His head coach is young, and so are his point guards. But is Heat shooting guard Dwyane Wade looking forward to a long and bright future in the Sunshine State?
•
Sheridan: Wade eyes Miami future
•
Insider: Five camp observations
•
Watch: Wade's gold standard
•
Watch: The Rookie, Episode 9
Hornets Camp

James Posey won titles at his previous two stops. New Orleans is counting on the versatile swingman to push it to similar territory.
•
Hollinger: Striking a Posey
•
Insider: Five camp observations
Blazers Camp

They're young, talented and a bunch of good guys. If you're looking for a team to love, these Trail Blazers might just be the right team.
•
Adande: Blazers in bloom
•
Insider: Five camp observations
Warriors Camp

John Hollinger checks out Warriors camp, where Golden State could trot out an impressive tall-ball lineup.
•
Insider: Five camp observations
Rockets Camp

Ron Artest doesn't want to be the No. 1 guy in Houston. He would be the sixth man if it meant the Rockets would make a title run.
•
Stein: Artest is worth the risk
•
Insider: Five camp observations
Suns Camp

You might think it's a shame the Suns are changing their approach. But Steve Nash and Co. aren't convinced it's such a bad idea.
•
Stein: Adjusting to new game plan
•
Insider: Five camp observations
•
Watch: O'Neal on the Suns
Cavs Camp

The Cavs didn't make any blockbuster moves this offseason, but LeBron & Co. could be better than you might think.
•
Windhorst: LeBron's outlook
•
Insider: Five camp observations
Bobcats Camp

Now that the Bobcats have Larry Brown at the helm are they finally ready to take that next step toward a playoff birth?
•
Bobcats' hopes hinge on May
Hollinger Team Forecasts

John Hollinger gives us a team-by-team rundown of all the offseason moves and predicts how each team will perform this season. Will it be another Celtics-Lakers Finals?
Atlantic
Celtics
|
Nets
|
Knicks
|
76ers
|
Raptors
Central
Bulls
|
Cavs
|
Pistons
|
Pacers
|
Bucks
Southeast
Hawks
|
Bobcats
|
Heat
|
Magic
|
Wizards
Northwest
Nuggets
|
Blazers
|
Wolves
|
Thunder
|
Jazz
Pacific
Warriors
|
Clippers
|
Lakers
|
Suns
|
Kings
Southwest
Mavs
|
Rockets
|
Grizzlies
|
Hornets
|
Spurs
ESPN Top Headlines