HOUSTON -- The past three years, my on-the-record, visit Vegas, religiously staunch answer to who's going to win the NBA championship has been, "Them Suns."
I believed. I knew they couldn't stop Brevin Knight from scoring 30, but I didn't care. I convinced myself the Nash/Stoudemire/D'Antoni trio was eventually going to be drenched in confetti and Korbel. Larry O'Brien trophy lifted. Queen blasting in the background.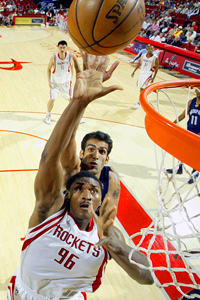 Bill Baptist/NBAE/Getty Images
Why was Ron Artest brought in? The Rockets haven't advanced past the first round of the playoffs since 1997.
But it never happened. Now I know it won't happen. Not this year, probably never. I've finally reached a point where I can no longer suspend reality from being real. The Suns are over.
---
During that same three-year period I've always said in my non-out-loud voice, "If the Rockets are healthy ..." or "If the Rockets are on the same page ..." or "If the Rockets are winning in April ..." all Tim Donaghys were off. I'd always maintain that going into the playoffs, the Rockets would be everything from "the team no one wanted to face" to "the team that could win it all." That has been my post-All-Star Game stump speech for three seasons.
Now I'm jumping on a potential bandwagon. Like the Gap T-shirt campaign, I've been inspi(red). The Houston Rockets will win the whole damn thing this season.
Sorry, Shaq. I just figured it was time to jinx someone else.
---
Get Red.
That's the new motto floating around Houston to get the fans to believe. Treasu(red) is what the team has been over the last few years, even as the cloud of demise has found an eerily coincidental way of finding its way back to them every April. (Red)efined are what the Rockets are trying to become this season, to avoid the same fate that haunted them with first-round eliminations four of the past five seasons.
Q&A WITH RON ARTEST
You can hear it in his voice, that something. "This is a blessing," Ron Artest says. "This is fun. Basketball, I used to take it too seriously. I used to get really mad when I'd lose. I let loses affect me and how I interacted with my team. And it took me a long time to realize that at the end of the day, it's just a game."

Now, from a Houston Rockets standpoint there are many ways this can be taken. Not only is this a glass half full/glass half empty concern, it's also about what is in the glass: Clicquot or Cisco. To verify: Artest's words translate to a demeanor that is so necessary for him and the Rockets right now. He's the biggest risk in sports next to Manny Ramirez. And could be the biggest payoff. If the Rockets are going to be the last team standing in June, it will be because of him. He needs to be the same Ron Ron, yet totally different. The luxury the Rockets have is now he realizes this too.

Now that you came over here I'm jumping on the bandwagon and picking you all to win the whole thing.

Artest: Oh, that's real.

It seems like everyone else around here is being hesitant to say that you all are going to win it all, keeping with the script of "it's too early to tell." But I know they brought you over here for a reason. So is what I said a legit or idiotic statement to make?

Legit. First off, I always feel that every team I'm a part of we have a chance to win a championship. I know I'm a little bit optimistic, but when I first heard about the trade, that was the first thing that came to my mind. Now, I can be a little bit sarcastic, saying things sarcastically about teams I was on that people would say have no chance of winning but I think this may be one of the times where people might have to take me seriously.

Is this the best you've had to work with? You've been on and a part of some good teams.

I think you're right. We have Yao in his prime, Tracy in his prime, and a lot of other players in their prime. I think if I give 100 percent I'll be able to help contribute and lead this team. But it's going to have to start with the preparation. Anybody can say that we can win, but we have to come out and walk the walk. You know, everything looks good on paper.

This team probably has an aura of pressure on them because of what's happened to them in the playoffs the last couple of years that you don't have. Are you going to be the one that when it gets tight and they start questioning themselves to bring them back and tell them not to make this more difficult than it needs to be?

Just me being with Reggie Miller while I was in Indianapolis would probably help me in that situation if it happens. I'm not sure T-Mac has ever played with a veteran like that, I'm not sure Yao has played with a veteran like that. Playing with Reggie Miller, for me, he was so poised. Him being in the league for 18 years and seeing how he just reacted to situations and how he never panicked. I'll try to use (what I learned) with us here. Plus, Brent Barry is on the team, which is good. I can see us really playing confident. And that's the main thing we're going to have to deal with: Staying confident. Everything else will take care of itself if we can stay confident throughout the entire playoffs.

Well I'm putting it all on you. The whole season. The championship. The prediction.

(Laughs.) Do that.
--Scoop Jackson
This year is different. They are deep, they are complete. There are no gaping holes, no signs of weakness, nothing to hold against them except their past. The addition of Ron Artest makes their trio of McGrady, Yao and Artest more diverse and possibly more dangerous than the trio in Boston. Their non-superstar/superstar role players (Shane Battier, Luis Scola, Luther Head, Brent Barry, Carl Landry) are actually more seasoned and deeper than the crew that got the Lakers to the Finals last season.
In watching them, you can sense a poised anxiety that hasn't been there, not even during last season's 22-game winning streak. They are ready for this season to open, they are ready to write the final act to this sordid play that has been their requiem in three parts. They recognize that something special exists in them. This season could change their lives. Alston even admits, "It feels different this year."
To a man, the Rockets understand that what they have going into this season is different than anything that's been here since Dream and Drexler were stacking chips.
To a man they also understand that nothing will be taken for granted and nothing will be said about a ring or championship until they win one seven-game series, then another one, then another one. In other words, no one on this year's future championship squad is honoring my prediction. This team doesn't want to hear any of my championship talk. They're more "one day at a time" than Schneider. Their philosophy is counterintuitive: a controlled destiny. And just the thought of thinking about June in October to any of them ...
Like I said, the Rockets ain't trying to hear it.
"Man, we're trying to sneak up on people, don't put that out there," Battier said.
"On paper we are one of the better teams," coach Rick Adelman said. "But 'on paper' doesn't count. It's not going to happen all at once. I've seen the problem areas that we have with people (getting injured) and I don't look ahead. I don't look at things like, 'This is where we should be.' I look at where we are right now. Take it one day at a time and worry about April in April."
Alston said, "Yeah, we got a shot but everything around here is based on health. I'm not going to say anything to jinx us, but we got a shot."
Yao stressed the same. "It's too early to say that right now," he said. "The NBA championship is not tomorrow, you know. First, we have to get past the first round, then the second round, then the conference finals and then we have to win a seven-game series in the Finals, but before that we have to get through the regular season. Brent Barry and Ron Artest give us a better chance in that challenge for the championship, but still, it happens by us doing every day. Putting in hard work, taking it one day at a time."
Tracy McGrady just let out a loud laugh when he heard what this was column was about. "You are doing what? Damn, way to come at us straight!"
It's McGrady who has the most to lose. For just about everyone else on this team, this will be a make-or-break season; for McGrady this is a guillotine season. His head is on the chopping block with no excuses left. The only thing left to save him from attaining an A-Rod-like postseason label is if after this season he catches a similar fate to Kevin Garnett. But luck (gifts, trades, whatever you want to call it) like that doesn't happen twice in sports, so Tracy may have to get his ring in Houston.
"I'm not going to agree with you," he said. "That's what we wish, that's what we're shooting for, but ..."
Let me rephrase, as to not force an answer out of him that Ernie, Kenny and Charles will be talking about on Tuesday.
"Do you like your chances with what you see right now better than you have before at any point since you've been here?"
"Oh, absolutely. There's no hesitation," McGrady said. "What we had before adding Ron and Brent, we already had a solid team. It's not like we'd go into the playoffs and teams would put us out in four games. No. We'd give teams a run for their money, we were always right there. You add Ron and Brent to our core group and we're just as talented as any of the top teams in this league right now.
"But our health. ... I don't know if it's been some kind of hex on this organization, but Rafer being injured, myself, Yao and Shane all being injured (all in April), that's just crazy. As long as we have a healthy season, that's our key. That's really what's been holding us back. Man, if we have a healthy season, a healthy team going into the playoffs ..."
The prophecy would come true, the Rockets would hold up franchise championship trophy No. 3, and I'd probably get a sports psychic show on the Oxygen Network with Ric Bucher.
But as much as the Rockets are trying to avoid this obviousness, it's obvious that in the backs of their minds they know I'm right. (Luther Head came the closest, saying, "You a smart man, a smart man.")
They know the black cloud of injury will disappear, they know the biggest mistake in the offseason was the Lakers not dealing for Artest, they know the only true weakness they have may be at backup point guard, they know (without anyone saying a word) the Nov. 4 meeting against the Celtics is more than an early "statement" game, it will be a litmus test to what could (will!) be their future in eight months.
They know ... but they refuse to admit they do. They know this season will be the season that they will be ... fea(red).
Scoop Jackson is a columnist for ESPN.com.
NBA Season Preview: 2008-09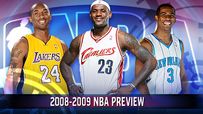 We kick off the season in style: previews, forecasts and more for all 30 NBA teams.
Preview Index
Preview Dimes
Atlantic
Celtics
|
Nets
|
Knicks
|
76ers
|
Raptors
Central
Bulls
|
Cavs
|
Pistons
|
Pacers
|
Bucks
Southeast
Hawks
|
Bobcats
|
Heat
|
Magic
|
Wizards
Northwest
Nuggets
|
Blazers
|
Wolves
|
Thunder
|
Jazz
Pacific
Warriors
|
Clippers
|
Lakers
|
Suns
|
Kings
Southwest
Mavs
|
Rockets
|
Grizzlies
|
Hornets
|
Spurs
Columnists
•
Thorpe: 10 sophomores who should soar
•
Thorpe: Top rookies
|
Rookie 50
•
Insider: All-Breakout sophomores
•
Hollinger: All-Breakout Team
•
Jackson: This is the Rockets' season
•
Morales: ESPNDeportes sizes up division races
Mag Preview
The Mag unleashes its NBA preview filled with everything a fan needs and wants to know.
•
Mag's 2008-09 NBA preview
•
Neel: The Rockets' Moneyball approach
•
Bucher: The next great point guard
•
Survey by a fan, a coach, a GM and a player
•
30 hot topics:
East outlook
|
West outlook
Fantasy
•
Simmons: NBA Fantasy extravaganza
•
Love/Hate for 2008-09
•
1-on-1: Nash or D. Williams?
•
1-on-1: KG or Josh Smith?
•
1-on-1: Oden or Bynum?
•
Fantasy draft kit
|
Join now!
Multimedia
•
Watch: Rookie impact players
•
Watch: Fantasy Hoops preview show
ESPN Top Headlines