He needs a name. Something different from the one given to him at birth. Anyone who does what he does deserves something more than what appears on the birth certificate. No disrespect, but Wardell Stephen Curry II just ain't cuttin' it.
It doesn't tell the whole story.
"The Chosen One." "Superman." "Money." "The Truth." "The Kid."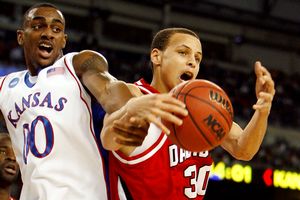 Gregory Shamus/Getty Images
Curry led Davidson to the regional final, where the Wildcats fell 59-57 to Kansas.
They don't give out nicknames the way they once did. Names to describe what players do, how they do it, when they do it. "The Answer" is cute, but A.I. is more than that. "Flash" doesn't come close to describing what Dwyane Wade can do on the court. "Big Ticket"? Pleeeaaassse.
The young man who turned the NCAA tournament into his own Michael Jordan/Reggie Miller CBS special last season is on the verge of becoming the "next" best thing in college basketball. And he doesn't have a nickname.
But Stephen Curry doesn't really care. "Every one just calls me Steph," said the 6-foot-2 Davidson junior. "They just shortened my name. I'm a pretty humble, quiet guy, so I'm cool with that."
He dropped 33 on James Madison on Monday night, letting everyone know that last season (and the year before that) weren't back-to-back anomalies. The home fans screamed his name during the game. Nothing more.
There needs to be more. But there's not more, at least not yet. Not the way it should be.
After what Stephen Curry showed us his first two seasons, he should be the talk of college basketball, the alpha and omega. Two years ago, Greg Oden and Kevin Durant were that talk; last year, Derrick Rose was alpha and Michael Beasley omega. Right now, Tyler Hansbrough and his UNC squad are all the talk: preseason player of the year, preseason No. 1 ranking, predicted NCAA champs, possible undefeated season.
If you look around the periphery of the college basketball world, you can see that while Curry is getting some attention, love and respect, it is far from what is deserved by a player who took a 10th-seeded squad to the Elite Eight and one missed shot away from beating the eventual national champion.
A run in which he averaged 32 points per game.
No Street & Smith covers (and they did 13 regional covers). No Sports Illustrated covers (they did six). ESPN The Mag put UConn's Hasheem Thabeet on the cover of its college preview issue. Athlon Sports had Curry ranked as the No. 4 player in the country but couldn't find room for him on one of its 26 different covers. (Yes, it doesn't help to play in the same state as Hansbrough.)
And even though USA Today put him on blast with a cover story in the sports section last week, Curry still flies so far below the radar you'd think he was Keri Hilson. The reason he does so is almost by design. Davidson coach Bob McKillop stresses that the Wildcats can't fall in love with last season's success. They have a long ways to go before becoming the new Gonzaga.
"I know I didn't play perfect basketball last March," Curry says, despite being the most OMG scorer the tournament has seen since Michigan's Glen Rice in '89. "I made a lot of mistakes. I've probably watched the clip tape of me at the point guard position from last year's tournament about 10 times to see where I need to improve. And that comes straight from Coach. He tells us we're supposed to get better every time we step on the court, and I buy into that."
"The Golden Child." "His Rareness." "You've Been Warned." "Hold Your Breath." "Born Wit' It." "'911" (because he comes to the rescue)." "iBall" (because like iPhones, iPods and iTouches, he can do everything).
Ricky Rubio is supposed to be NEXT. So is Lance Stephenson. So is Renardo Sidney. So is Sun Yue. All have been highlighted and projected to take over basketball. We are all waiting to be witnesses all over again.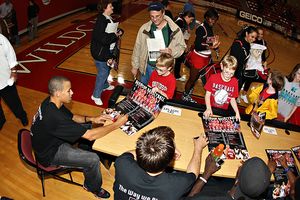 Davidson Athletics
Curry may be quiet and unassuming, but he's still the big man on the Davidson campus.
But we've already been witnesses. We've witnessed next. It came in January 2007, when Curry outscored an entire team (Chattanooga) in the first half of a game, 27-26. It came in March 2007, when he torched Maryland for 30 during the NCAA tournament. It came in three games last March, when he scored 40 against Gonzaga (30 in the second half), then 30 against Georgetown (25 in the last 14 minutes of the game), then dropped 33 on one of the best defenders (Michael Flowers) and best defensive teams in the country (Wisconsin).
See, witnessed.
There hasn't been anyone like him on the college scene in a long, long time. Someone who is this unassuming, this low-maintenance, this I-don't-need-the-spotlight-to-shine. Not to mention someone who sticks around at least through his junior season.
He enters what might (should!) be his final season of collegiate ball replacing the steady Eric Snow-like Jason Richards at point while still carrying the weight of Davidson's basketball future on his back. And despite the 25.9 points per game he posted last season during the regular season (fourth in the nation), he'll once again have to make his name on the big stage.
When asked what happens to him in March and why he turns into this ridiculously clutch, impeccably accurate, drama-loving, "Here I come to save the day!" kid with a face and smile that could get him a Disney Channel sitcom, the yet-to-be-labeled hero couldn't explain.
I think I'm just carrying more of a confidence," he said, almost in the form of a question. "I really couldn't tell you. I might get a little more excited about playing in the NCAA tournament. You know, growing up you watch it on TV, and then you finally get to that stage to be a part of it … you just get excited.
"I just know that the last two seasons I've been fortunate to play on teams that made a lot of sacrifices to get me open, and I was fortunate enough to make shots. I don't know, everything just happens the right way for me [during the tournament]. I really can't explain it beyond that."
"Cinderfella." "The Wizard of Ahhhs." "The Illusionist." "That One." "Mr. March."
My godbrother and I discovered Stephen Curry around the same time as the rest of the country. We were aware of the Chattanooga game, we peeped the early reincarnation of Chris Jackson at LSU during Curry's freshman year, but it was the 30-point Maryland game in the 2007 NCAA tournament that woke us up.
After that game, my godbrother, whose last name happens to be Curry, claimed Stephen as his own. Stephen's father, Dell, played 16 seasons in the NBA, but my godbrother never claimed Dell as his cousin, brother or step-half-adopted BFF. But all of a sudden, Dell's son was his nephew.
"When you talk to my nephew," he said, still claiming Stephen, "tell him that he can have my nickname, 'The Ultimate.' Now, make sure he knows I've had that name for 20 years and never given it to anyone, but you know how I feel about him. He deserves it."
I tell Stephen this and all he can do is laugh and say to tell my man thank you, but he still doesn't accept the name. That's not him. That's not in him.
He's simply a hero to the 1,700 students at Davidson (millions more once he goes on one of those underdog March runs) who walks around campus as one of them. Blending in with the rest of the world, among regular people with regular names. To him, this is the way it should be.
It's like calling Superman "Clark" while he's in uniform (or Spider-Man "Peter"; the Green Lantern "John"; Dr. Manhattan "Jon"). But since we live in a society where Steve Nash is referred to as "Steve Nash," Yao is "Yao," Tim Duncan is "Tim Duncan," Chris Paul is "CP3" and Carmelo is simply "Melo," it seems only fitting that the best player in nonprofessional basketball lives among us mortals as himself. Because no made-up, contrived nickname is going to fully describe what Wardell Stephen Curry II accomplishes when he balls.
Babyface Killer.
Or does that say it all?
Scoop Jackson is a columnist for ESPN.com.