NEW ORLEANS -- It's not what it used to be. The wooden exterior has been changed to brick. But inside, everything remains the same.
I came back for a homecoming. Back to the small university that birthed me. I came here to show my kids a part of history. Not my personal history (don't want those stories to get out), but the history of Xavier University of Louisiana. To show them how a small school can make such a strong and wide-ranging impact; how looks can be deceiving.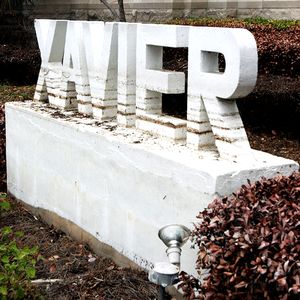 AP Photo/Bill Haber
Xavier University of Louisiana has a hidden gem of a basketball arena, called The Barn.
"The gym is small," my youngest one said. "Nothing like the gymnasium at Mommy's school."
True dat. But one student body population floats around the 40K level, while the other is closer in size to fifth-period lunch at P.S. 135 -- that's the difference between the NCAA and the NAIA. So I proceeded to tell my sons why this little gem of a gym (called The Barn) that can fit only 1,300 fans is the centerpiece of basketball in the state of Louisiana.
I told them about how Karl Malone and Avery Johnson used to come play here when the competition up at Louisiana Tech and Southern University wasn't good enough for them. How Malone, when his teammate Willie Bland (who many people said was better than Karl) wasn't available, would drive 90 minutes to play pickup here.
I told them about the shows Bland sometimes put on when he came here to hoop. But he'd also sometimes leave the gym having been out-balled by an unknown player trying to get a rep.
I told them about how former NBA great and style icon (bald heads, headbands, etc.) Slick Watts began his legacy here. And how his picture used to hang in the rafters next to the picture of another NBA vet, Bruce Seals. And how the first black player ever to sign an NBA contract, Nat "Sweetwater" Clifton, played here too.
I told them about homecoming games against Dillard University. About legendary games, game-winning shots, blowouts; about fights that broke out -- fights that included golf clubs and people jumping from the balcony straight onto the court.
I told them about "The One and Only," Lou Williams. A player who was so special, he got scholarship offers from almost every D-I college in the South, including Kentucky and Louisville. Offers he turned down because, as great as he was, he cared about basketball as much as most people care about basket weaving.
I told them about how, at 6-foot-4 and built like Roy Jones Jr. circa 1998, Williams could put his chest on the rim. He'd come to the gym and perform dunks we'd seen Darrell "Dr. Dunkenstein" Griffith do, and prove that no one on Phi Slamma Jamma could out-dunk him.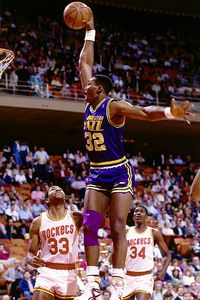 Bill Baptist/NBAE/Getty Images
Karl Malone is just one of the legendary players who has hooped it up at The Barn.
I told them about how Karl Malone came here specifically to play pickup hoop with Williams, because Williams was the player who gave Malone the biggest challenge.
I told them about Alvin "Bo" Dukes, one of the greatest not-discussed, not-talked-about prodigies in basketball history. A player out of Detroit who might only have George Gervin, Curtis Jones, Antoine Joubert, Magic Johnson and Chris Webber ahead of him in the "Who's the best player ever to come out of Detroit?" argument.
I told them about how Bo -- at 5-foot-9 -- led the school one year to a 29-2 record and the No. 2 NAIA ranking in the nation; how he had the greatest on-the-court imagination of any basketball player I've ever seen besides Rafer Alston; about the passes he used to dish out on fast breaks using his knees, or his elbows, or whipping the ball around his neck; how he was cut by the Knicks before he was given a chance to prove that NAIA players can compete on that level; about how he and "The One and Only," in my mind, were probably a better 1-2 hookup than Gary Payton and Shawn Kemp back in the day; how Bo was my idol.
I told them about my first game in the gym, when my head was busted open on game-point.
I told them about how my man Lil' Kevin "Spud" Cooper, a gifted Xavier Gold Rush point guard, came home from a basketball game and said to me, while we sat under the Kappa tree, that he didn't feel good, that his back was bothering him. And three days later he was dead. Spinal meningitis.
I told them about the French Ticklers -- an intramural basketball team that I played on. About how we wore pajamas as warm-ups, and used the Rolling Stones tongue as our logo, and once played the school's varsity team and beat them by 27. I told them about the Home Boys, the team that was so good they kept us from ever winning the illustrious intramural b-ball title (they beat us three years in a row in the finals). I told them about players they've never heard of who left the school as basketball legends without ever putting on a uniform or playing for the university's team. Steve Campbell. Rick Hershel Tolson. Juice. Bobby Nash. Haywood Liggett. King Hozendorff. King Simien. Dean Bracey from Connecticut, who had the great John Bagley's game on duplicate. Michael Henderson from Houston, whose game was so much like Clyde Drexler's, we called him Clyde. Some guy named Burt from New York City -- I can't remember his last name, but I'll never forget how he introduced us to the And-1 style 15 years before the first mix tape hit the streets.
I rolled off so many names, and so many games. Untold happenings that can only happen in a place like this. A place that holds magic. A place where the paint on the court is chipped, and the bleachers are sitting on wheels, and the warps in the floor were there way before Katrina hit the building.
I explained to my sons how, on any given day (or night) in this gym, something very special could happen -- either by future NBA stars, or by drug dealers who happened to be enrolled in school. It didn't make a difference. Where pickup and intramural games could produce big-time crowds. Where a player no one has ever heard of will drive from Opelousas, La. or Biloxi, Miss., just to get a run, to test himself against the best.
I explained to my sons -- who at ages 12 and 10 think pro ball is still an option for them, even though they are legends only in the backyard -- how such a small place had such a big impact on me and so many other people. And on the game of basketball.
They asked me, if basketball is so special here, why was I wearing a shirt that says "Xavier Football: Still Undefeated"?
I told them that at Xavier it's all about basketball. Plus, Xavier's never had a football team.
Scoop Jackson is a columnist for ESPN.com.