Maybe it was Keith Jackson.
Maybe it was 50 Cent.
Maybe it was VitaminWater's new "The Powers of B" campaign with LeBron, Kobe, Dwight Howard, Steve Nash, CP3 and Deron Williams.
Maybe it was the concept that sold them. Maybe the people at Gatorade simply decided it was just time for change. Maybe they too got caught up in this transformation going on around us and took change literally.
Or maybe they just decided it was time to do something gangsta? You know, do what real "G's" do ... shake up the world.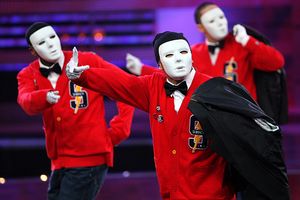 AP Photo /Chris Polk
Dance troupe JabbaWockeez is just one of the new faces in the G campaign.
With the Super Bowl arguably taking a backseat to advertising's biggest night (Here's one: "I was watching a bunch of commercials on Sunday and the Super Bowl happened to come on"), there is one campaign that got a jump on everyone.
It's the "G" spots. Over the past month, Gatorade's groundbreaking ads featuring Tiger, Jordan, Billie Jean King, Jackie Robinson and other icons sharing the screen with lesser knowns like a skateboarder, a dance troupe and an autistic kid have caught our attention.
In the process one of the most recognized brands in sports decided to make us play guessing games, made us figure out what the product was and what the ads were trying to say. Turns out, they are saying a lot. The question is, are we paying close enough attention?
An oral history.
The concept?
Spike Lee, director of the commercials: The whole thing was Jimmy Smith's brainchild. TBWA\Chiat\Day had just gotten the account and they were doing this whole new transformation, relaunch of the brand and [they] called me to be a part of it.
How much of it was their concept and how much of it was your execution?
Lee: It was a culmination. That's the way these things go sometimes. You have an idea and everyone contributes. They wanted to use me and I'm very happy they thought of me because I'm very proud of the final product.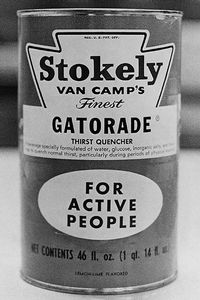 AP Photo
The original sports drink has come a long way from its Florida roots.
Jimmy Smith, TBWA\Chiat\Day group creative director: It started with the packaging. Our team, The G Squad, that's what we were calling ourselves, were in one of our sessions and one of the designers just said, "Why don't we just take the first letter and go with 'G'?" and I just ... said, "That's the campaign."
Lee: The thing for me was getting all of those people together for one spot. It was very hard logistically. We shot in Orlando, Indianapolis, L.A. and Chicago. We really crisscrossed the country because we had to adjust to people's schedules.
And, I'm not gonna lie, there are some people [in the commercial] I didn't even know about. And I think that's unique to the project that there are some people that don't have the recognition of a Muhammad Ali or a Peyton Manning or a Derek Jeter. And I like that aspect too. A whole lot of people have done great things in this world -- and I'm not just talking about in the world of sports -- and you never hear about them. Sometimes people will never know these people's names, which is unfortunate. And everybody deserves their due.
Smith: One more thing, the music in the spot? The piano? It's all done in the key of G.
What initiated the decision to rebrand Gatorade?
Jill Kinney, Gatorade spokesperson: Gatorade invented the sports drink category and as a brand we think it is important to always stay current with our marketing and advertising to be relevant to consumers -- and G is just another example of how we're continuing to do that. While our logo has changed, our name hasn't nor has our efficacy -- we're still Gatorade -- G is just a new symbol, like our bolt.
Why no lightning bolt at the end?
Smith: We wanted people to be engaged and intrigued in the end. We wanted them to want to find out who it was; to ask, "Who is this?" And we did. At one point it was the No. 1-searched item on Google trends the first day it ran.
Kinney: At first, we wanted consumers to discover the link to Gatorade on their own -- and many did connect the dots. We'll be telling the next chapter of the Gatorade "G" story in the Super Bowl.
Smith: If we had just put Gatorade or just stuck the lightning bolt in there, a lot of people would have been like, "Oh, that's Gatorade" and been done. They would have talked about the people in the commercial, but the dialogue would not have continued. Now instead you have people still trying to figure out exactly what it is. And on Super Bowl Sunday, that's when it's going to break. You ain't seen nothin' yet. What you'll see will be the best work I've ever been a part of. ... [T]hat's when we reveal everything.
How does Lil' Wayne fit into all of this? How does he connect to the message you all are trying to get across?
Smith: He's a sports junkie! ... There aren't that many cats that are authentic to hip-hop, or authentic to rock, or to being an actor or actress and are also relevant and authentic to sports. ... He's doing a blog on ESPN. And if you know Lil' Wayne, sports is his life. Before we did his voice-over, we played him the piece, with all of the people in it and he knew everyone! Even the most obscure person, he knew who they were. I was trying to explain to him who certain people were while he was watching and he was like, "Naw, I know. That's the autistic kid, J-Mac, that hit those 3s in that high school game," and "That's the kid that skateboards, Chaz Ortiz, he beat Ryan Sheckler."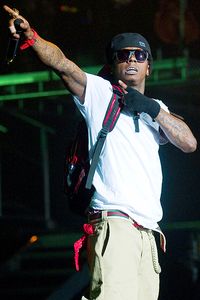 Jeff Fusco/Getty Images
Lil Wayne is just one of the pieces that Gatorade hopes will fill the generation gap.
So ... a 15-year-old kid watching a football game with his dad and this commercial comes on, the dad is going to know who Bill Russell is, Jackie Robinson, Ali and all that and the kid is going to go, "That's Lil' Wayne!" So it's like the kid knows some stuff about the spot that the dad doesn't. He knows Chaz Ortiz, he knows who the JabbaWockeeZ are, while the dad is like, "That's Tommie Smith from the 1968 Olympics" and then tell his son that story. So when you talk about broadening the brand, we all grew up on Gatorade and we wanted to make sure it was still relevant to the younger generation and Lil' Wayne was the best person I thought could make that happen.
Who's idea was Usain Bolt? The pose.
Lee: That was done on purpose. The way he points it just made sense that he would point to the G logo at the end. Now I know many of the icons that are in the spots and he's one of the people I had never met before. For me, that was great meeting him. He's a beautiful brotha.
What message do you think people walk away with after seeing this? What message do you want them to walk away with?
Smith: At Sundance, Gatorade had this gym and Nick Cannon was there. I was standing in front of him in the line to get in and of course he didn't know who I was at all. Anyway, Nick reaches into this cooler and pulls out a Gatorade and screams "Gatorade is back!" And he had a big smile on his face. So when you ask what I'd like for people to think, that's what I want them to walk away thinking.
Kinney: G is a call to action for all active people, not only to think about Gatorade in new and exciting ways, but also to search for compelling ways they can challenge themselves to achieve. We want more people to see themselves as an athlete -- because if their body is moving that's what they are.
And what did you personally walk away with afterward?
Lee: Number one, I love what I do. I have a great love for sports and a great love for cinema. So I am very fortunate. When I do a spot like this, it's the combination of my two loves. I've always felt comfortable being around athletes. So it's a great honor to have a Muhammad Ali, the greatest of all time, in the spot. Just to see the way everybody reacted when he came to the set. Not just the crew, but all of the other athletes, other icons. To me that just demonstrated the power of sports. I'm really just thankful to have been a part of what I feel is a great campaign.
Smith: You have to understand, I hate advertising. I wasn't trying to do an ad. I'm not trying to do something that is just repetitive. You always want to have a lot of layers in what you do. And this spot has that, it has layers. Our job is to have people engaged in the commercial, go online, go to YouTube and be like, "Who is the 10th athlete in the commercial?" or "Who is that person that appears at the 28th second of the commercial?" or "Why is this person in there? Why is that person next to that person?" Layers. Conversation. Engagement. That's what we wanted to create.
Scoop Jackson is a columnist for ESPN.com.