"If any one answers yes to that question Scoop, while you are talking to them, let me know."
-- Brent Barry
In the beginning, they thought the sky was falling. Again. They were losing games everyone expected them to win. They were playing below their level of experience and expertise. Below, if this makes any sense, their existence.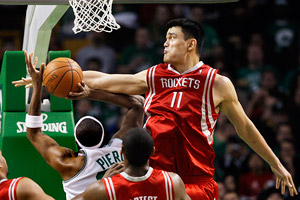 AP Photo/Elise Amendola
Could the Celtics and Rockets meet in the NBA Finals? Quite possibly.
Their existence, from the opening tip of the season, was that of -- on paper -- the most complete team in the NBA. One that -- on paper -- was destined (if you believe in destiny) to win an NBA championship. This season. So when Brent Barry was asked last week if his (at the time) 27-16 team was "where they'd like to be at this point of the season," his answer wasn't surprising. It was the truth -- that there is an underlying skepticism within this team that history has a strong chance of repeating itself.
But there's also optimism here. Optimism that can only exist in a team that knows it can win a championship. Optimism that no one here will allow to die.
---
This is Part 2 of this open-ended book. I predicted at the beginning of the season that this team would be The One. The one to take it all, to scream collectively "Nothing's impossible!" at mid-court while surrounding Lisa Salters after the last game of the season.
But injuries and inconsistent play have turned what is supposed to be an elite team into a "better than average" team which is still recognized as one of the teams to beat, but one that none of the actual elite teams are actually "scared" of facing.
The truth is, the Houston Rockets are in better position than most people -- even some of the players on the team -- want to believe. Their slow start to the season, and the recent loss of both Tracy McGrady and Ron Artest to injuries (plus the now day-to-day status of Yao Ming due to a knee injury), have made the fact that they are only four games out of first place in the NBA's toughest division somehow lost in translation.
"Someone said that we have the best record a Houston Rocket team has had at this point in a season since 1995," Shane Battier said to Rafer Alston after a recent practice before a game against the Pacers in Indianapolis.
"Yeah, yeah," Alston replied. "They showed it -- at this point in the season, our record is the best the organization's had since 1995."
1995 -- the same year the Rockets won their second championship.
"We're an anomaly right now," Barry said. "I think what coach [Rick Adelman] has done up to this point is quite remarkable. Piecing together our team. It hasn't resembled anything that either we thought or our staff or fans thought when we started the season."
"We're still pretty optimistic that, you know, we're going to get our team healthy and then we are going to start to build something, put a formidable lineup on the court that the people at the beginning of the season were fearing."
And it is fear that they seek, a fear that they need. At the midpoint of the season, seeing the Houston Rockets on the schedule doesn't scare other NBA teams the way it was supposed to. They haven't had their full squad for any stretch longer than two games. The Rockets are simply battling, not making excuses.
As he put his baseball cap on, Ken Griffey Jr. style, one half of the duo that the Rockets were not expecting to blow up this season (Von Wafer is the other half), backup point guard Aaron Brooks assessed what he feels is the team's situation.
"Expectations change due to circumstances," Brooks said. "Right now we expect to be one of the top teams in the West, but due to injuries and us not being able to play or have full practices with everybody playing has made us kinda stagnant."
But when asked if the team still believes in itself -- still believes that, regardless of their record or their past, they have as good a shot at winning this season as do the Lakers, Spurs, Celtics or Cavs -- that optimism is still alive.
"No doubt at all, no doubt in our minds," Brooks said. "We can still win it all."
"Doubt set in? Not at all. Never ever," is how Ron Artest put it. "I mean, I guess if you want to go by our record then you can write us off. And that's fine with us. But we know it's a long season, and once the playoffs start everyone's record is 0-0. Then we'll see what happens."
No doubt. Then we'll all see exactly what happens.
---
On the team's Web site recently, there was a poll question: How would you grade the Rockets' performance through the first half of the season? Of the almost 8,000 responses, 54 percent graded their performance a B. (Note: 32 percent said C, 9 percent A, 3 percent D, and 1 percent F.)
Here the optimism resides as well.
Not just in the team, but in the people that want to believe in them. But as the season goes on, and the second half becomes more important than the first in telling the story of who this team really is, an anxiety looms. Flashbacks of the past three seasons' second halves set in. Of first round exists. Of annual promises unfulfilled.
Of malignant disappointment.
But there's still belief that this season will be different. How different? Different people have different answers.
"It's hard to know what this team really is, because you haven't seen the roster with which they expected to go into the season with," Rockets.com staff writer Jason Friedman said before jumping on the team bus prior to a Yao-less win over the Pistons. "I have seen that this team has the ability to play at a level which I think is good enough to get to the Western Conference finals. That said, I have not yet seen this team play at a level that puts them among the NBA elite. With the Bostons, Clevelands and L.A.'s."
Until then, until that day happens, until we get to see what the Rockets look and ball like when everyone is healthy and on the court as one, the Rockets will remain the biggest unanswered question in the NBA.
Or as Barry reiterated, "We have to give some teams a reason to fear [us]. We have to give people who face this team a reason to fear this team. And we have not done that to this point in the season."
Not unless you consider the second half of the season the beginning.
Scoop Jackson is a columnist for ESPN.com.