If you knew him before this, you'd know he was not supposed to be here.
Not here. Not on the verge of attempting the "theft" of another NCAA championship. Not after the role he played in stealing his first one.
Not Sherron Collins, the junior point guard and leading scorer of the Kansas Jayhawks.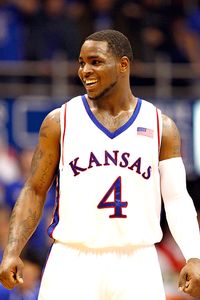 Jamie Squire/Getty Images
Sherron Collins led Kansas in scoring this season after being the Jayhawks' No. 5 scorer in 2007-08.
Because what happened to Collins over the past year is basketball's equivalent of being left for dead. His team won the 2008 national championship in a game in which he played a key role coming off the bench to contain future No. 1 NBA draft pick Derrick Rose. The fact that Collins is older than Rose and balled with him many times while both were growing up in Chicago, where Collins was an urban legend before Rose, should not be overlooked as a factor that helped Kansas beat Memphis. Then, all five starters from Collins' team bolted. Eighty percent of the offense was gone, leaving Collins and sophomore center Cole Aldrich to hold down and defend arguably the most cherished crown in basketball.
That target on Collins' back ain't for good buys. It's for goodbye.
But if you knew Collins before this, you'd know this is what he wanted. He asked to exist in a world in which every time he steps on a basketball court, someone wants him dethroned.
He's the target, the one opposing coaches discuss first in the locker rooms and while watching game film. He's the one they want removed from the equation, the one they want in foul trouble, the one they want to frustrate into missed shots and turnovers. Goodbye.
But if you knew the kid, who just as easily could be the next Darren Sproles and the first power point guard in the NBA, you'd know he asked to have this target of being the defending NCAA champion placed on him.
"Right now, I'm holding down a team," said Collins, who leads the Jayhawks with 18.3 points and 5.0 assists per game. "This is my team. It's been a lot that I've had to go through to get here, but I sacrificed, and [so far] everything is working out in my favor."
What you hear when you hear him speak is not swagger, arrogance, overconfidence or smugness. It's cold fact. When Mario Chalmers, Brandon Rush, Darnell Jackson, Darrell Arthur and Sasha Kaun left Collins alone in Lawrence, Kan., he had no choice but to let his inner Katt Williams out. The star player inside the star player stepped out of the background like The-Dream, understanding he could not lead with doubt or passiveness.
Collins had no choice but to take matters into his own mind.
He survived and thrived with that target in sight every time he slid on that arm sleeve and No. 4 jersey. He took a team picked to finish third in the Big 12 to the regular-season conference title. He led a group expected to hover near the bottom of the top 25 to a No. 13 ranking going into the NCAA tournament. He silenced talk that this was a rebuilding year for Kansas.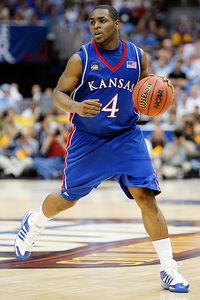 Streeter Lecka/Getty Images
Can Collins lead Kansas back to the promised land? The Jayhawks point guard is confident he can.
"I asked for this," Collins said. "It's something I asked for. This is something I wanted. You know, I waited. I had guys in front of me. When I came here, I played my role. I was a role player my first two years, and now I've stepped into that spotlight and helped this team win games. This is exactly what I want to show people -- that I am capable of leading a team, I'm capable of winning, capable of showing young guys how I was shown to do it and molding them the same way I was molded into doing this."
He's a man alone but not by himself. He's been at this place before, but it wasn't like this. He needs history to repeat itself but differently. He was a two-sport high school phenom-turned-Chicago Pro-Am summer league basketball legend before he was 18. The streets were supposed to hold him down. Now it's the eve of the opportunity that focused his life to a higher trajectory. One year ago, he was simply the sixth man.
Now …
"I don't feel the pressure," Collins said minutes before this year's tournament seedings were announced. "But I probably will feel it a little bit when the time comes. Day before the game, day of the game, during warm-ups. It's pressure regardless, you know?"
If you knew him, you'd know his "you know" means the pressure is mental. It's all self-inflicted. It's what he covets.
"I think I'll handle it well," he said of the title defense. "I love to compete."
Ahh, but what about when it comes time to face that infamous March reality that can flip from madness to sadness with one Bryce Drew jumper or Tyus Edney coast-to-coaster or one Mario Chalmers 3-pointer? When Collins was asked point blank whether he thinks he can single-handedly carry Kansas to a national championship, there was a long pause before a very quiet, "I think I can," left his mouth.
Then he said it again.
"I think I can. With the help of Cole and the [fact that] young fellas are playing good, yeah. I mean, they have been nothing less than impressive. I love these young dudes. I've never been around a group of young guys like this before. I think we can do it. It's a team effort, and if I do what I know I can do, I think we can get it done."
The quietness in his voice is no longer there. Goodbye.
Most All-Americans have this assurance and confidence, but Collins' is the rare perfect blend. His is Dwyane Wade's. It's what makes stars, but it's not what stars are made of. It's a belief in self that the vowel in "win" carries the same weight as the vowels in "team." It's just a matter of whom the belief belongs to.
It's exactly what a 5-foot-11, 205-pound point guard with power reminiscent of LeBron is supposed in possess in order to do what Collins is about to attempt to achieve. To him, it's the anti-impossible.
"I take my time," he says about the larger picture of his life. "I talk to any young kid, because I've been through a lot. Being from the 'hood, man, from the neighborhood I'm from, you know most people don't get out of there. They don't get recognized like this. For winning. So I respect that this is real special."
Really special. Especially if he can pull it off. It's putting the target on himself even when one might not be there. And if you know Sherron Collins, you'd know this is exactly how his life is supposed to be.
Scoop Jackson is a columnist for ESPN.com.