I know people (OK, I'll admit, I have friends, and some are related so I guess that makes them family) who take the "ride or die" mindset too far when it comes to certain things. In this case, University of North Carolina basketball.
They are Tar Heel fans. True-'til-death-type Chapel Heels. Bleed pantone blue. Say "we" and "us" when they speak about the basketball team. You know the kind. You have friends and relatives like that, too.
At the beginning of this college basketball season, one of my UNC stalkers -- I mean, "friends" -- made a very strong statement. He said, "If my Tar Heels do not win the national championship this year, then I'm done with them."
"Divorce-done?" I asked.
"Like Pamela Anderson left Kid Rock."
The reason the sentiment was so strong was because many (even those who weren't UNC fans) believed this Tar Heels squad -- the one that is now two games away from winning a national championship -- was about to become the last great college basketball team we might ever see.
A team for the ages. A team that could hold its own in the verbal and online battles about the greatest college teams, regardless of era. Lawson, Hansbrough, Green, Ginyard, Ellington, Davis: A team of perennial and potential All-Americans.
So good they could be mentioned as competition to Jordan, Worthy and Perkins.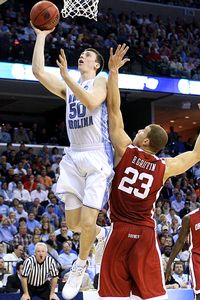 Nelson Chenault/US Presswire
The Tar Heels have won their first four tournament games by an average of 22.5 points.
Carolina made the Final Four a year ago, and when consensus national player of the year Tyler Hansbrough decided to return for his senior season, it spearheaded a team-wide anti-exodus (Ty Lawson, Danny Green and Wayne Ellington had also hinted at testing the NBA waters). The Tar Heels were the ultimate rarity in college basketball these days: a star-studded team now led by four upperclassmen.
True, we'd seen Florida win a second straight national title in 2007 after returning most of its roster, but this was different.
This was Carolina.
A collection of high school phenoms-turned-all-ACC performers that could go undefeated.
Or so it was thought.
When defensive stopper Marcus Ginyard didn't fully recover from foot surgery, and then when Carolina had its No. 1 ranking taken away in a home loss to Boston College in its ACC opener, almost instantaneously the hope of comparing this team with some of the historically great teams of the past vanished.
Too many things began to go wrong and get exposed. It wasn't just Ginyard's being lost for the season; it was more. Something else. It was a loss to Wake Forest two games later. Hansbrough, perhaps bothered by a stress reaction in his shin and an ankle injury suffered in the season opener, wasn't quite as dominant. Players like Blake Griffin of Oklahoma and Stephen Curry of Davidson were getting mentioned way before him in player of the year conversations. Ellington and Green were seemingly going through the motions on the court, not pushing for greatness the way they were a year before. It was not winning the ACC tournament (despite the now-infamous toe injury to Lawson that kept him out of the tournament and subsequently the first game of the NCAA tournament) but also not even making it to the finals.
All of these were results of the apparent downfall of the Tar Heels. A waste of what could have been a season to remember. ("Should have!" to some UNC followers.) My UNC friends weren't just looking for another NCAA title; they were looking for something more. Something legendary.
They wanted their team to outdo the 1996 Kentucky squad that went 34-2 and eventually saw nine of its players reach the NBA. They wanted UNLV/Duke mentions. Comparisons to John Wooden's teams.
They wanted UNC 1982, not UNC 2005.
Unfortunately, that won't happen. Not even if the Tar Heels cut down the nets. But in all fairness, now that it's in the Final Four, can this UNC squad get its place in history back?
Will winning the crown be enough? Enough for the Carolina faithful to believe in its greatness, even if it couldn't match Bob Knight's 1976 Indiana team in the record books?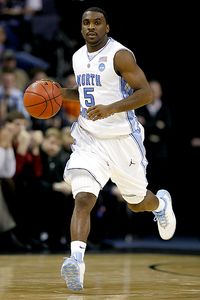 Joe Murphy/Getty Images
The Tar Heels didn't go undefeated, but Ty Lawson won't regret his decision to stay in school if Carolina wins it all.
"I'm satisfied with where we at right now," says my guy, diehard sky-blue-bleeder Andre Curry. "But I stand by what I said in the beginning. We're playing well, but there's no excuse if we don't win. No excuse."
"Our tradition is that we expect to win," said Veronica Clemons, a UNC alum and friend of mine. "Nothing else. Even [Jordan] will tell you that."
Which is why this 32-4 team that is only two games away from its own destiny means so much to the nature of college basketball. It is the team we were never to see anything like again. Never again was a roster this strong, this talented, this deep, this experienced supposed to stay together longer than one year. Only to get stronger the next.
It's just by sheer luck and almost genius-like recruiting that Roy Williams was able to put a squad together last year that had no blue-chip seniors and no one-and-outs. No Shane Battiers or Tim Duncans, no Carmelo Anthonys or Derrick Roses. It was college basketball's perfect storm.
Now we're here at another potentially great Final Four, with only one thing missing: the expected greatness of this North Carolina team. A team that was supposed to have us talking about it decades from now; a team that was supposed to put together a season that had us believing it should replace the Sacramento Kings in the League.
Fans like Curry and Clemons know the college basketball landscape has been fractured with early entries to the NBA and now players like Brandon Jennings, who played in Europe this season. The opportunities to witness all-time great teams have eluded us in recent years, so maybe we put unfair expectations on this North Carolina squad.
We might never again see a team with the promise that the one from Chapel Hill opened this season possessing. Unless …
Say John Calipari is allowed to take his incoming recruits for Memphis with him if he goes to Kentucky next season: DeMarcus Cousins and Xavier Henry along with John Wall, the still-uncommitted top point guard in the country who was rumored to be leaning heavily toward Calipari's school. Say he can convince Jodie Meeks to stay along just one year for the ride.
A once-in-a-lifetime NCAA ride.
Then it -- that team -- could be the greatest college b-ball team we'll ever see that we'll never see again. It will be the one to challenge history. Then we all will witness the possible promise of this season simply repeating itself all over again.
Scoop Jackson is a columnist for ESPN.com.