Where do the 2009 North Carolina Tar Heels fit?
After beating Michigan State as if they were stealing something, after fulfilling a personal promise of coming back to win the national title, after making Luther Vandross sing about them, we have to ask ourselves: Where do they fit?
Early in the tournament, I questioned this team's place in history. I wondered, if the Tar Heels were to win, if they were to live up to all their preseason potential, where we would place them among the great teams in the post-Bird/Magic era.
Could they have won against Phi Slama Jama? Could they have beaten that Michael Jordan-led '82 Carolina team that ESPN Classic once claimed was the greatest college basketball team of all time?
2009 NCAA TOURNAMENT
And after watching the businesslike manner in which this Tar Heels team seemed to perfect its play during the past six games -- becoming only the fifth team since 1979 to win each of its tournament games by at least 10 points -- it seems only fair to ask: During the past 30 years, has there been a more impressive team? If so, how many?
The Tar Heels' total scoring margin throughout the tournament was plus-121, the second-best margin in the 64-team era of the tournament (since 1985), trailing only the plus-129 that Kentucky compiled in 1996. I know we writers tend to get overzealous with wanting to compare players, performances and teams, but sometimes we have to put players, performances and teams into historical perspective to appreciate what we all just saw. Do we get caught up sometimes? Of course. But at the same time, we have to know and position greatness when we see it. And Monday night, I think I just saw it. Again.
The only thing left unanswered in Carolina's demolition of Michigan State is where it ranks in history. When the buzzer sounded to wrap a 34-4 season, two questions ran through my head: 1. Whom could the Tar Heels have beaten? 2. Who could have beaten them? Here are my top 10 teams since 1979 and what would happen in a matchup against 2009 Carolina.
10. 1983 Houston (31-3, lost NCAA title game to NC State). UNC win. Too undisciplined to beat this Tar Heels team. Carolina would be too business-minded to lose even to a team that featured two future NBA Hall of Famers (Clyde Drexler and Hakeem Olajuwon).
9. 1993 Michigan (31-5, lost NCAA title game to North Carolina). 2009 UNC win. The Fab Five as sophomores. As talented as they were, they would have found a way to lose to this North Carolina team.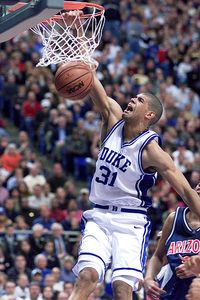 Brian Bahr/Getty Images
Shane Battier's Blue Devils beat Arizona in the 2001 title game.
8. 2001 Duke (35-4, won title). UNC win. The stacked Duke team had Shane Battier, Jason Williams, Carlos Boozer, Mike Dunleavy, Nate James and Chris Duhon. After watching the "Tobacco Road" special on HBO 10 times, I believe that if Duke and Carolina were to face each other in a national championship game, UNC would refuse to lose.
7. 2004 Connecticut (33-6, won title). Toss-up. Marcus Williams versus Ty Lawson would be a wash. Emeka Okafor versus Tyler Hansbrough would be a wash. Ben Gordon versus Wayne Ellington would be a wash. The difference: Danny Green. Maybe. Too tough to decide.
6. 1989 Michigan (30-7, won title). Another toss-up. Glen Rice, who scored a tourney-record 184 points in '89, might be too much for these Tar Heels. But collectively, even with a classic point guard battle between Lawson and Rumeal Robinson, this game could have gone on as long as the Syracuse-UConn game of this season's Big East tournament.
5. 1992 Duke (34-2, won title). UNC loss (barely). Of course, facing the Duke squad of Christian Laettner, Bobby Hurley and Grant Hill that won its second straight title would be a different story. The big question: Would Hurley be able to stop Ty Lawson? Probably not, but this Duke squad would refuse to lose.
4. 1982 North Carolina (32-2, won title). 2009 UNC loss. It would be a close game, and even though the '09 squad was much deeper than the '82 team and has matched up better than most teams we've seen in the past 25 years, these Tar Heels would have no answer for James Worthy. And if Patrick Ewing couldn't stop him, Hansbrough wouldn't stand a chance.
3. 1996 Kentucky (34-2, won title). UNC loss. Player-for-player, pound-for-pound, this would be the best game. Eight players from this UNC team might be drafted or play in the NBA at some point. That UK squad, led by Antoine Walker, Tony Delk, Walter McCarty, Ron Mercer and Derek Anderson, officially had nine. The numbers don't lie.
2. 1984 Georgetown (34-3, won title). UNC loss. Michael Graham would have scared almost everyone on this squad. Including Roy Williams.
1. 1990 UNLV (35-5, won title). UNC loss. Not even close. The game might be called at halftime the same way the Michigan State game should have been. Anderson Hunt would have matched Ellington and Green shot-for-shot, and Moses Scurry could outpsycho Hansbrough on any given Monday. And Larry Johnson? He would have welcomed Deon Thompson and Ed Davis to guarding an NBA player before he entered the draft. He would have made them think about staying in school.
So, yes, what we just witnessed is what we expected to see at the beginning of the season. A team so well-rounded, so balanced and talented that it would make us remove the 2006 and 2007 University of Florida championship teams from the conversation. Understand, Hansbrough and company came back for this. Not just to win a championship; these Tar Heels came back to put themselves into this exact conversation.
Where do they fit?
Somewhere among the best.
Scoop Jackson is a columnist for ESPN.com.