Commentary
Q&A with Spike Lee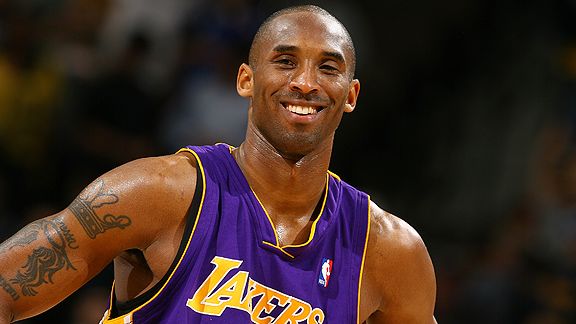 Garrett Ellwood/NBAE/Getty Images
Charles Barkley said during a recent broadcast, "Ain't nobody in the world can guard Kobe Bryant. The only person that has a chance against Kobe Bryant is the person you talk to when you get on your damn knees at night."
With the new film "Kobe Doin' Work" (ESPN Films, premiering Saturday night at the Tribeca/ESPN Sports Film Festival and airing on ESPN on May 16) filmmaker Spike Lee has come the closest to anyone at documenting what it's like to be Kobe on the court, and why prayer might be the only option anyone has to stop him.
Using 30 cameras for in-game action, Lee's crew followed Kobe for an entire day last May for one Lakers playoff game against the Spurs.
Scoop Jackson: Where did the concept come from to do a "one game" feature on Kobe as a documentary and study him from that angle?
Spike Lee: There was a great film on the soccer star [Zinedine] Zidane ["Zidane: A 21st Century Portrait"] that was done, and they had several cameras on him for one game. And I liked the whole "one game" approach and said, "I think this will work just as good or better for basketball." We had 30 cameras for Kobe, had a mic on him, coach Phil Jackson let us come into the locker room to shoot, and with the help of commissioner Stern and deputy commissioner Adam Silver, [team owner] Dr. [Jerry] Buss, Jeanie Buss and again, coach Jackson, we were able to get it done.
From a basketball/fan standpoint, not necessarily a filmmaker's standpoint, what did you learn about Kobe?
I learned a lot. I mean, I think Kobe said it best in that the reason he wanted to do this was to really try to explain as best as possible, to the fans and people who follow basketball, what it entails to be a player. The preparation, the mental work, the communication skills, all of that stuff. An insight on what you have to do to be a successful athlete.
It seems, though, that his mind and what he sees on the court and the speed at how he sees it is different than what we as fans see while watching him.
Well, that's why we are on the sidelines and he's going in the Hall of Fame (laugh). Kobe has a high, high, high basketball IQ, along with the athletic attributes. Most professional athletes are not only great athletes, but it's the mental thing that puts them over the top.
That said, did Kobe come off with a higher basketball IQ to you than what you went into the film believing he had?
No. Not at all. Kobe's a great ballplayer, and guys like that, they have the mental aspect down, too. I've just known that already going in.
After doing this, has it made you look at basketball differently?
The thing was to make the film so that we can see the game from the player's perspective. That was our intention.
Did it upset you that the game you filmed was a game that Kobe didn't play much in the fourth quarter [the game was Lakers blowout]? Because he's such a clutch ballplayer …
Well, here's the thing, when you do something like this, you pick a game and you roll the dice. It's not like … look, this game was offered to us and we had to do it; we had to commit. It would have been worse, say, if he'd gotten another tech; ... Or he could have had an injury. Or early foul trouble. So all of those things, with all of those things that play a role in this, you are rolling the dice.
I know you're rolling the dice but from your perspective -- and I know you don't want to dictate the outcome when you are doing something like this -- but there had to be a part of you that wished that you could have had him playing in the fourth with the game on the line, especially to see where his mind goes in those situations.
Scoop, I don't think like that. If I had my choice I'd have him break Wilt Chamberlain's record and film that! You get one game, and you work with what you got.
How did you happen to get him to break the film down right after his 61-point game in the Garden [from this season]? When you all did the voiceover for this, what was his mind like then?
He was still, still feeling that vibe [from the game[. Still on that high from scoring 61 against the Knicks. The interesting thing about that is we'd been trying to get him to do [the voiceover] for a while. And with them only coming to New York once a year, we were going to do it the night after the Super Bowl, but he canceled. So he said, "I'll just do it after [the Knicks] game." And I was like "I don't know." I was really thinking that I don't want him to do it after the game, we might not have this at all, but it turns out that he scored 61 in that game. That was just the spirits working.
With Kobe being so misunderstood I think it was important to him to finally have someone come in and give us a glimpse to where his mind is at in the process of doing what he does.
I think that's what you get with his running commentary while watching the film.
How different is this film than the one you did on Michael [Jordan]? How much did you learn about the differences between MJ and Kobe?
They're two different people. You know, I really try to stay away from making comparisons between athletes that played in different eras. Kobe and LeBron have gotten the baton from Michael.
You mentioned LeBron. When he comes to the Knicks are you going to do a similar project with him (laugh)?
Well, we want to do something on LeBron.
But you're going to wait until he gets to the Knicks, right?
No! I'm ready now. If we can do it this playoff, we'll do it this playoff.
C'mon Spike, you know you want to hold off until he gets in a Knicks uniform to do a film like this on him.
No, I do not! If LeBron and Maverick [Carter, LeBron's business partner] say, "Spike, let's do it right now," I'm ready.
Scoop Jackson is a columnist for ESPN.com.
ESPN Senior Writer
Columnist for ESPN.com and ESPN The Magazine
Wrote for Slam, XXL, 6 years with NBA; 4 years with Nike