Commentary
The disappearance of Anthony Johnson
Pretend, just for one moment, that his life is your life. Metaphysically. Hypothetically. Honestly. Pretend for a second you are Anthony Johnson.
[+] Enlarge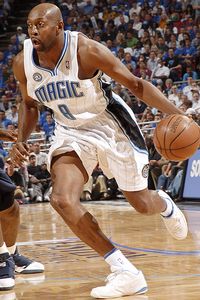 Fernando Medina/NBAE/Getty ImagesAnthony Johnson has gone from key reserve to riding the pine in the NBA Finals.
As D'Angelo would scream, "How does it feel?!?"
Pretend like everything you've done the past four months of your career -- a career that has spanned 12 years -- has led you to this point, where your contributions are a big reason your team is in the NBA Finals for only the second time in its existence.
When professional athletes are called to duty, the ones who are "professional" respond. When Orlando's All-Star point guard, Jameer Nelson, went down with an apparent season-ending shoulder injury on Feb. 2, Johnson was called to hold down the fort until the team was able to make a move to replace Nelson. And he performed.
The team still eventually made a move. Rafer Alston arrived via Houston, and he helped keep the Magic at a "contender" level, putting them in position to pull a Muhammad Ali against Cleveland's Sonny Liston.
After Alston arrived, Johnson settled back into his backup role, but he flourished as if he was born for it. He played in all 19 of Orlando's postseason games in the first three rounds. And while he averaged only 15 minutes per game, he performed well enough to keep Charles Barkley, Kenny Smith, Magic Johnson and Stuart Scott singing his praises after games. Johnson proved himself to be the most important member of Orlando's rotation outside of the starting five. He'd gone from bench player to savvy vet in the span of six weeks. College kids at the Amway were asking for No. 8 jerseys, not realizing the difference between "limited edition" and "limited supply."
Then came the Finals.
Three games thus far. Three DNPs -- Coach's Decision.
Anthony Johnson has suddenly vanished into thin air.
The general public often views pro athletes as "special," not regular people, because of their astounding skills and astronomical salaries. To many of us, their lives are a dream -- they get to play a game for a living. We tend to forget that these people go through many of the same challenges we go through in our own, more mundane careers.
Let's say you've played a major role in helping your company advance to the pinnacle of its field. Now, you got to play this role only because in the middle of a great fiscal year, one of the company's star employees had to take a leave of absence. You were asked to step in and shoulder the load.
While you were doing whatever you could to keep the company from going under, the company was shopping around, publicly, trying to find someone better to do what you were already doing.
The company finds someone. Brings that person in. You're replaced, and they put you back in your old job. You kinda fall back into your regular routine. They say thanks, you say thanks. It's all part of the job. The company flourishes. Your role, although it has not changed, has become more visible, more important -- your true value to the company becomes more evident with every passing day. You get moved from a cubicle to an office, with a door.
Then the biggest thing that could ever happen to your company happens. And you most certainly played a part in getting the company there. But then you are told, for lack of a worse analogy, "You won't be a part of this Final phase."
Yes, you saw that the employee you originally replaced was working very hard to get back. But still. You understood what the company was trying to do, bringing that employee back sooner than expected, and that it even might be in the company's best interest. But still. As a human being, there has to be a part of you that's uncomfortable with how the company is treating you.
In a sports context, this is the equivalent of the Scottie Pippen scenario. Except this time, not only does Pippen have to give Jordan back his spot as leader of the team, but Phil Jackson has Toni Kukoc replace Pippen as the No. 2 option on offense, and has Pippen come off the bench behind Jud Buechler. Yeah, that's about where Anthony Johnson is right now.
Do you think you could handle that? Do you really think that wouldn't mess with you? Mess with your head? Your psyche? Your emotions? Your self-esteem? Your pride? Think you could walk around with cameras and microphones following you, with reporters peppering you with questions, and pretend everything is all good, because that is what you're "supposed" to do and say? Because that's what's best for the team?
Think you could really pull off what Anthony Johnson is pulling off right now?
There are two answers to that question. And whatever answer you choose, rethink it. Because you know how D'Angelo was naked in that video? OK. That's probably exactly how Anthony Johnson feels right now.
But he hasn't been stripped of his clothes. He's been stripped of his dignity.
Scoop Jackson is a columnist for ESPN.com.
ESPN Senior Writer
Columnist for ESPN.com and ESPN The Magazine
Wrote for Slam, XXL, 6 years with NBA; 4 years with Nike