Commentary
Can the clouds get darker in Houston?
Cruel.
Is there any other word you can think of?
Sadistic. Merciless. Unrelenting. Barbaric. Savage. Demoniac. Inhumane.
[+] Enlarge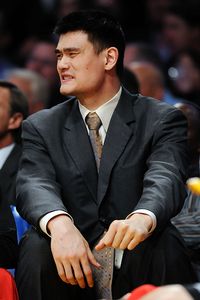 Lisa Blumenfeld/Getty ImagesA sight all too familiar for Rockets fans -- Yao Ming in street clothes.
My bad. There is a thesaurus full of other words that fit.
Just when we thought nothing worse could happen to the most underachieving, unluckiest team in sports (yes, in all of sports), the Houston Rockets got the news that Yao Ming may miss all of next season, and might even be gone forever.
So, what did the Rockets do wrong? Who inside that organization has done something so egregious that karma is coming back on them personally and infecting the whole team?
We could see something like this happening to the Knicks, after the way they treated Patrick Ewing, shipping him to Seattle after he poured out 15 years of his life to the organization. Or to the Hawks, with how they treated Dominique Wilkins after he spent 12 years laying the groundwork for an entire professional sports market in Atlanta. Or to the Bulls, the way they treated Phil Jackson (followed by Michael Jordan and Scottie Pippen) after they won the only six chips that franchise may ever see.
With those franchises, we could understand. We could understand if a cloud of darkness hovered over them for years and years, paying them back for the wrongs they committed.
But we gotta ask: What in the hell did they do in Houston to deserve this?
---
The situation with Yao has now reached the Dr. Dre stage: It's chronic.
This is the fourth lower-leg injury/issue (the third involving his feet) they've had to deal with since he signed with them in 2002. Shades of Bill Walton, don't you think?
Or maybe Sam Bowie. Or Arvydas Sabonis. Or Greg Oden.
If Yao was playing for the Portland Trail Blazers, it all would make sense. But he's been doing his American bid in Houston. Someone, please explain.
Since Yao arrived in Houston, it seems like nothing has gone the way it was supposed to. True, when healthy he has been a force. But he still hasn't been dominant; an All-Star, but not quite a superstar.
He has been the biggest breath of fresh air the NBA could have asked for during its post-Jordan recovery. More than any other player (including Dirk Nowitzki, and the United Nations of San Antonio with Tim Duncan, Tony Parker and Manu Ginobili), Yao has been the reason David Stern could attack (and conquer) the global market the way no other commissioner in professional sports has been able to.
His reputation has expanded faster than the universe. He's been the most interesting man in the basketball world.
To Yao we can only say, with the utmost sincerity and hope: Stay healthy, friend.
But it seems he can't. And that's why this latest news break (no pun intended -- well, maybe …) regarding his condition seems so final. As bad as it seems, we may never get the chance to see what the Houston Rockets could have become if they were ever collectively healthy, simultaneously uninjured. We've probably lost the last opportunity to see what Yao Ming could have become.
Yes, there is a sense and a belief that he will be able to return -- if not this year, then the next. But deep in the backs of all our minds, we know the real deal. We have seen the best we're ever going to see of Yao Ming.
And that makes this more than just another injury.
---
So what happens now? What are the Rockets supposed to do?
[+] Enlarge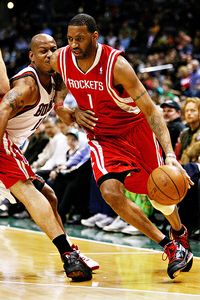 Jonathan Daniel/Getty ImagesTracy McGrady has had an awfully hard time staying on the floor, too.
It just seems so unfair that one team must endure so much pain. Even Cubs fans are becoming empathetic toward Rockets fans. And as much as Yao is now at the center of this, we all know that this latest hex on him is just a fraction of what's wrong; of why the cloud is so dark.
Tracy McGrady is still an issue, with the severity of his knee injury. Shane Battier missed training camp and the first month of last season with a foot injury. And their coach is one missed chair away from going on the injured list.
All Sacramento Kings jokes aside, at this point with the Rockets, anything is possible. Murphy hasn't even invented a law for them. Owner Les Alexander really needs to find out who has cursed his organization, or who's cursed inside of it. Was there a hidden curse on the team when he took over ownership in 1993, which didn't surface until after Rudy Tomjanovich retired as head coach and patriarch? Was it the move from the Compaq Center to the Toyota Center in 2003? Was it the logo change? Did it begin the year after they traded for Charles Barkley in 1996, when the plague of injuries seemed to first manifest itself?
No one knows, but the Rockets need to know. Because all we know right now is, this is more than a string of bad luck. Even bad luck don't run this bad. So bad that even the best-case scenario for them in this new "Life Without Yao" period is probably rolling the dice and re-signing Ron Artest, hoping that Yao will miraculously come back later this season.
And from there we all know what is destined to happen: Ron-Ron will go down in June while playing in the NBA Finals.
That's cruelty at its best. But with the Rockets, we'll just call it fate.
Scoop Jackson is a columnist for ESPN.com.
ESPN Senior Writer
Columnist for ESPN.com and ESPN The Magazine
Wrote for Slam, XXL, 6 years with NBA; 4 years with Nike