Commentary
Someone save Stephon Marbury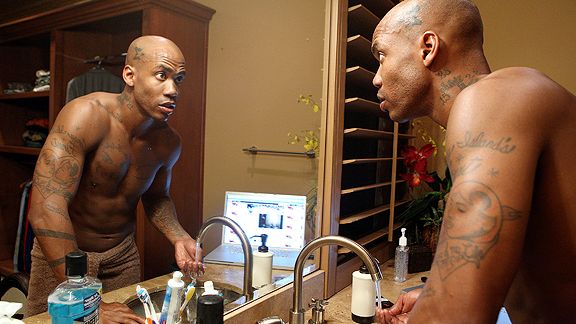 Shareif Ziyadat/FilmMagicDoes Stephon Marbury's recent inexplicable behavior portend a tragedy in the making?
Welcome to your life …
Find the song "Everybody Wants to Rule the World" by Tears for Fears. Press play.
There's no turning back …
Find the latest video clip that has been posted of Stephon Marbury. Press play.
Even while you sleep, we will find you.
Watch. Listen.
Think about the title of the song.
Keep watching.
The sadness of it all will eventually hit you. Sitting there watching a former superstar's life unravel and disintegrate in front of your eyes -- especially with that song playing as the backdrop instead of the "Lean On Me" by Kirk Franklin that Steph is listening to -- will take you to a place of sympathy few of us are familiar with when it comes to professional athletes.
But Stephon never wanted sympathy. He was in search of empathy. He wanted the public to have some type of understanding of what it was like to live his life. To be Starbury. On the outside, it looked all good, but internally, almost everything he did was a cry for help.
But did anyone really listen?
Can anyone honestly say he heard the cries coming out from Steph as his life slowly got away from him? Or was it the crying in the video that finally made you take notice?
Or was it the part in the broadcast when he says, "I don't care about the NBA. Those days are done." Or when he sits there and eats Vaseline.
[+] Enlarge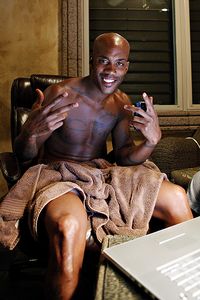 Shareif Ziyadat/FilmMagicStephon Marbury's webcasts might seem humorous at first, but they might be documenting the descent of a former superstar.
We looked at his life as privileged coming out of NYC, as some were calling him "the greatest point guard to ever come out of the city." Winning city championships with ease, dominating at Rucker during the summers. Before he'd even made it to the league, Darcy Frey had written a book about his life. Spike Lee ultimately adopted Marbury's story for the movie "He Got Game." Even with all the bouncing around from team to team that he did, Steph was still nice (in game) and cocky (in attitude) enough in the game to publicly claim on Stephen A. Smith's "Quite Frankly" show that he was the best point guard in the NBA. And he believed it.
It's my own design
It's my own remorse
Help me to decide
Help me make the most
For years, it seemed like he'd reach this low, but no one knew what it was going to look like. From the day of his strange TV interview on WNBC's "Mike'd Up" to his perplexing testimony in the Isiah Thomas sexual harassment case to the day he had his own design tattooed on the side of his head, it seemed that he was sliding down a slope that was out of his realm of control.
Now the words "bizarre" and "lost it" are beginning to follow him. Analogies are being made to Mike Tyson. We've seen this all before. The spiral. The decline. The fall. The thing that people love to see, but hate to witness. The thing that makes you ask once it's too late, "Why didn't anyone see this coming?"
In hindsight, is it a case of too much, too soon? Is it a case of the world's simply misunderstanding him? Is it the fact that he may have actually always been the poster child for this new generation of spoiled, pompous, no-respect-for-the-game, übertalented, "me first" baller that everyone claimed that he was? Or is it something much, much deeper?
For more than two years, I wrestled with the feeling that maybe Stephon Marbury was simply undiagnosed. Something clinical? Maybe psychological? I wanted to reach out to him, but never did. I wanted to sit down with him, but never did. Never said anything. Did less. Like everyone else, I just sat back and watched. Everyone loves a train wreck, right? And we wonder why he sits in a room with his shirt off, emotionally breaking down in front of a webcam.
There's a room where the light won't find you
Holding hands while the walls come tumbling down
Now a Justin.TV/UStream marathon video could be the beginning of the end. All the good and bad in his life eclipsed by his attempt to find empathy. Forgotten is how he tried to make shoes affordable, so that it would help put kids' priorities back into a safe and less materialistic place. Forgotten is what he had to deal with in playing for a team that tried to take the game of basketball away from him by not playing him for a year. Forgotten is that the same team waited until after a game to tell him that his father was taken by ambulance from the arena and later died. Forgotten is that he's loyal to a fault when it comes to his family.
None of that matters. Nothing does. Because the Stephon Marbury you either loved or hated has disappeared.
All for freedom and for pleasure
Nothing ever lasts forever.
Welcome to his life.
Press play, again.
I can't stand this indecision
Married with a lack of vision
Everybody wants to rule the world
Say that you'll never, never, never, never need it
One headline, why believe it
Everybody wants to rule the world
Stephon Marbury wanted at one time in his life to rule the world. It never happened. He needs someone to save him. Still, no one knows what to make of his life or him right now. Everyone seems to care. No one seems willing to help.
Eating Vaseline on camera?!? It's gotten to this.
Steph told me once that he loved the game of basketball so much that at times he'd sit and count the pebbles that were on a basketball. I thought nothing of it at the time, because I knew that was genuine. I knew that was part of how he connected to the game. I knew that was just him.
Now, I'm concerned.
Scoop Jackson is a columnist for ESPN.com.
ESPN Senior Writer
Columnist for ESPN.com and ESPN The Magazine
Wrote for Slam, XXL, 6 years with NBA; 4 years with Nike